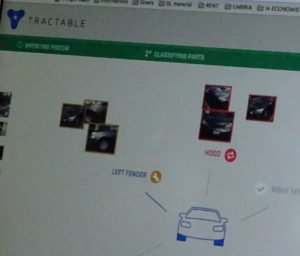 Auto body shops will be able to leverage a Mitchell-Tractable photo-estimating artificial intelligence to double-check their own estimators' repair or replace decisions, Mitchell confirmed Thursday.
"That is part of the plan," Mitchell repair sales and service Vice President Jack Rozint said. He said he didn't have a date yet on when it would be expanded to the information provider's collision repair customers.
The WorkCenter Assisted Review service announced Monday is available to insurers now, and Rozint said that at least one carrier involved in the pilot program was continuing to use it post-launch.
"They're transitioning from pilot into regular use," Rozint said.
The system uses Tractable's image recognition capabilities to identify exterior auto body parts from future photos and determine if the level of damage warrants replacement or repair. Tractable said that the AI has been fed the huge "gold mine" of millions of Mitchell and insurer claim photos along with the corresponding estimate data showing whether the parts the computer saw were repaired or replaced. (You think you've been doing this for 30 years? The computer has seen hundreds of lifetimes worth of repair or replace decisions.)
Armed with that vast machine learning experience, the computer can look at a new image of a damaged part and predict whether the body technician or parts department would be the one to call to handle it. The AI also "gets smarter over time" as Mitchell and other Tractable users feed in new estimates and photos, Rozint said.
Rozint said Mitchell WorkCenter Assisted Review delivers a "suggestion, with a confidence level," as to whether a part on a new repair order should be repaired or replaced. For example, Rozint said, if the AI doesn't have many photos to draw from, or they're blurry, "the confidence level may be 50 percent." In another situation, the computer might be 90 percent confident, he said.
The AI is just a second opinion; the actual repair or repair decision is obviously still up to the humans, who might know something about the particular vehicle that the computer can't see or hasn't encountered on past images, such as a substrate change, Rozint said. (In fairness, the computer's knowledge of thousands of similar repairs might well catch things that the human didn't realize. Or that the human — be they body technician or adjuster — didn't want to acknowledge.)
Tractable discussed augmenting the AI's thought process with a separate set of business rules designed by repairers and insurers (they also have a full-time body shop engineer on staff) and customized for an individual user. This could prepare the AI for technological changes not reflected in past models and combat the "garbage in, garbage out" problem of incorrect repair procedures or deflated prices teaching the computer the wrong thing. On the other hand, this additional layer of human input also would seem to raise the risk of improper manipulation clouding the AI's judgement.
Rozint said Mitchell WorkCenter Assisted Review's repair/replace decisions were purely based on the archive of past photos and estimates and wouldn't use such rules "in the initial implementation." There's no secret hidden dial for a user to adjust severity, he joked, possibly anticipating skeptics' fears. (Besides, it seems as though anyone else with a copy of WorkCenter Assisted Review would quickly be able to ascertain when another user had adjusted what should be identical results.)
This could indeed be a useful tool for repairers and estimators — so long as shops continue to give it quality data. As we noted with a total-loss-estimating AI recently announced by CCC, such machine learning systems' reliance on repair order data makes it vital that a shop be as accurate — i.e., representing OEM repair procedures — as possible in their estimates. Otherwise, the entire industry will someday butt heads with estimating-reviewing AIs who've grown up learning the wrong way to repair cars.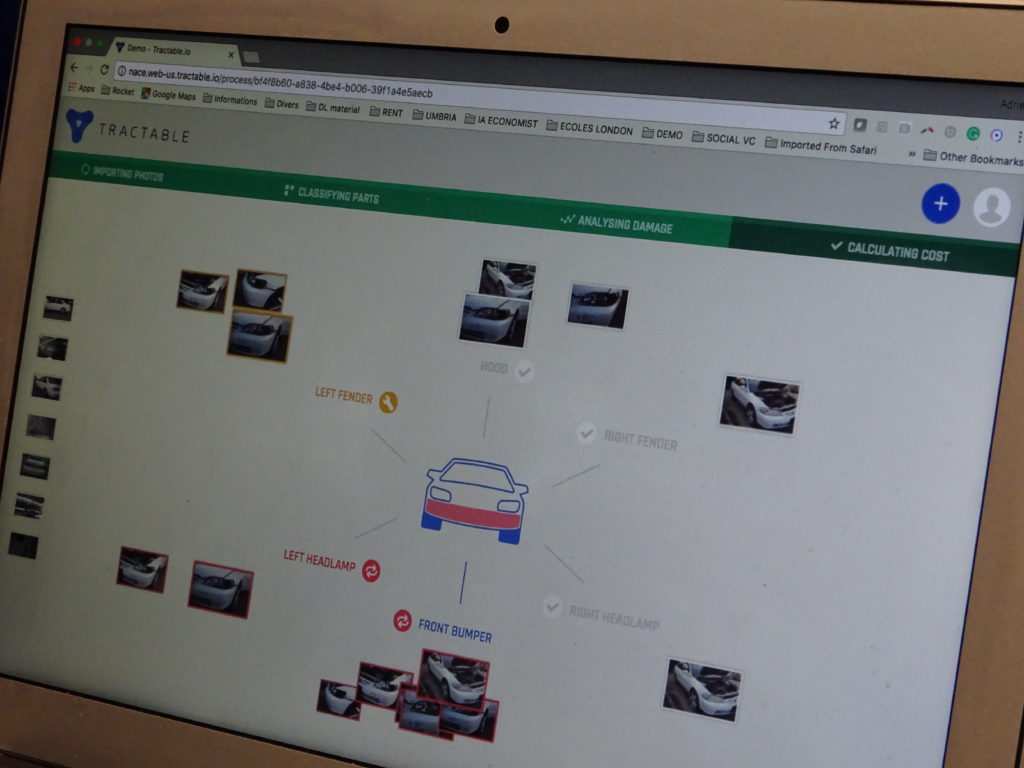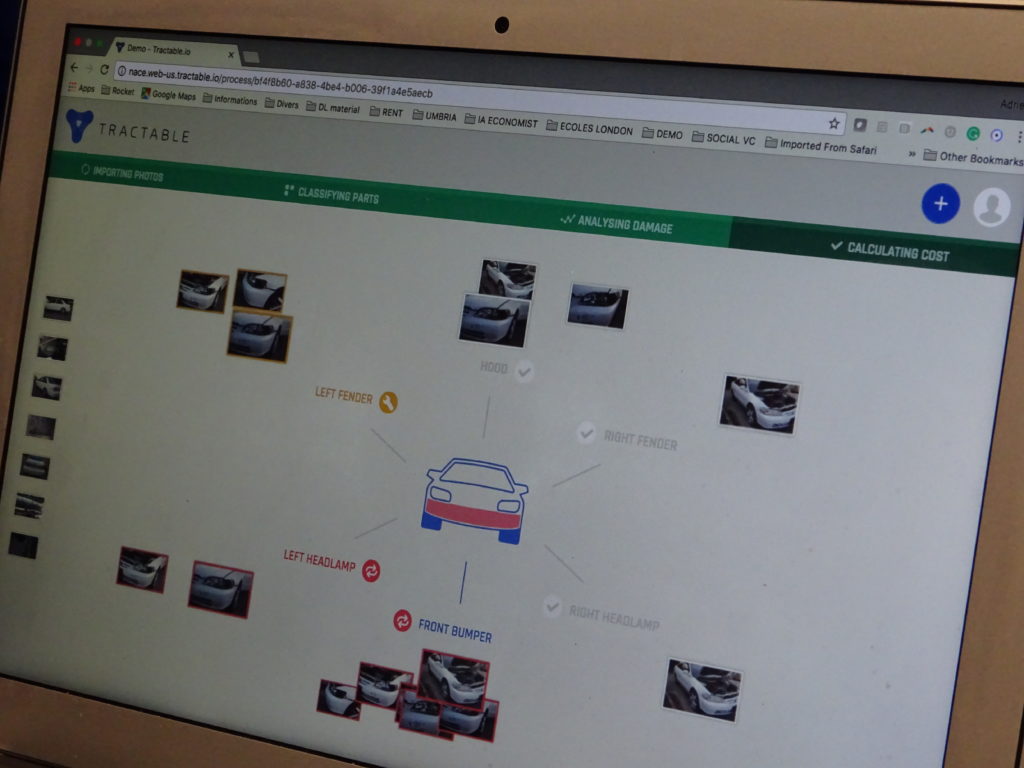 More information:
"Mitchell Releases P&C Industry's First Artificial Intelligence-Enabled Claim Review Solution – Mitchell WorkCenter™ Assisted Review"
Mitchell, Oct. 16, 2017
Featured image: Tractable's AI in a demo classifies parts as repair, replace, or leave alone based on a severity score of the scratches and more serious damage. (John Huetter/Repairer Driven News)
Share This: