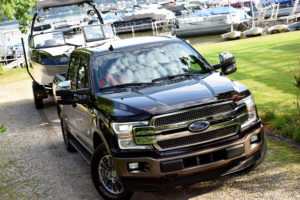 Magnesium plant fire suspends Ford F-150 production; effect on parts for shops unclear
By on
Business Practices
A fire at an Eaton Rapids, Mich. magnesium plant which supplies automotive parts led Ford to announce Wednesday that it would halt production of all F-150s and stop work at one of two plants building the Super Duty variants.
General Motors and FCA also confirmed being affected by the blaze at one of Meridian Magnesium's six global factories. The company is the world's largest producer of magnesium parts and the "leading full service supplier of innovative magnesium die cast components and assemblies in the global automotive market," according to its website.
Much of the media coverage has understandably surrounded the effects of production on global automakers' new vehicles. But while a General Motors representative estimated the fire would be felt more in its factories than by shops needing replacement parts, the effects on Ford and FCA's supply of replacement components for the aftermarket was unclear.
Ford has not yet responded to a request for comment on the impact of the Meridian Magnesium fire on replacement parts for aftermarket collision repairers. The Detroit Free Press reported Wednesday Ford had 84 days worth of truck sales before dealerships ran dry.
The fire caused a "shortage of die-cast components," Ford wrote in a news release, but did not elaborate.
"Ford has 100% of its truck radiator supports in North America coming out of the Eaton Rapids facility," Abhay Vadhavkar, Ford's former senior manager for stamping, structures and raw materials (now at the Center for Automotive Research), told the Detroit Free Press.
According to the Free Press:
Ford officials confirmed that Meridian produces the "front bolster," which structurally reinforces the engine where the radiator is attached, for the F-150, Super Duty trucks, Expedition and Navigator. The supplier also makes a third-row seat cushion pan for the Ford Explorer, Ford Flex and the Lincoln MKT, and a lift gate for the MKT.
"This is a fluid situation, but we are working closely with our supplier partners to do everything we can to limit the impact on our production," Ford global operations Executive Vice President Joe Hinrichs, executive vice president and president of Global Operations. "It's a full team effort and we're confident that any impacts will be short term. The good news is we have strong inventories of our best-selling F-Series pickups and other vehicles, and customers won't have a problem finding the model they want."
Ford still thinks it can produce the same earnings per share ($1.45-$1.70) it predicted to investors before the blaze, however.
FCA reported that the blaze has affected the manufacturing of new Chrysler Pacificas.
"FCA confirms that production of the Chrysler Pacifica at the Windsor Assembly Plant has been impacted as a result of the fire at a Michigan-based supplier last week," the company said in a statement. "The Company is adjusting production schedules as needed to minimize plant downtime, but will make up any lost production. FCA continues to work with the supplier's team on recovery efforts."
As body shops well know (or ought to), the Pacifica has a partly magnesium liftgate. However, the Detroit Free Press' article only refers to the minivan's magnesium instrument panel supply being affected, citing Vadhavkar.
FCA spokesman Darren Jacobs said Thursday he was looking into the issue of if shops should expect replacement parts shortages.
General Motors supply chain spokesman Nick Richards said GM had to stop production of its vans.
"GM has temporarily halted production of its full size vans due to a supply chain constraint caused by the May 2 fire at Meridian Magnesium," Richards wrote in an email. "GM Wentzville will continue to produce the popular midsize Chevrolet Colorado and GMC Canyon.  GM Purchasing and Supply Chain is working to resume full size van production as quickly as possible."
In response to if this would affect the aftermarket's ability to secure replacement parts or if the impact would be limited to new-vehicle production facilities, Richards wrote, "I would say this is primarily a new production issue."
Honda also buys magnesium parts from Meridian but said it wasn't affected.
"Honda's production has not been impacted," spokesman Don Hensley Jr. wrote in an email. "The product we procure from Meridian is from a different facility."
The Associated Press reported Thursday that BMW was seeking other suppliers and would cut back on X5 and X6 production until it found more magnesium. An email late Friday morning to the OEM inquiring about replacement parts has not yet been returned.
Eaton Rapids Fire Chief Roger McNutt said his department was called to the plant at 1:30 a.m. May 2. The plant ultimately suffered three explosions during the incident, and the cause of the initial blast remained unknown, he said.
"They're still demoing the place," McNutt said Friday. Parts of the plant were "back up and running," but other areas couldn't be accessed by his agency.
Two Meridian employees suffered minor injuries, he said. One was struck by flying debris, and the other was knocked out a door by the force of the explosion.
Clearly we don't know the reason for the explosion. For all we know, it had nothing to do with the metal within the plant.
Follow the OEM on magnesium!
But we thought this still seemed like a good time to remind shops that FCA prohibits any grinding of its magnesium Pacifica liftgate and any other partial or fully magnesium parts like the instrument panels the Free Press reported were built at Meridian. (This sentiment is likely shared by other OEMs, given the science discussed by FCA.)
While FCA said magnesium in the form of a complete liftgate driving around on the road didn't pose an ignition risk, grinding on the part or otherwise trying to repair it produces magnesium dust — which is incredibly explosive. (For more on the science of why, see here.)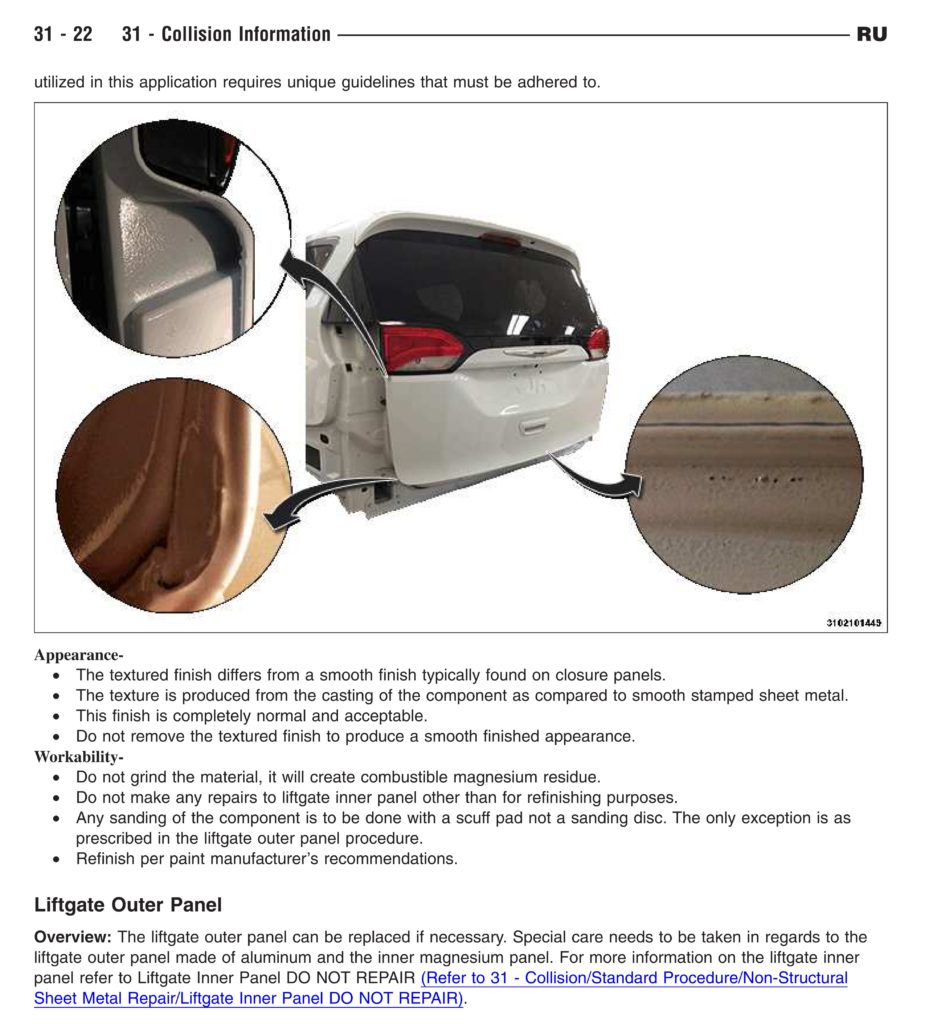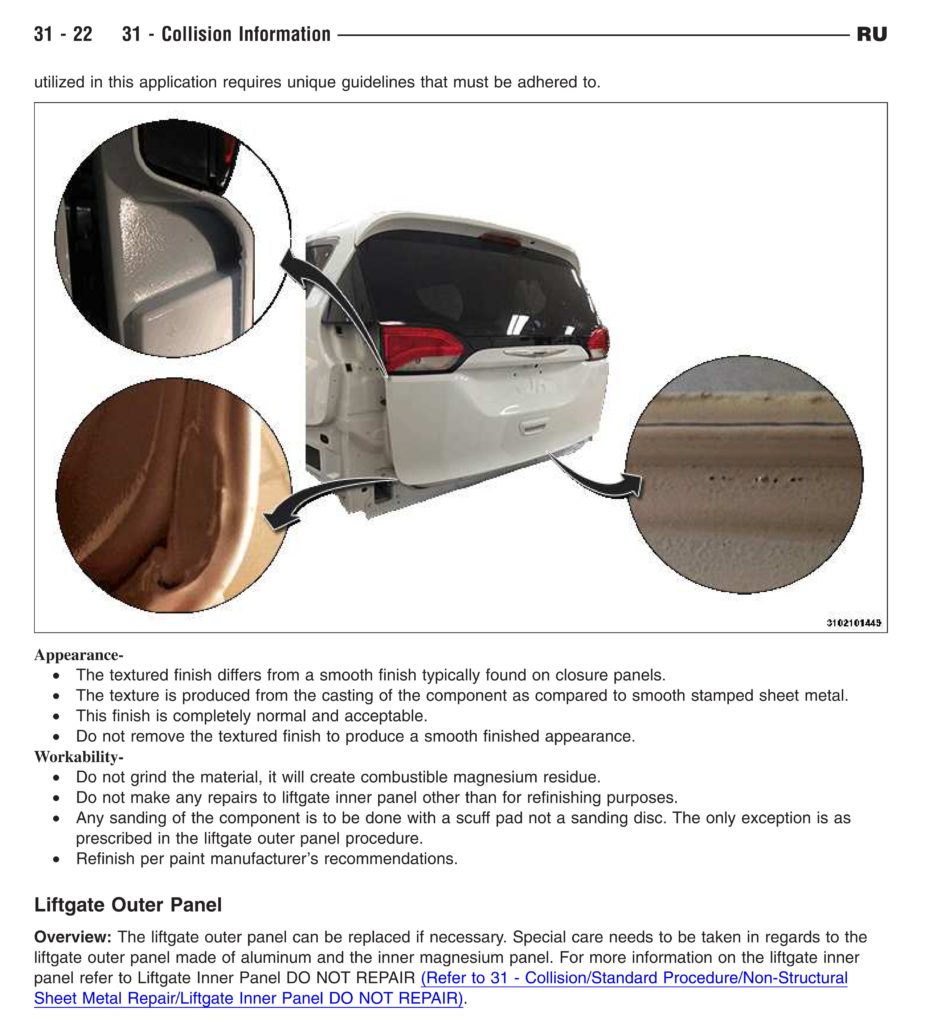 According to FCA's free Pacifica body manual (you need to use the paid one to do a repair, though):
There are necessary safety factors to follow when working with components made of magnesium and components made of a combination of materials utilizing magnesium that must be followed.
• Do not grind on the component. The grinding residue is highly combustible.
• In the event of a fire, a D-class rated fire extinguisher is necessary to extinguish.
• Do not expose the component to open flame or temperature in excess of 260° C. (500° F). (Minor edits.)
The topic was discussed in a recent Collision Advice-FCA-asTech webinar and in this related Q&A.
Share This: