One of the most interesting Caliber speakers was Caliber President and Chief Operating Officer Mark Sanders, who described the company's key stats — including what it spends on training. Here's an edited and abridged excerpt from bodyshop/IBIS' coverage. 
Get even more information by reading the entire June 13 article here.
Sanders showed a graph charting Caliber's historic growth from 2010 when it had 79 shops with a revenue of $316m to 2017 during which it was operating 546 sites with annual revenues of over $1.9bn. Mark explained how the company's strategy has been crucial to that growth and how that focus was developed following a meeting which questioned, 'Why are we in business today? Immediately after that meeting we started to put the building blocks in place to facilitate that fast growth,' said Mark.
Mark highlighted how 2016-2017 alone saw the business grow by more than 1,200 teammates, some 800 sites and nearly 140,000 repairs. 'It looks very attractive and is a lot of fun to be in a high growth company but the measure of our success is in our key performance indicators,' said Mark. 'We have made a commitment that Caliber will never outgrow its ability to provide our high levels of service.'
Mark highlighted how the business invests in its teammates and how that has resulted in 50% of its leadership team coming from the shopfloor.
'If you're in a leadership role at Caliber, you are committed to the success of everyone around you,' said Mark who then described the company's four pillars for success: best trained, most satisfied teammates – 'we invest $10-$15m per year in training'; provide operational consistency; manage overall client cost – 'we have strategic partner programmes with DRPs which allow us to manage our own shops'; and focus on my customer – 'this is the critical piece'.
Read more coverage of Sanders' appearance with the complete June 13 article on the IBIS website here.
In other IBIS news, the international conference reported Monday it would make a U.S. stop in California in February with an elite, invite-only event. Repairer typically have had to fly across at least one ocean to attend the summit.
Compare to your own shop
The Caliber data is interesting as a barometer of where other MSOs and individual shops might wish to be with regards to training and developing employees
At 546 sites making $1.9 billion combined, $10 million to $15 million on training a year at Caliber works out to about $18,315-$27,473 spent per shop and around 1 percent of company revenue on training.
Caliber might have more employees and revenue per individual shop than much of the industry, so let's look at it a different way.
A March 2017 D CEO profile reports the company had about 10,000 employees companywide. Adding another 1,200 in 2017 puts the company at around 11,200. That works out to the company spending $893 to $1,339 a year per employee on training.
That or more is potentially what it could take at your shop to compete with Caliber on repairs and in developing technicians to the point where you can promote heavily from within.
One other thing to remember about training. Whatever you, Caliber or another competitor spends on training might not be as much as OEMs think should occur.
Collision Industry Conference survey data from 2017 showed that more than 50 percent of non-management received less than 10 hours of training. Another study found between 7.4-12.6 hours of training per employee, depending on his or her role.
But according to a CIC OEM survey, Asian manufacturers felt technicians needed 20 hours of training annually to perform steel structural work on their respective brands, while domestic OEMs felt 27.5 hours would be necessary. European automakers, however, wanted technicians to have a whopping 76 hours of structural steel training.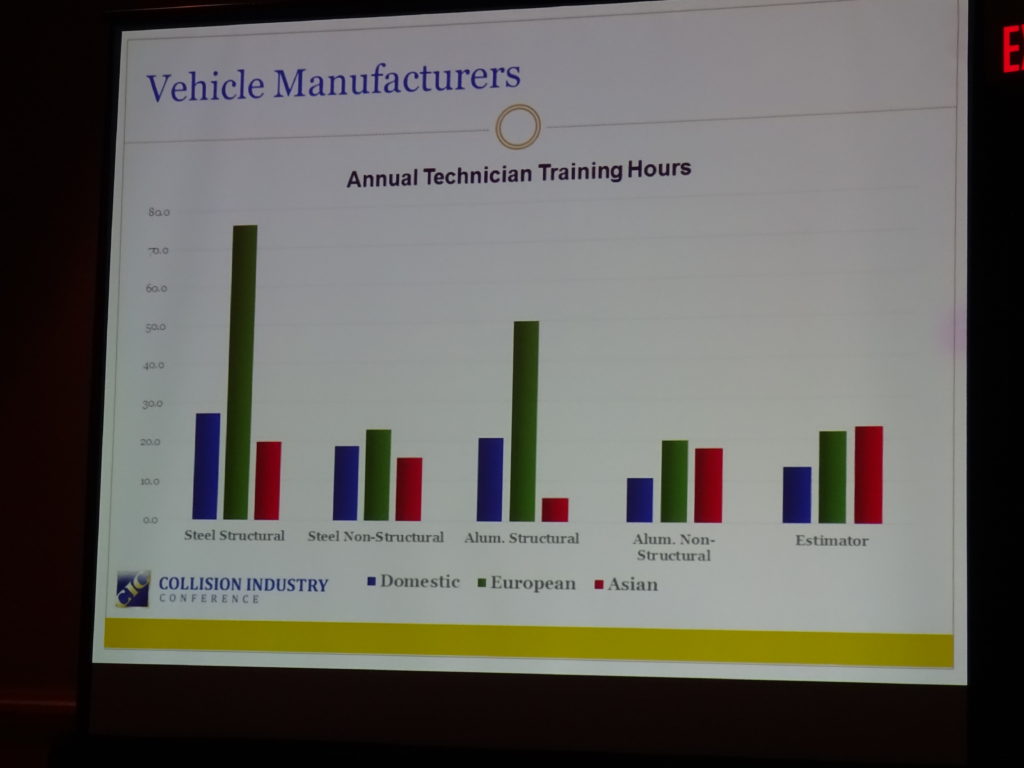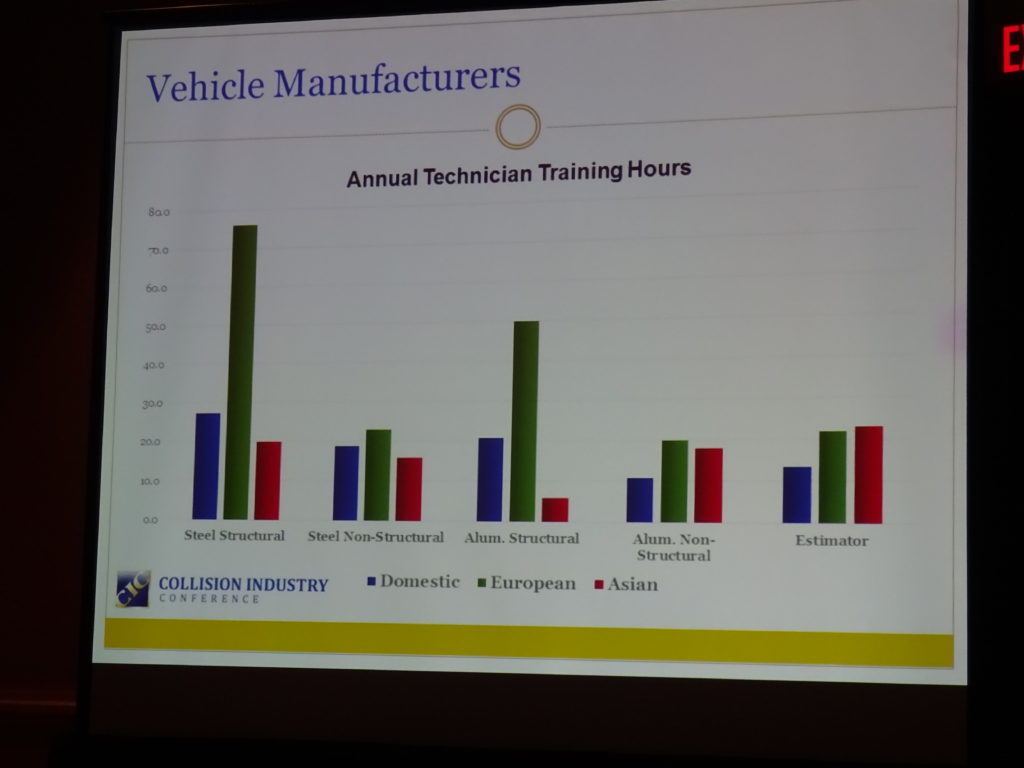 More information:
IBIS, June 13, 2018
Collision Industry Conference Education and Training Committee training survey data
CIC, April 2017 and November 2017
Images:
Caliber Collision in June 2017 announced it'd reached the 500-shop milestone in the U.S. alone by opening a new collision repair facility in Fort Worth, Texas (pictured). (Provided by Caliber Collision)
According to Collision Industry Conference OEM survey results reported in 2017, Asian manufacturers felt technicians needed 20 hours of training annually to perform steel structural work on their respective brands, while domestic OEMs felt 27.5 hours would be necessary. European automakers, however, wanted technicians to have a whopping 76 hours of structural steel training. (Provided by Collision Industry Conference)