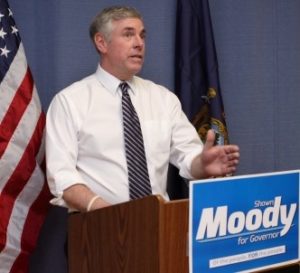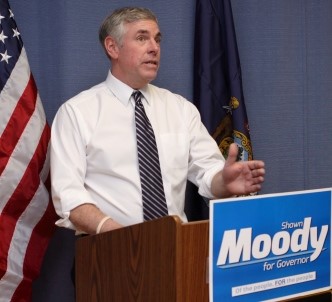 Democratic Attorney General Janet Mills has defeated Moody's Collision Centers owner Shawn Moody, a Republican, and will become Maine's next governor, the Associated Press reported.
Google cited AP data to report that Mills beat Moody with 51.3 percent of the vote to his 42.9 percent, with 83 percent of precincts reporting. Another 5.8 percent voted for independent Terry Hayes, according to the AP results on Google.
Moody conceded to Mills, the Bangor Daily News reported.
In the video of Moody's concession speech posted by the Daily News on Facebook, Moody thanked his brother, Thad, for running the 11-location body shop chain while he was on a "political sabbatical."
"Everybody here at Moody's, incredible effort," Moody said in the Bangor Daily News video. "They said they broke a record the last two months. so I'm thinking to myself, 'Maybe I should have got out of the way a long time ago.'"
In WGME video from inside a Moody's shop, Moody said his business had "a lot going," and he had a "day job" to return to — if they'd take him, he joked.
"I have to work my way back there," he joked in the WGME video.
Asked if he would still participate with government, he noted in the WGME video he had let terms on boards expire to avoid a possible conflict with the campaign, but "We'll see."
In terms of issues relevant to body shops, Moody said earlier this year that he also would raise state funding for vocational and technical education.
He also hoped to require that every Maine vocational instructor be required to spend two weeks with two different best-in-class businesses. This way, they can see whether their students are even learning the skills demanded by that industry.
He was satisfied with the Maine Bureau of Insurance and didn't express a desire to replace Superintendent Eric Cioppa. "I think they're doing a good job," Moody said.
Some of Mills' proposals might also help shops. Her website describes a pledge to create a "Small Business Accelerator to serve as a 'one-stop shop' for Maine businesses and start-ups who need help accessing financing, training workers, or handling state regulation." She also wants to provide 18 months of zero-interest loans to any Maine small business to pay for hiring a new employee.
Mills also vowed to "Create more post-high school options that result in a valued credential, and provide reduced up-front costs to vocational training in key sectors of the economy. Work with the University System, businesses, and organized labor to create and promote apprenticeship programs. Expand and emphasize the work of the Maine Quality Centers."
More information:
"Janet Mills wins race to succeed LePage as Maine's next governor"
Bangor Daily News, Nov. 7, 2018
Bangor Daily News via Facebook, Nov. 7, 2018
"Shawn Moody concedes Governor's race"
WGME, Nov. 7, 2018
Featured image: Republican body shop owner Shawn Moody ran for Maine governor in 2018. (Provided by Moody's campaign)
Share This: