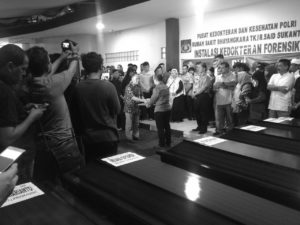 Sometimes, other industries' stories reinforce those in the collision repairer sector.
Covering a fatal Boeing 737 MAX 8 plane crash near Indonesia, Claims Journal on Wednesday reported the Federal Aviation Administration's plans to issue a directive that everyone comply with a Boeing operations manual bulletin.
Aircraft and engine manufacturers routinely send bulletins to air carriers noting safety measures and maintenance actions they should take, most of them relatively routine. But the urgency of a fatal accident can trigger a flurry of such notices.
After an engine on a Southwest Airlines Co. plane fractured earlier this year over Pennsylvania, killing a passenger, CFM International Inc. issued multiple bulletins to operators of its CFM56-7B power plants.
Aviation regulators such as the U.S. FAA and the European Aviation Safety Agency often follow such actions by mandating that carriers follow the bulletins.
Such regulatory moves reinforce why automotive OEM repair procedures and directions — not your best guess or "30 years doing this" — are the right way to do things.
The New York Times reported that Indonesian Lion Air 610 crashed Oct. 29, killing 189.
"Lion Air has expressed their deepest condolences to all the family and friends," the airline wrote in a Friday news release.
"The Indonesian National Transportation Safety Committee has indicated that Lion Air flight 610 experienced erroneous input from one of its AOA (Angle of Attack) sensors," Boeing wrote Tuesday.
It said it issued an Operations Manual Bulletin that same day, "directing operators to existing flight crew procedures to address circumstances where there is erroneous input from an AOA sensor."
The FAA on Wednesday said it would "mandate the Flight Crew Operations Manual Bulletin" from Boeing with an Airworthiness Directive.
#FAA Statement regarding its Airworthiness Directive and the @Boeing Flight Crew Operations Manual Bulletin. pic.twitter.com/MXD9cBsHDD

— The FAA (@FAANews) November 7, 2018
It issued a directive that same day, describing text (presumably from Boeing) that plane owners and operators must have in their flight crew manuals.
Boeing had determined that if the sensor registered an "erroneously high" angle of attack, the plane might continue to tell the horizontal stabilizer to push the plane's nose down, according to the FAA.
"This condition, if not addressed, could cause the flight crew to have difficulty controlling the airplane, and lead to excessive nose-down attitude, significant altitude loss, and possible impact with terrain," the FAA wrote Wednesday.
The New York Times reported that Safety Operating Systems CEO John Cox understood Boeing's advice to mean "that it was reminding them of the operating manual's instructions on what flight crews should do to manually disengage the automatic system if it malfunctioned. 'There is a defined procedure for pilots' if the plane incorrectly pitches its nose downward in response to a flawed stall warning, Mr. Cox said."
According to the New York Times, the sensor is one of a few possible crash causes being investigated.
The story also reinforces the need for ensuring vehicles are properly calibrated — and repaired correctly so they can be. One can picture a scenario like what the FAA and Boeing described happening on a U.S. vehicle with advanced driver assistance systems that a body shop failed to restore properly. For example, a compromised lane-keeping system reacts to an erroneous perception of the road, and the driver overcorrects in response, leading to a crash.
More information:
"FAA: Airlines Need to Heed Boeing Warning After 737 Max Crash"
Claims Journal, Nov. 7, 2018
"In Indonesia Plane Crash Inquiry, New Focus on Possible Aircraft Problems"
New York Times, Nov. 7, 2018
FAA airworthiness directive 2018-23-51
Featured image: Batik Air technical director Yanto Supriatno, left, shakes the hand of a Lion Air 610 passenger's relative, according to a Google Translate translation. (Provided by Lion Air)
Share This: