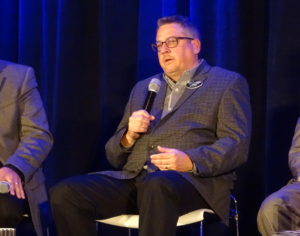 General Motors will base 60 percent of its assessment of certified collision repairers upon a "safe, proper repair," with the other 40 percent of the score equally divided between customer satisfaction and cycle time, a representative said.
These three broader categories will each be fueled by some of the seven specific key performance indicators GM plans to use, according to GM customer care and aftersales collision manager John Eck.
Eck noted that GM's metrics like cycle time — looking at factors like keys to keys and touch time — and CSI were also insurance direct repair program requirements today.
"We did that intentionally," he said in an October interview.
However, he noted during the OEM Collision Repair Technology Summit on Nov. 1 that "there is a gap" between DRPs and OEM networks.
He said he believed insurers want a correct repair too but wondered how often their DRP metrics changed.
Eck said for a couple of years, GM had been asking for insurers and OEMs to "come to the table" but "it's been a challenge."
Eck said one of the reasons GM worked with Mitchell was to "sit at that same table" and talk with insurers about the same data carriers were seeing. He said this had begun to "change the dialogue" and in the past few months had yielded progress.
OEM programs and DRPs should evolve, he said, and invited carriers to have that conversation to focus on the same thing.
The quality score will examine factors like OEM repair procedure usage, scanning and calibration, Eck said in October.
"We're actually scoring RepairCenter," Eck said, referring to the software from GM certification partner Mitchell.
Eck said OEM parts usage would not be a metric.
"This is not a parts play," he said.
GM can study repair quality by examining the individual lines on the estimate. Eck gave the example of a damaged bumper fascia.
If there's a blind spot sensor or other ADAS behind it, GM's position is that the fascia must be replaced, according to Eck.
"You gotta follow them," Eck said of repair procedures.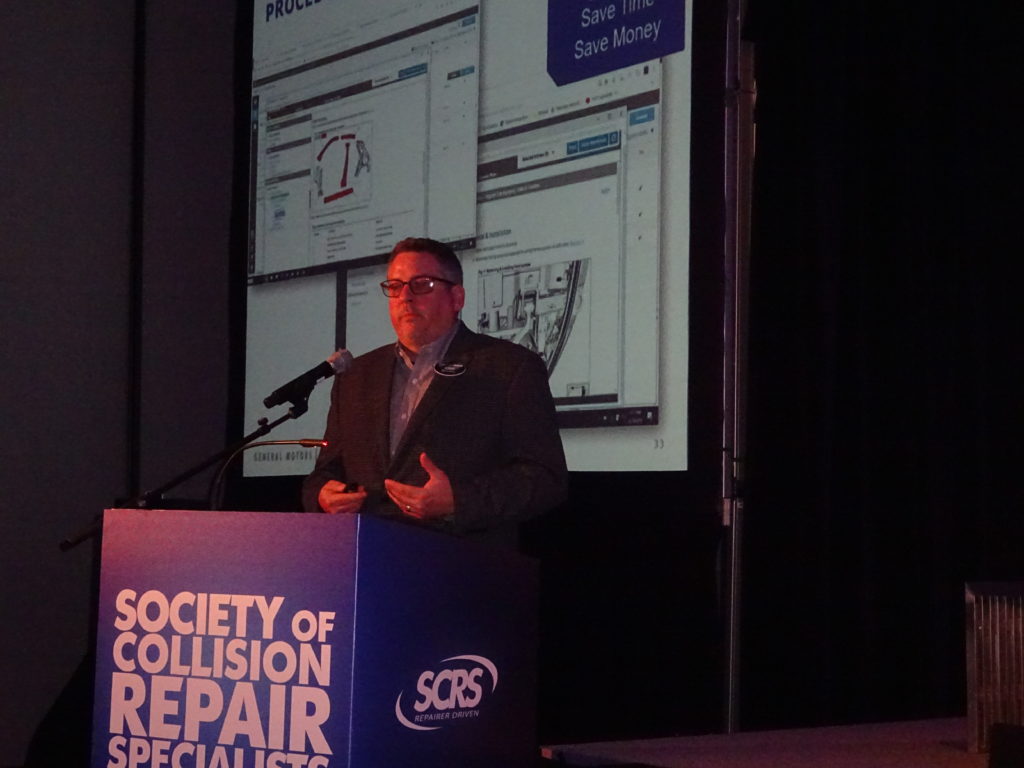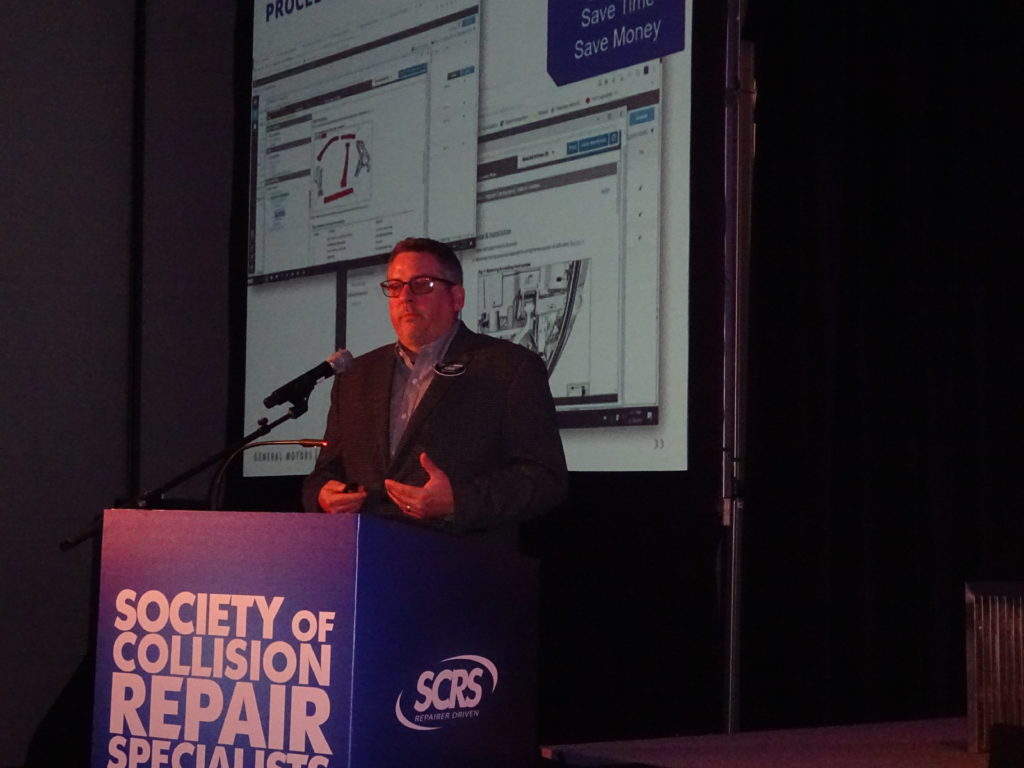 An estimate containing a repair operation rather than an R&R could be flagged and the shop penalized by GM. (The only repair permitted on such fascias is topcoat refinishing — no "substrate repair" — and the shop must use a plastic-capable mil gauge to confirm the paint job didn't exceed 13 mils, GM wrote in June 2018.)
However, if the vehicle only has "button" parking sensors — which aren't covered by the fascia — GM instructions can allow the part to be repaired, according to Eck.
GM embedded its repair procedures into the process as a means of obtaining such data, according to Eck. "It's all within the same workflow," and "its easier to check," he said.
Those procedures are available right at the time a GM estimate is written in Mitchell. The OEM requires certified shops to be Mitchell subscribers or pay to use it a la carte for each GM estimate.
Mitchell has an edge over other third-party repair procedure aggregators in that GM sends it new repair procedures immediately instead of at the longer intervals experienced by other licensees. For its part, Mitchell can incorporate any GM updates into its system within a week.
At this point, "Mitchell's the only one that can meet our criteria" of measuring a safe, proper repair and providing into a system that meets GM's standards, according to Eck.
Eck at the OEM Collision Repair Technology Summit on Nov. 1 said that GM expects OEM repair procedures to be on "every repair, every time."
A shop can't say, "'I used it last week, I know (how to do it),'" he said.
Eck said in October GM will at this point rely upon estimate data and a repair procedures checklist to track quality, and no plans for physical repair quality audits are planned at its point. (However, a shop applying for a spot in GM's network could be evaluated by VeriFacts or Assured Performance to ensure it has everything the OEM requires.)
"We did what the market asked us to do … 'Distinguish yourself, put some teeth into the program, and figure out how to make my life easier to follow OEM repair procedures,'" Eck said.
More information:
General Motors collision repair network information webpage
General Motors position statements
Featured images: GM customer care and aftersales collision manager John Eck speaks Nov. 1, 2018, during the OEM Collision Repair Technology Summit at SEMA. (John Huetter/Repairer Driven News)
Share This: