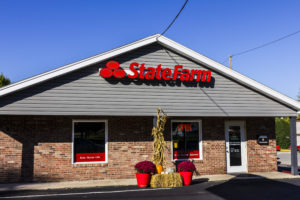 LKQ CEO Nick Zarcone suggested last month that State Farm might ramp up its usage of aftermarket parts following its $250 million settlement of a lawsuit tied to a notable $1.05 billion parts case.
The U.S. Southern District of Illinois in September granted preliminary approval to a $250 million settlement agreement for what might be as many as 4.7 million people in a class that had alleged State Farm conspired to elect a sympathetic judge and concealed those efforts from the Illinois Supreme Court.
The class-action Hale et al v. State Farm et al litigation involved everyone who twice won the Avery et al v. State Farm $1.05 billion lawsuit for State Farm's use of non-OEM collision repair parts but who subsequently lost an Illinois Supreme Court decision following the election of allegedly State Farm-backed Judge Lloyd Karmeier. Karmeier did not recuse himself from the decision.
The new Hale lawsuit had initially sought new damages of $7.6 billion for the entire class. (State Farm and the other defendants disagree with that amount.) Ironically, the $250 million Sept. 4 settlement announcement came the same day as State Farm announced it had bought 18 years of naming rights to the Arizona Cardinals' stadium.
Despite the win before Karmeier's court, State Farm had still for the 20 years since the initial Avery case "largely had not used aftermarket parts," Zarcone told analysts on an Oct. 25 third-quarter earnings call. (Special thanks to Seeking Alpha, whose transcript of the call helped us to check quotes.)
He said that after years of having to answer "'no new news'" to questions about State Farm, "there's finally been some new news."
Zarcone said the settlement needed to be finalized by a court. U.S. Southern District of Illinois Judge David Herndon will hold a "final fairness hearing" on the settlement at 9 a.m. Dec. 13. Class members can file objections until Nov. 17.
"To our knowledge, State Farm has not made any public statement regarding its intention to reinstate the use of aftermarket parts," Zarcone said last month.
However, once the lawsuit is formally settled, "we would not be surprised if ultimately, State Farm joins most every other auto insurer and begins to slowly reintroduce the utilization of our high-quality, cost-effective certified aftermarket parts — which by the way come with a lifetime warranty."
Zarcone said that while LKQ couldn't comment on when or how much State Farm would increase its aftermarket parts usage, but "we generally view this as a positive for our industry."
He said LKQ keeps meeting with State Farm — the nation's No. 1 auto insurer — regularly and it would tell analysts if there's any material information on this front.
"We view this as a positive," he said.
LKQ's North American aftermarket parts segment is about a $3.5 billion business already, Zarcone estimated.
Months before the settlement, a May memorandum provided by a Select Service source indicated State Farm had agreed to allow new classes of certified aftermarket parts on customers' vehicles.
The May 3 document stated:
When an estimate is prepared by State Farm or a Select Service repairer, the following new non-OEM crash related parts, when subject to certification standards developed by an organization approved by State Farm,* will be certified unless otherwise requested by the vehicle owner:
Bumper components
Lighting components
Radiator supports/tie bars and associated mounting components
Outer sheet metal and plastic / composite parts
Only Certified Automotive Parts Association and NSF certifications would count for these purposes, according to the memo.
However, at least three of the new additions conflicted with other bans remaining in the memo. The document said State Farm still forbids most "Bumper components" and "Outer sheet metal and plastic / composite parts" and many "Lighting components" from being anything other than OEM.
Explaining that State Farm "made a business decision" against using many aftermarket parts in October 1999, the memo reminds readers that "State Farm representatives and Select Service repairers are not to specify non-OEM crash parts in repairs paid by State Farm unless those parts are requested by the vehicle owner."
A month before the memo, State Farm announced the first of a series of rate cuts for more than 30 states.
The reports come following premium cuts in numerous states by State Farm, raising the question of if the carrier is attempting to offset the decreased revenue with denials on the claims side — regardless of what OEM procedures dictate or what at least one State Farm executive has learned from automakers.
More information:
LKQ third-quarter 2018 earnings call
LKQ, Oct. 25, 2018
Seeking Alpha transcript of LKQ third-quarter earnings call
LKQ, Oct. 25, 2018
Featured image: A State Farm agent office is shown in October 2016. (jetcityimage/iStock)
Share This: