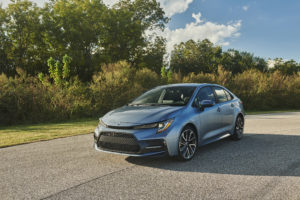 Toyota on Thursday announced it revised its crash protection designs and used more ultra-high-strength steel on the next-generation 2020 Corolla.
The vehicle also will receive Toyota Safety Sense 2.0 standard, upgrading and continuing Toyota's history of including the advanced driver assistance system suite with the Corolla. The next-generation 2019 Corolla Hatchback variant announced in March was the first Toyota to receive the 2.0 system.
Toyota's revamp to the staple American vehicle will mark the last of the country's ten most popular vehicles (per GoodCarBadCar's 2017 tallies) to switch to a new design generation and its accompanying structural and electronics upgrades. Repairers who have failed to keep up with modern OEM procedures, vehicle technology, training and equipment will truly be obsolete — if they weren't already during other generations.
Toyota sold 308,695 Corollas and 20,501 iMs (the Hatchback's predecessor) in 2017. The next-generation Corolla goes on sale in spring 2019.
Toyota said the 2020 model will mark the Corolla's switch to the company's new TNGA body platform first introduced on the 2016 Prius. A similar TNGA C conversion was done to the 2019 Corolla Hatchback variant, which was scheduled to have hit dealerships this summer.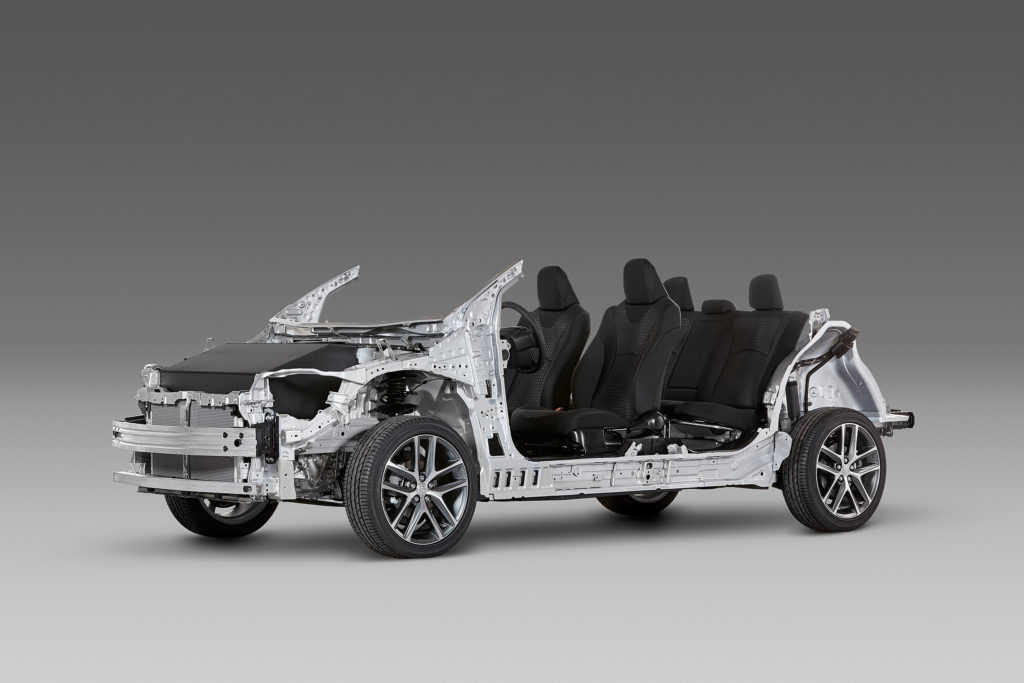 "This high-strength platform is fortified through the increased use of ultra-high-tensile steel as well as the application of new structural adhesive technology for enhanced body rigidity and occupant safety," Toyota wrote of the 2020 Corolla in Thursday's news release. "Specifically, torsional rigidity is improved by 60 percent compared to its predecessor."
Toyota wrote that the car has a "totally new multi-load path front structure." Repairers must understand and correctly repair this new design, which Toyota said is meant to "absorb frontal collision impact forces and disperses collision energy to help prevent deformation of the occupant compartment."
Toyota also Thursday confirmed changes to a variety of other Corolla body parts and said the revamps kept passengers safer.
"High-tensile steel in the rocker panel reinforcements and the upper kick panel; wider underbody side members; strengthened rear bumper reinforcements, and thicker dashboard panel, floor panels, and underbody tunnel all improve energy dispersion in the event of a collision," the OEM wrote.
The new design also accounted for side-impact crashes, according to Toyota.
"A squared figure-of-eight reinforced ring-shaped structure around the door openings, along with larger-diameter impact beams for the front and rear doors, are designed to help in the event of a side collision," the OEM wrote.
Repairers can probably get a sense of the new structure by looking at 2016 Toyota Prius body diagrams released in 2015. Though they don't identify the tensile strengths, the images seem to depict the kind of figure-eight door ring and underbody structures mentioned in the Corolla press release. (Obviously, you'll have to check the actual 2020 Corolla repair procedures online to see the sedan's true design and composition.)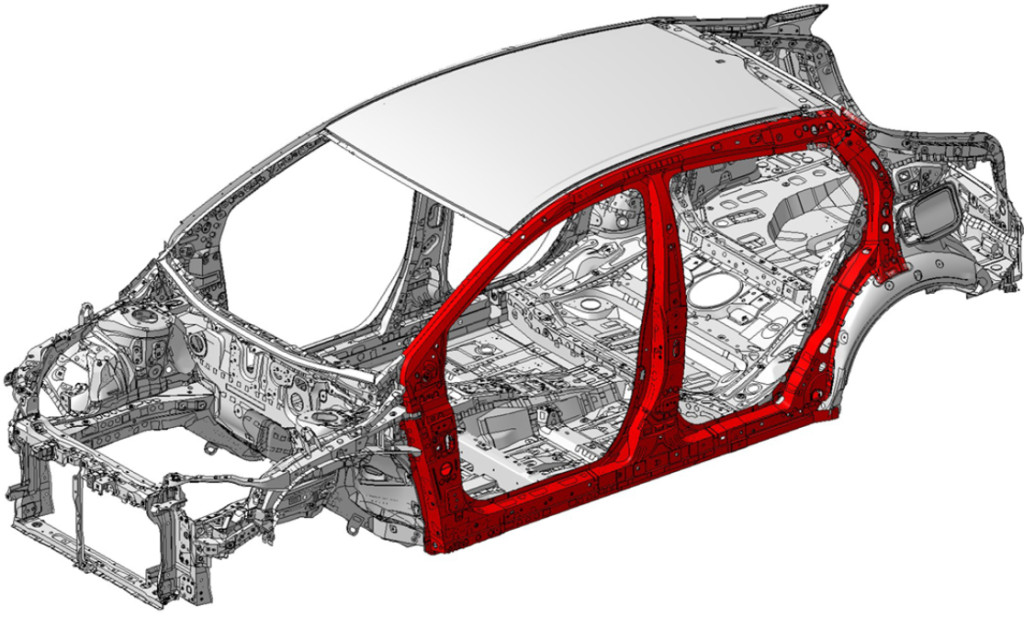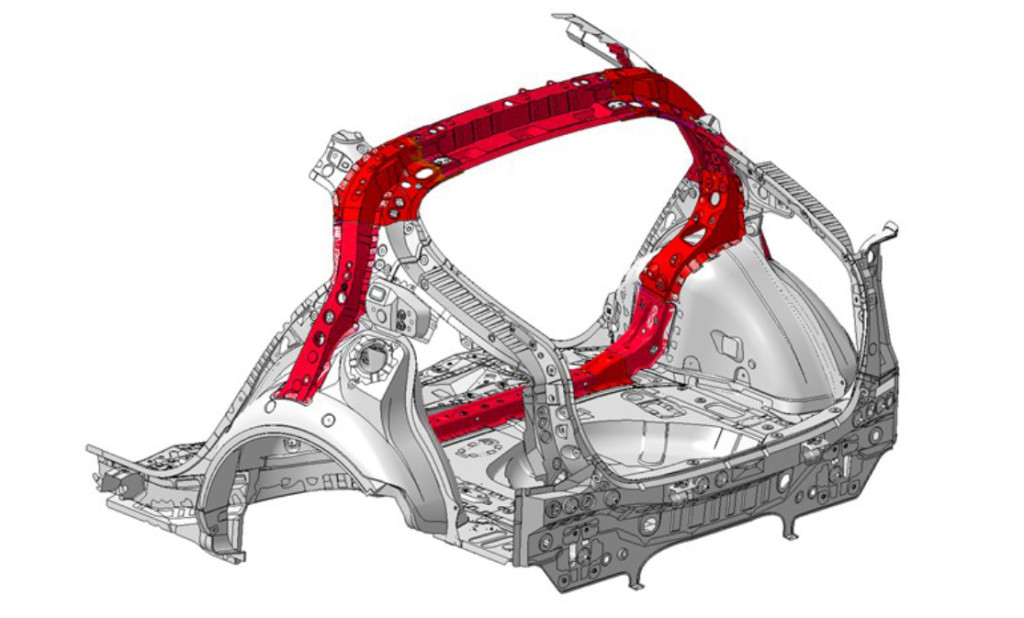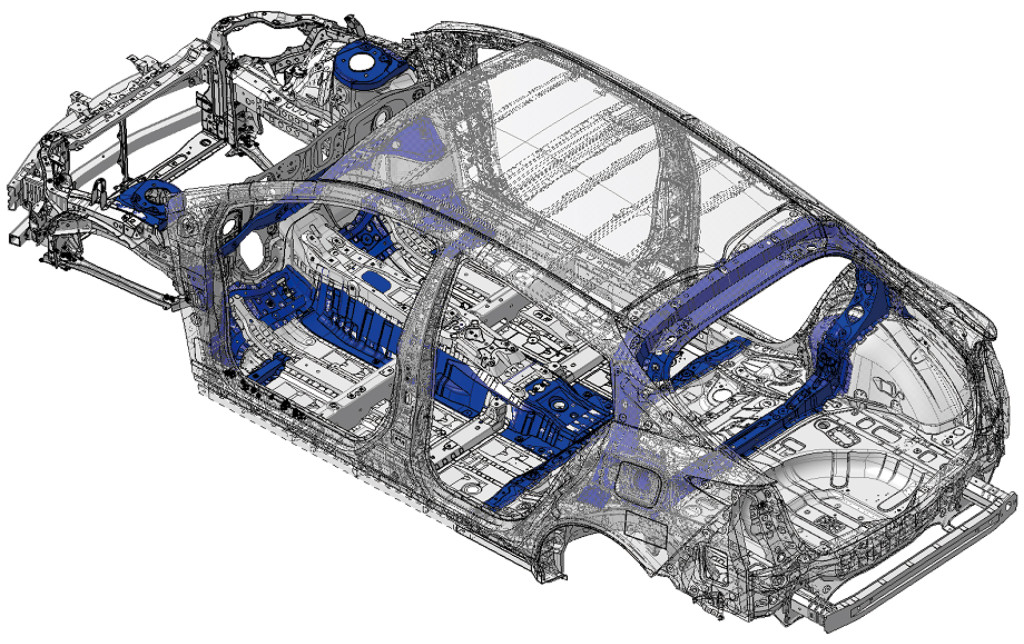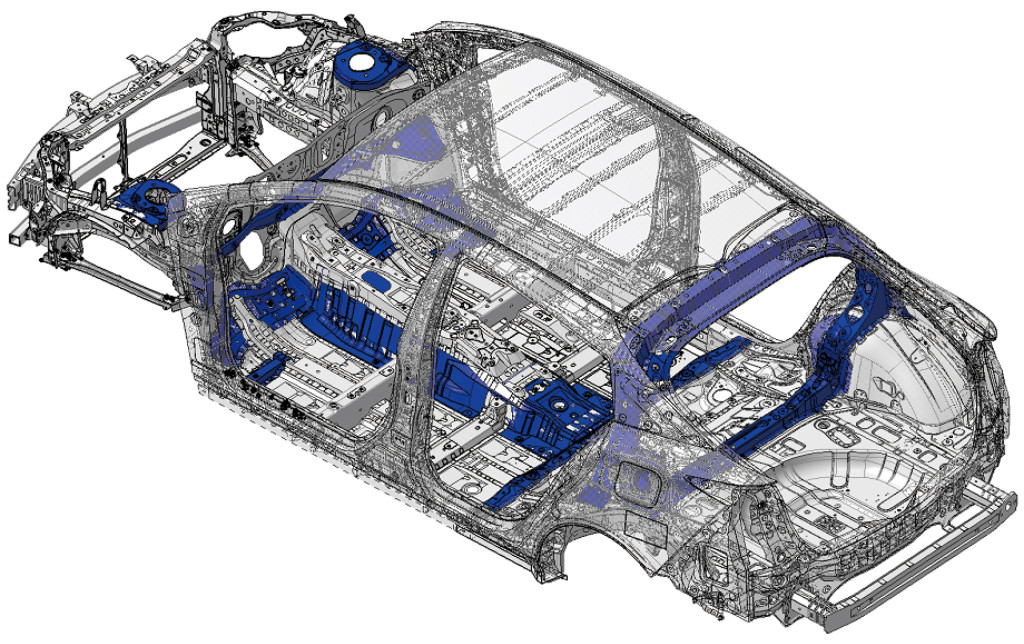 A Toyota spokesman hadn't yet responded to an email early Friday evening asking about proportions of ultra-high-strength steel and other higher-strength steel compared to the outgoing Corolla. For what it's worth, Toyota in 2015 said it boosted the 2016 Prius' "high-tensile strength steel" from 3 percent to 19 percent. A Japanese edition of the news release defines this as "strong, lightweight hot-stamp materials" of at least 980 megapascals.
The OEM also didn't respond to our inquiry about other materials used to lightweight the vehicle besides steel. The 2019 Camry, for example, has an aluminum hood.
Sound
The platform also will grant owners their "smoothest, quietest ride" of all Corollas thanks at least in part to other structures that could affect collision repair procedures.
"Powertrain and road noise have been culled thanks to revised drivetrain efficiencies, plus the widespread implementation of sound-absorbing materials, including Thinsulate, sealants, foams, and silencers," Toyota wrote. "The TNGA structure utilizes additional seals in its body panel gaps to insulate noise penetration and enhance air-sealing performance. As one example, the floor silencer pad is now one large piece, instead of many smaller elements. The inner and outer dash silencers are thicker."
Corollas which have the optional Entune 3.0 sound system also have sealed inner door panels for better bass. (Also, at least one A-pillar has tweeters inside for better high-frequency sound.)
Other features
Other 2020 Corolla elements which might be of interest to collision repairers:
Lighting: All the 2020 Corolla's lights are LEDs, and some grades use LED turn signals. Taillamps on the "sporty grades" have smoked lenses, according to Toyota.
Automatic high beams, which can switch themselves between low and high beams depending on if a vehicle camera sees cars in front of you, are a standard element of the Safety Sense 2.0 ADAS Suite. An optional adaptive front-lighting system will even turn the low beams with the car with the vehicle, "based on steering angle and vehicle speed." Some calibration of both of these is probably likely on many repairs.
Exterior: "The bold front fascia details vary by model grade, with the SE and XSE putting on the sportiest face, including a body-color chin spoiler and aero stabilizing fins to emphasize the wide stance," Toyota wrote. The car also has "(p)owerful fender flares and generously curved fender top surrfaces."
Corolla is also introducing a "dramatic new color … a highly iridescent Celestite Grey Metallic." Other colors include "Blizzard Pearl, Super White, Classic Silver Metallic, Black Sand Pearl, Barcelona Red, Blue Crush Metallic and Blueprint." Some of these names suggest more complex refinishing will be necessary.
Cooling: Vehicle and passenger cooling systems can be some of the first casualties of a collision, and the Corolla has upgraded technology on both, according to Toyota.
Toyota called the A/C "fully redesigned" and "more compact, more efficient and more effective." One example of the smarter climate control is the innovative twin-layer recirculation/fresh air induction unit: In cold climates, it will automatically send dehumidified fresh air to the upper cabin to reduce glass fogging while promoting recirculation of warm cabin air in lower areas."
As for the engine, Toyota said it was assisted by a "two-discharge port oil pump and a variable cooling system with electric water pump. … The more efficient cooling system also ensures quicker cabin heating on cold days and quicker cool-down when the air conditioner is used."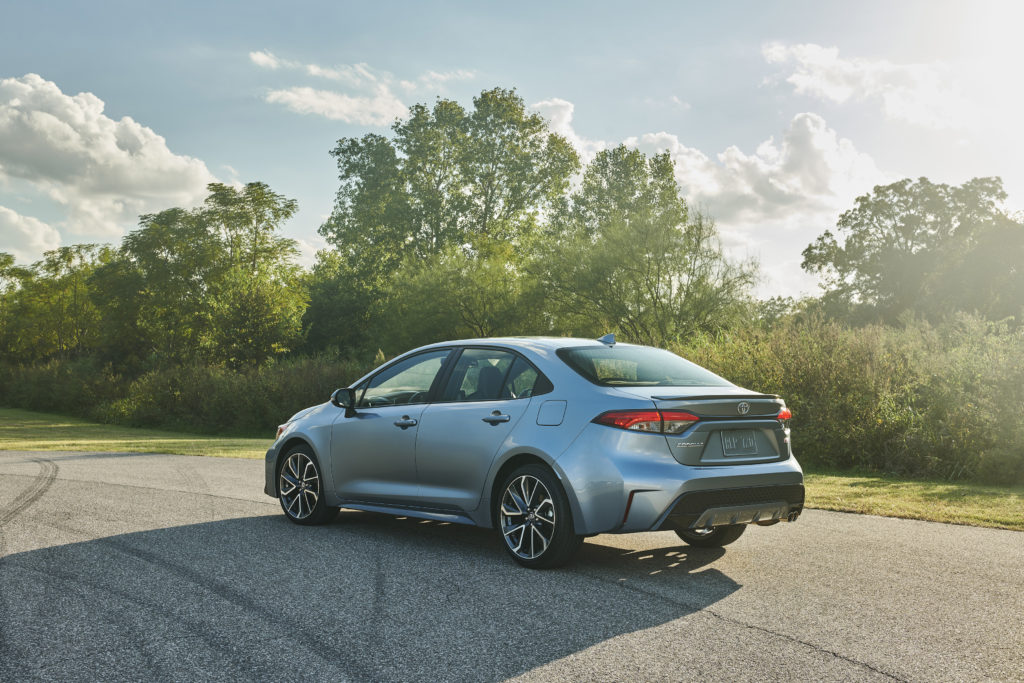 Suspension: Toyota switched from a torsion beam setup to a multilink rear suspension. It also has a "totally revised" MacPherson strut front suspension with a "strut bearing mounted coaxially with the kingpin axis."
ADAS: Besides the automatic high beams mentioned above, Toyota Safety Sense 2.0 continues Safety Sense P features like autobraking and adaptive cruise control. It also has automatic lane-keeping. The description of Safety Sense 2.0 in the Corolla Hatchback news release suggests Toyota might have upgraded autobraking to detect pedestrians and cars at night and cyclists during the day.
Other new ADAS features in the 2.0 format include "Lane Tracing Assist," which makes tiny steering adjustments to keep the car not just in the lane but in the center of it. The suite also has "Road Sign Assist," which can recognize Do Not Enter, yield and stop signs as well as speed limit placards and notify the driver on a dash panel.
Blind spot monitoring can come standard or as an option. It's unclear if Toyota offered this feature on the prior 2018 Corolla.
Such technology revisions suggest shops might encounter fewer crashes but potentially more calibration responsibilities on the 2020 Corolla than they saw with outgoing 2018 Corolla.
More information:
"All-New 2020 Toyota Corolla Ready to Rock the Sedan World"
Toyota, Nov. 15, 2018
"Hatch is Back! All-New 2019 Toyota Corolla Hatchback Wows at the 2018 New York International Auto Show"
Toyota, March 23, 2018
Images:
The 2020 Toyota Corolla will receive a version of the TNGA platform, seen here in 2015. (Provided by Toyota)
Toyota in 2015 revealed these three body-in-white diagrams of the 2016 Prius, the first Toyota to receive the TNGA platform. It didn't provide a key to the highlighted structures, unfortunately. (Provided by Toyota)
Share This: