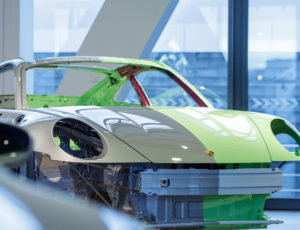 Porsche has 130 dealership and independent certified auto body shops, close but not quite enough for its 192 dealerships, according to a Porsche collision representative.
The OEM wants each Porsche dealership to own its own certified body shop or have sponsored an independent repairer which can receive its collision work, said Mike Kukavica, Porsche aftersales technical training collision repair technology instructor.
Sponsorship is required for independents, Kukavica told a VeriFacts Guild 21 audience in during a Dec. 13 presentation on Porsche's wheel repair ban. One hundred of the 130 certified shops are independent body shops, he said. Two of the 30 dealer shops are housed within Porsche retailers; the other 28 are dealership collision centers shared by multiple retail sites in a particular dealer chain, according to Kukavica.
So if your shop is in an area lacking a Porsche certified shop, it might be worth befriending your local dealer if the area's vehicle mix has enough Porsches to make certification worthwhile. Porsche sold a record 55,420 vehicles in the U.S. in 2017, up from 54,280 in 2016.
Porsche's certified collision network is meant to "raise the experience" for Porsche customers and ensure the OEM's vehicles are fixed correctly, Kukavica said.
Kukavica said some certified programs are focused more on parts sales than repair quality. But Porsche's says nothing about parts except requiring certified shops to use OEM parts, he said.
"It's not a parts-driven program," Kukavica said. "It's a quality-driven program."
Kukavica said that after finding a dealership willing to sponsor it, a body shop would receive a Porsche program guide.
The collision repairer would need to examine it and decide if Porsche certification would be a good fit, Kukavica said. He said the program goes beyond taking a check from the shop, "handing you a plaque," and ticking off a box in Excel. Porsche's goal was to ensure a technician fixing one of their vehicles had everything needed, he said.
Shops who join the network do receive a captive audience, for Porsche restricts some parts to certified shops. Kukavica said these include any aluminum part in the vehicle structure "permanently mounted" to the car — "hang-on parts" like fenders or door wouldn't count, he said — and any steel part joined to an aluminum part.
Kukavica said Porsche was able to do this because a "qualified generalist" in the collision repair industry used to steel couldn't be expected to do a "safe repair" on its vehicles.
A customer-facing webpage promoting Porsche-certified shops discusses the expertise needed to fix a Porsche by noting that the Porsche 911 (991) has 50 percent fewer welds than its 997 predecessor from 2004. The 911 (991) has 120 meters of adhesive and 2,110 punched rivets compared to the 911 (997) with 12 meters and zero rivets, respectively, Porsche also said.
But here's the kicker: That advanced structure Porsche cited to tout its certified shops is from the prior-generation 911 and about to be old news. The next-generation 2020 Porsche 911 (992) revealed in November might be even more complex and even more of a testament to the need for and skill of certified shops.
"With the new 911, Porsche has developed the mixed body construction throughout the vehicle further and designed a completely new body structure," Porsche wrote. "The steel share of 63 percent in the previous model has now been more than halved to 30 percent, Apart from the front and rear fasciae, the outer skin is now made fully of aluminum."
The next Guild 21 call is Jan. 10 at 2 p.m. ET.
More information:
Porsche consumer-facing description of lightweight body repair expertise
Porsche certified shop locator
Featured image: The body of a 2020 Porsche 911 (992) is shown in a production workshop Dec. 10. (Jörg Eberl/Provided by Porsche)
Share This: