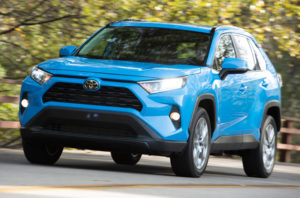 Toyota has warned repairers that the old practice of repainting a glass opening might not apply to its vehicles today.
The fall 2018 Collision Pros magazine announced Thursday called the glass often "an integral part of the body structure." In the article, Toyota described how it prepares the pinchweld flanges to receive the glass in the factory, a system that "provides the best paint adhesion and corrosion protection and creates the perfect bonding surface for glass."
But a repairer can't duplicate this "due to the complexity of the OE paint finish," and so you shouldn't try, according to Toyota.
A shop should try to save as much of the e-coat as it can, Toyota wrote in the document. (As always, refer to the actual Toyota OEM repair procedures online to confirm this for your particular vehicle. Toyota also referred shops to CRIB No. 127.)  But sometimes, this isn't possible because of the nature of the repair. In that case, the bare metal should receive "an aftermarket two-component epoxy primer."
Sometimes, a shop will have to repair or replace the metal itself. In that case, Toyota instructed shops to remove corrosion and existing primer from the flange "to expose clean, bare metal." Put on new epoxy primer and "make sure it's fully cured," Toyota wrote.
Knowing the cure time is important, for it could affect a shop's production if not budgeted for by the repair team.
On the plus side, you don't have to spend time applying other coatings atop the primer. Toyota said nothing but primer should exist between the bare metal and adhesive.
"Do NOT just spray color and clear and then use urethane adhesive—that will not properly secure the glass and may compromise the strength of the overall structure," Toyota wrote. (Emphasis Toyota's).
Giles Dillingforth of BTG Labs in 2017 explained how the actual bond between two items is actually incredibly thin, a matter of mere molecules. An improper surface preparation can lower the reactivity of the surface and create lower-energy bonds with the adhesive, he said. The connection is more likely to be broken. This might be what Toyota is trying to prevent by barring certain coatings between the substrate and adhesive.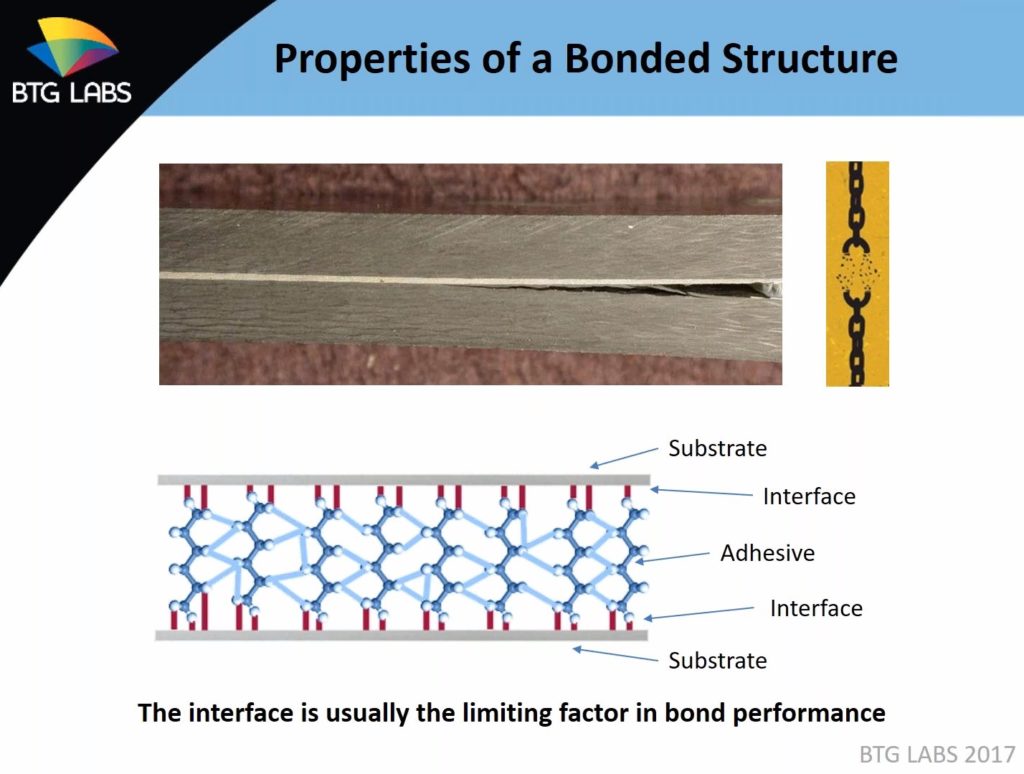 This isn't something to fool around with. Toyota warned that incorrectly bonded glass can affect supplemental restraint systems "and how the structure reacts in a collision, even during normal body flexing and driving."
Not just Toyota
Shops shouldn't think this only applies to Toyota flanges, eith. Collision Hub's "Repair University Live" in 2017 described a similar no-clear, no-basecoat system as common for automotive glass — and something that even good shops get wrong.
Ideally, glass is joined by urethane to a substrate bearing a coat of epoxy (not the self-etching kind), according to show guest Mark Olson, CEO of Vehicle Collision Experts.
"Metal, epoxy, urethane, glass," Olson said in November 2017, noting that Toyota even did research for its on vehicles on this a few years ago. (This might be a reference to CRIB No. 127.)
You don't want any basecoat, clearcoat, sealer or body filler between the glass and substrate; all are weak links which could potentially fail in a collision, according to Olson. But that's how "most shops do it" — and it's wrong.
"The urethane's only as good as what it's attached to," Olson said then.
Olson and Collision Hub CEO Kristen Felder also suggested an incorrect glass installation could have been cited to win the $31.5 million case against John Eagle Collision. (Later settled for an undisclosed amount.)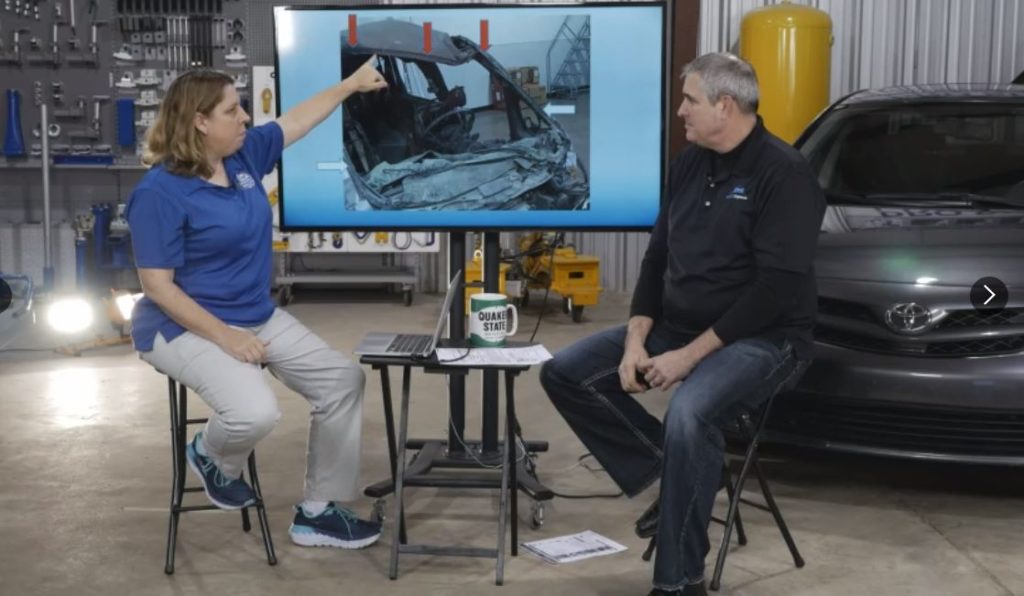 Felder said "I would be very confident" that the shop refinished the glass flange of the 2010 Honda Fit at the center of the case with basecoat and clearcoat.
Olson said that he spoke with plaintiff's attorney Todd Tracy about the glass being a factor, and Tracy told him they had noticed it as well, but didn't have to bring it up because they already had a case in the incorrectly bonded roof.
"The glass would have been his 43 million-dollar door" even if the roof had been welded properly, Felder said.
More information:
"Bonded glass openings: To paint or not to paint"
Toyota Collision Pros: Fall 2018
"All Things Glass" ($30 subscription required)
Collision Hub "Repair University Live," Nov. 29, 2017
Images:
A 2019 Toyota RAV4 XLE Premium with Blue Flame paint is shown. (Provided by Toyota)
Abrasion, chemical treatment or another surface prep process breaks the bonds of a substrate's outer molecules during the surface prep process, boosting the energy of the substrate and rendering those treated exterior molecules highly reactive. The molecules in the adhesive, meanwhile, are looking to react with something with high surface energy. They find the broken bonds of the substrate's molecules, lock together with them and settle into the lowest-energy configuration possible. After some curing, voila, you've got a bonded joint. (Provided by BTG Labs)
"Repair University Live" host Kristen Felder (Collision Hub) and guest Mark Olson (Vehicle Collision Experts) said during the Nov. 29, 2017, "Repair University Live" that what they said seemed to be an incorrect glass installation could have been cited to win the recent $31.5 million case against a Dallas collision repairer. (Screenshot from Collision Hub)
Share This: