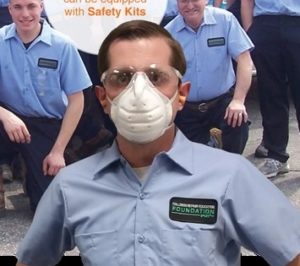 Being the season of giving and all, your shop might consider giving out some presents that could pay off with new technicians.
The Collision Repair Education Foundation is seeking repairers who'd like to donate a safety kit to a vo-tech collision student.
A $50 sponsorship gives a future auto body technician a new Cintas work shirt and pants, a dust mask, earplugs and safety glasses, according to a Tuesday CREF news release. Sponsor 20 kits or more, and your logo will appear on the shirts.
CREF reports hearing each technician filling an open spot can mean $30,000-$50,000 per month in additional revenue for a collision repairer. So it might be worth the $50 or even the $1,000 for 20 kits to get your shop's brand on the minds of prospective future employees.
"Participating businesses can sponsor schools of their choice, or they can choose to be paired with a school in need by the Education Foundation," the organization wrote Tuesday. "The donation program can lead to long term relationships between professionals and school programs that are preparing the next generation of collision industry employees."
CREF will serve as a middleman to coordinate the sponsorships and donations, but it also invited donors to visit the local school "to meet the students and distribute the new uniforms."
Collision trade programs are hurting and need help, according to CREF. Development director Brandon Eckenrode wrote in an email that shops can donate any amount towards a local vo-tech that CREF can turn into "tools, equipment, supplies, etc" for the school. Donations of physical goods like tools are also welcome, he has said.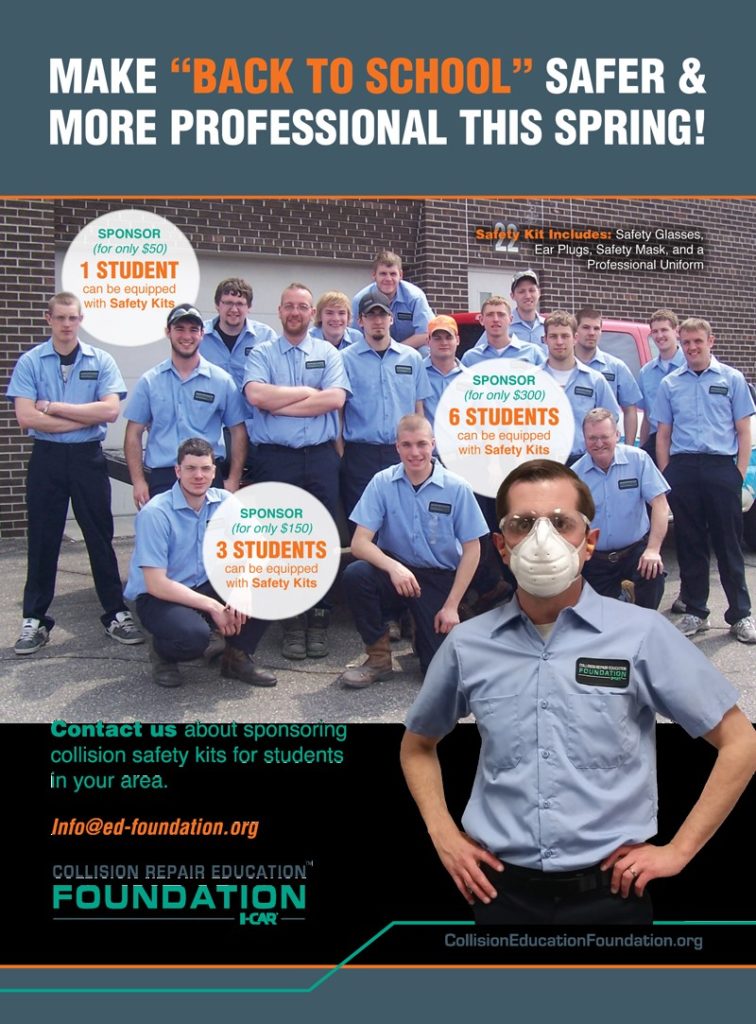 CREF in October announced more than $500,000 in Ultimate Collision Education Makeover money from it and industry partners to help schools reach higher levels of readiness or expand further once they reach what CREF considers the top tier.
One of the top grant awards in 2018 went to Thornton Fractional Center for Academics and Technology in Illinois. The program planned to buy a new downdraft paint booth to replace a 1990s Spraybake, which ought to offer some perspective on how serious program needs can be.
Eckenrode in October said CREF planned to help make the schools more "attractive programs to learn in." He said it's amazing how even a new coat of paint "goes a long way."
Many markets are starting with tours by middle schoolers, and a "clean, professional-looking program" can go a long way towards fostering interest in the trade program, Eckenrode said at a Collision Industry Conference. In many technical schools, there's not enough money for such upgrades — evoking the need for a "tetanus shot" in one's mind instead, according to Eckenrode.
To sponsor a uniform or to donate something else, contact Eckenrode at Brandon.Eckenrode@ed-foundation.org or 312-231-0258.
And if you're a starving collision repair vo-tech student in high school or college, apply by Feb. 14 for what will be more than $200,000 in grants and scholarships available to you and your colleagues through CREF. For more information, contact Melissa Marscin at 888-722-3787, Ext. 282, or scholarships@ed-foundation.org.
More information:
"COLLISION REPAIR EDUCATION FOUNDATION INVITES COLLISION INDUSTRY BUSINESSES TO SPONSOR STUDENT SAFETY KITS FOR LOCAL HIGH SCHOOL AND COLLEGE COLLISION PROGRAMS"
Collision Repair Education Foundation, Dec. 18, 2018
"COLLISION REPAIR EDUCATION FOUNDATION OFFERING OVER $200,000 IN GRANTS AND SCHOLARSHIPS TO COLLISION STUDENTS THIS SPRING"
CREF, Dec. 12, 2018
Featured images: The Collision Repair Education Foundation is seeking repairers who'd like to donate a safety kit to a vo-tech collision student. (Provided by CREF)
Share This: