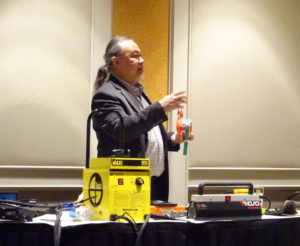 Collision repairers and any other industry folks should make time during their CIC next month for the Society of Collision Repair Specialists open board meeting.
Find out about the national collision repair trade group's efforts and plans, hear about some industry issues and see one of our favorite Education Committee events — the annual unveiling by committee Chairmen Kye Yeung (European Motor Car Works) and Toby Chess (Kent Automotive) of the "Kool Tools" they discovered at SEMA.
Yeung, who also serves as the SCRS chairman, and Chess wander the aisles of the mammoth trade show annually and buy out-of-pocket (to avoid bias) any tools that catch their eye. After testing them out in a shop environment, they present any tools and equipment making the cut to the SCRS board meeting and Collision Industry Conference during the January industry gatherings.
"The highlighted tools are identified by participants in the Education Committee and often cover a wide range of tools from: shop-equipment, personal-use tools and highly unique to ultra-affordable solutions," SCRS wrote in a news release. "All which stood out to the committee as solutions that are helpful in the collision repair process."
Anyone is welcome to attend and participate in the free SCRS open board meeting; SCRS membership isn't necessary.
"The morning session is open to anyone wishing to learn more about the current state of the association's activities and pressing industry topics, or has a topic they wish to bring to SCRS' attention," SCRS wrote. "The board of directors encourages and welcomes, open and interactive conversation with the open meeting participants."
The meeting is scheduled from 8:30-10:30 a.m. on Wednesday, Jan. 16, 2019, in the intriguingly named "Tapestry Room" of the Hilton Palm Springs, 400 E Tahquitz Canyon Way, Palm Springs, Calif.
Repairers, suppliers, OEMs and others seeking information about the various SCRS memberships — which help fund free resources like Repairer Driven News and the Database Enhancement Gateway — should email info@scrs.com, visit www.scrs.com or call 877-841-0660. The organization and its 37 affiliate organizations represent 6,000 collision repair companies and 58,500 professionals.
The CIC itself is also at the Hilton (mention the Collision Industry Conference for a special room rate). It features a reception at 6:30 p.m. Jan. 16, 2019; the actual meeting itself is slated for 8 a.m. to 5 p.m. Thursday, Jan. 17.
A formal agenda is expected soon, but the CIC has teased that the January conference "will include a deep dive discussion about the impacts felt throughout industry segments by advancements in ADAS/Safety Systems and vehicle safety technologies."
"With a panel of industry experts, the Chairman Jeff Peevy will encourage the group to focus on passenger safety, and whether or not training, processes or procedures are making passengers safer after repair," CIC wrote in a news release Dec. 19. "There will be multiple viewpoints and discussion on the issues present in the marketplace."
Scan tools will also be examined, CIC reported.
"Our industry is being hit hard by technologies related to the repair process," Peevy (Automotive Management Institute) said in a statement. "There needs to be further transparency, and possible solutions, discussed with all segments affected. Vehicles are still evolving at a pace that the repairers are hard-pressed to keep up with. My hope is that giving this issue more focus with industry experts and all the influencers in the room, we can begin to see how to positively affect passenger safety."
Speaking of events, why not post all of yours to our free, interactive Industry Events Calendar? Events submitted usually appear live on Repairer Driven News within a business day. All relevant industry stuff makes the cut; the brief lag is just so our staff can filter out spam.
More information:
"SCRS Encourages Attendance at Open Board Meeting in CA"
Society of Collision Repair Specialists, Dec. 26, 2018
Collision Industry Conference website
Repairer Driven News free, interactive events calendar
Featured image: Society of Collision Repair Specialists Chairman Kye Yeung (European Motor Car Works) holds Mark Safe removable arrows, which provide estimators an alternative to writing on a car with a marker. (John Huetter/Repairer Driven News)
Share This: