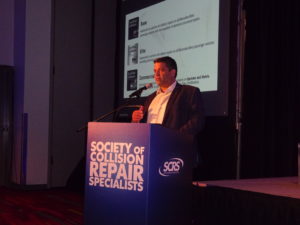 Mercedes collision manager Benito Cid last month said Mercedes only had 281 of the 400-420 certified collision repair facilities it wanted — a potential opportunity for repairers in certain markets.
"We don't have enough facilities on the program," Cid said during the SCRS OEM Collision Repair Technology Summit at SEMA.
He declined in an interview after the panel to provide markets where Mercedes particularly needs shops, but he said the issue involved areas with too much work for the existing certified repair capacity, rather than areas lacking a certified shop altogether. You don't want to tell a customer that a certified shop is best but make them wait a month for it, he said during the forum.
Mercedes has a soft limit of two facilities in an area but will allow as many as will be needed, he said.
Requirements
Dealer sponsorship is required for the Mercedes program, a condition which led to a messy 2017 dispute between a shop and a New York dealership which finally wrapped up in May.
Cid said following the SEMA panel that it made sense to have sponsors, for the customers' vehicles were ultimately coming to a Mercedes dealership anyway.
Mercedes also requires certified shops to only use new OEM parts and buy them from their sponsor dealer, according to a brochure about certification.
The certification network has three tiers: Base, Elite and Commercial Vehicles, according to Cid's presentation.
The Elite class is cleared to perform aluminum structural repairs and needs approved welders, Cid said. Mercedes also restricts its welded aluminum parts by drop-shipping them only to Elite shops.
The Commercial designation generally requires a shop to have more space, and they're also required to have either Base or Elite certification, according to Cid's presentation.
Cid said Mercedes has tried to make tool and equipment requirement compliance easier, but it won't do the same for training.
"Training is our No. 1 priority," he said. The company will even cover travel costs if the shop is far away.
Anyone who works on a Mercedes needs a Mercedes ID and must meet minimum and ongoing training requirements.
The facility needs either five trained staffers or 50 percent of its employees to have training — whichever is more, he said.
Cid at the Nov. 1 session said Mercedes recently updated its training requirements for different roles and has informed its certified shops of the change. The new requirements can be seen in the chart below.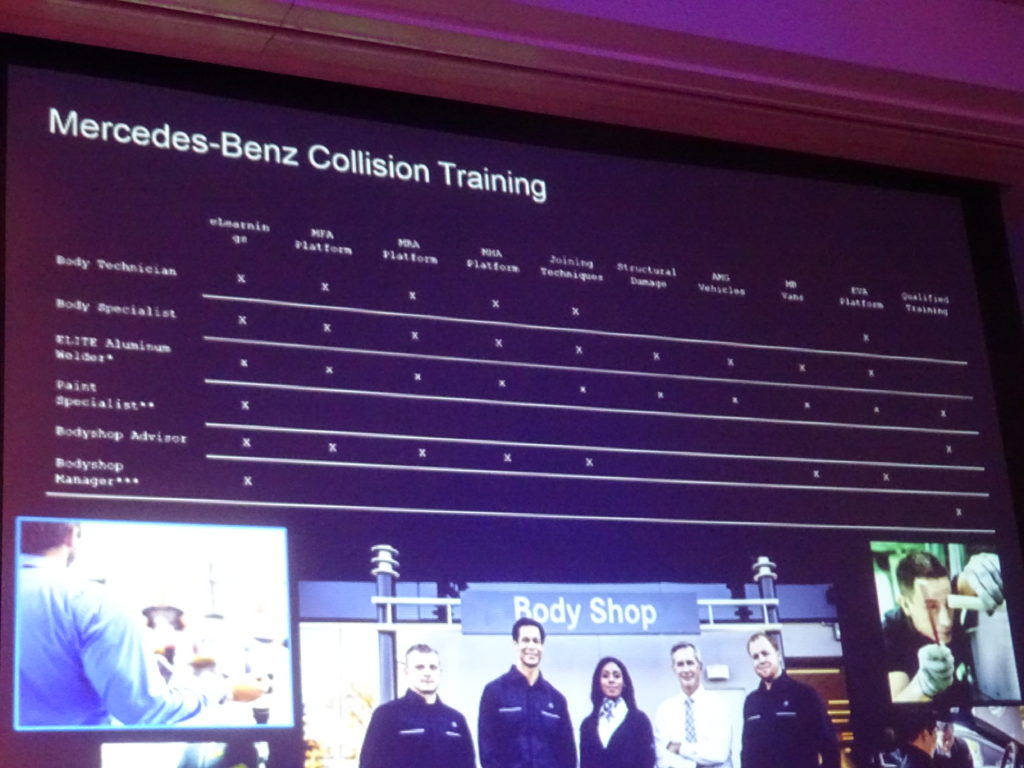 Mercedes' training also includes a requirement that technicians drive a vehicle to observe how advanced driver assistance systems behave, according to Cid. Then, Mercedes has them drive with a misaligned ADAS to see the difference and reinforce proper repairs, he said. He said technicians are more likely to understand the importance of a correct repair then.
Oversight
A shop is expected to look up repair procedures on every repair and keep a file showing they did so, according to Cid. Mercedes also expects the facility to provide a customer with signed proof it followed the procedures. Failure to do so could pose a liability issue, he said.
Mercedes tells shops to look up the procedures anew online on every repair, for its engineers will find different ways of accomplishing the repair, according to Cid.
"Technologies change," he said.
Unfortunately, the engineers don't tell Cid when that happens; they just change the instructions, he said. The only way to know is to look at the timestamp on the file, he said.
He said he wished there was a feed of alterations, but that wasn't the case. "It just changes," he said.
However, Cid also noted that sometimes so many things change that he could be flooded with notifications.
Perks
Besides the captive audience restricted aluminum parts brings to Elite shops, certified repairers benefit from Mercedes promoting their businesses.
The company recently launched the Collision Assistant feature on its "Mercedes me" app, according to Cid. He said it connects customers with damage to a dealership, who in turn can send them to a certified shop. Having facilities within a reasonable distance is important to the program's success, he said.
Mercedes has seen "pretty good usage" of the program already, he said.
The company also offers customers free tows to certified shops, another incentive to use them.
More information:
Customer-facing Mercedes certified collision repair webpage
Brochure of certified Mercedes collision repair program requirements
Mercedes OEM repair procedures
Share This: