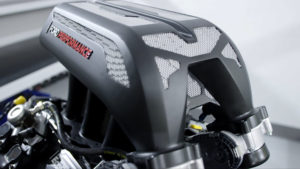 Carbon and Ford last month announced some interesting applications of 3-D-printed parts, including components Ford said would be printed on demand as replacement parts.
'Hoonitruck' manifold
The splashiest of the printed parts involved an "intricate aluminium intake manifold that supplies air from the turbochargers to the engine's cylinders" for Gymkhana TEN star Ken Block's 1977 F-150 "Hoonitruck."
Ford in a Jan. 29 news release called the intake manifold "the largest 3D metal-printed part for a working vehicle in automotive history" and said it built it with help from the RWTH Aachen University" Digital Additive Production Institute in Germany.
The part weighs about 13.23 pounds.
"I think Ford did an exceptional job," Block said in a statement. "This is my favourite part of the 'Hoonitruck'. You could not have made it any other way."
Ford said the entire build process took five days.
"We are fortunate to have access to incredible technology, but this was one project that pushed us – and our computing power – to the absolute limit. The manifold has a complex web‑like structure that couldn't be made using traditional manufacturing methods. We ended up dissolving the support systems in acid," Ford of Europe advanced materials and process engineer Raphael Koch said in a statement.

But the more interesting development from a collision repair perspective is Carbon's announcement Jan. 16 that it had produced Ford's "first digital manufactured polymer parts in production."
Other parts
Carbon said it 3-D-printed service parts for Ford Focus lever arms, auxiliary plugs "for a niche market" of the F-150 Raptor — likely a reference to a Raptor part for China referenced in a December Ford news release — and e-brake brackets for Ford Mustang GT500s.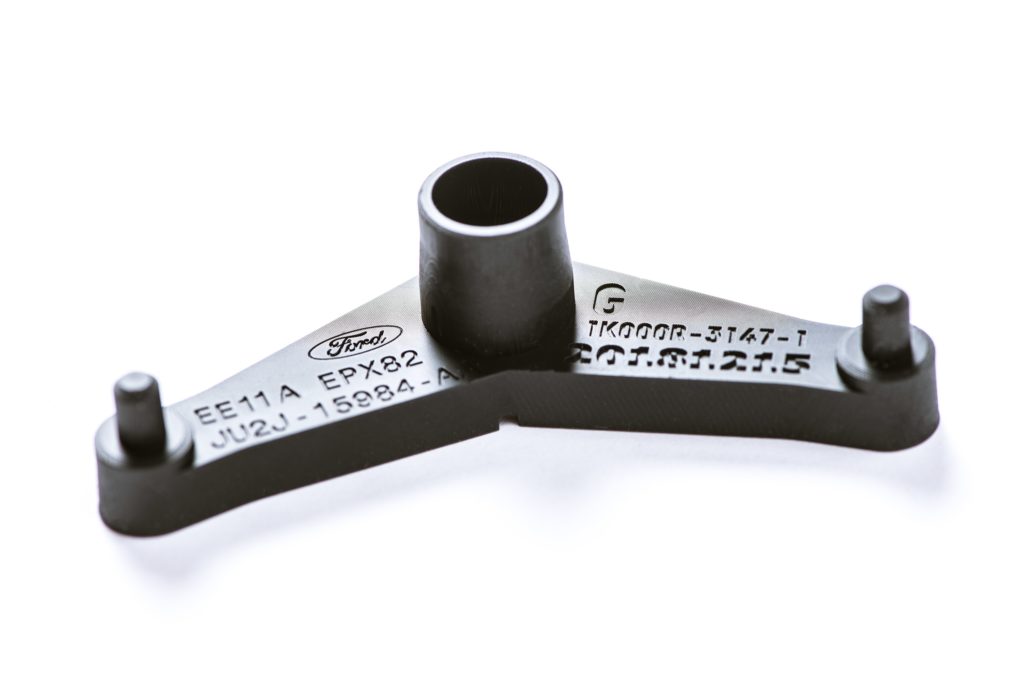 Carbon's 3-D-printed spare HVAC parts for the 2006 Ford Focus snagged a nomination for the Society of Plastics Engineers 2018 Automotive Division Innovation Awards.
"This application proved that spare parts can be 3D printed on demand, passing all functional requirements," the program for the awards show states. "This is the industry first use of Carbon's CLP technology for HVAC components in a production vehicle. No tooling need, significant cost savings over re-tooling and a major decrease in time to market over re-tooling are the benefits of this technology."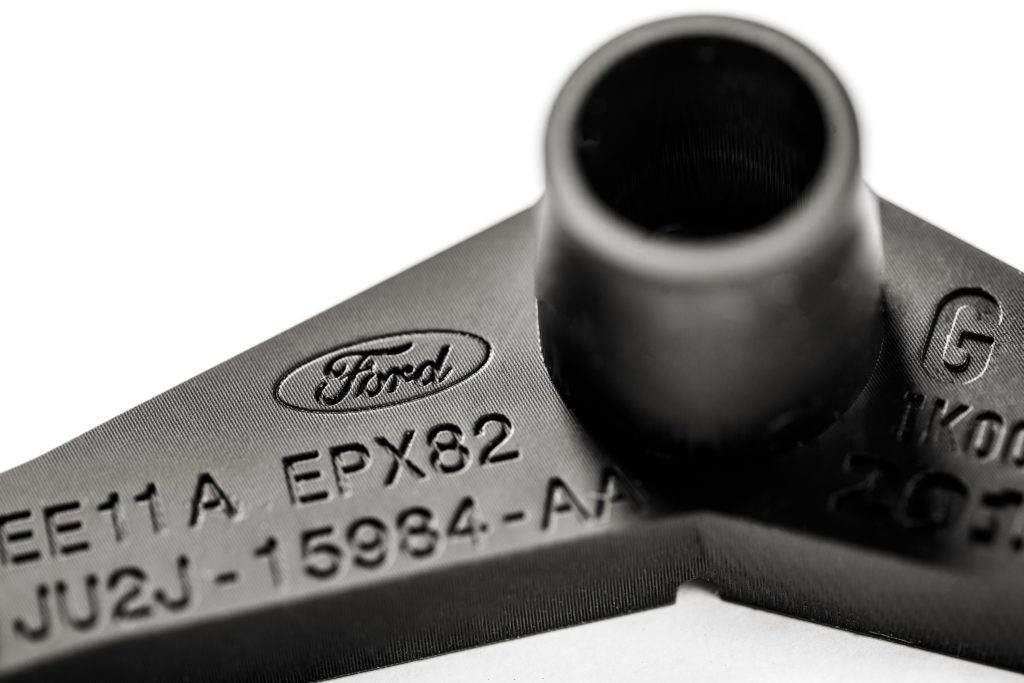 Carbon built the part out of EPX82 epoxy. The company said it and Ford "have expanded their collaboration to design and produce several new digitally manufactured, end-use parts using Carbon's robust and reliable printers, proprietary Digital Light Synthesis™ technology, and innovative EPX (epoxy) 82 material."
Carbon said EPX82 could meet "Ford's rigorous performance standards and … critical requirements such as interior weathering; short- and long-term heat exposures; UV stability; fluid and chemical resistance; flammability (ISO 3795); and fogging (SAEJ1756) for the selected applications."
Asked what would happen if Ford needed replacement versions of the Carbon parts for the Raptor and GT500, Ford said it'd just print more rather than keep a supply on hand.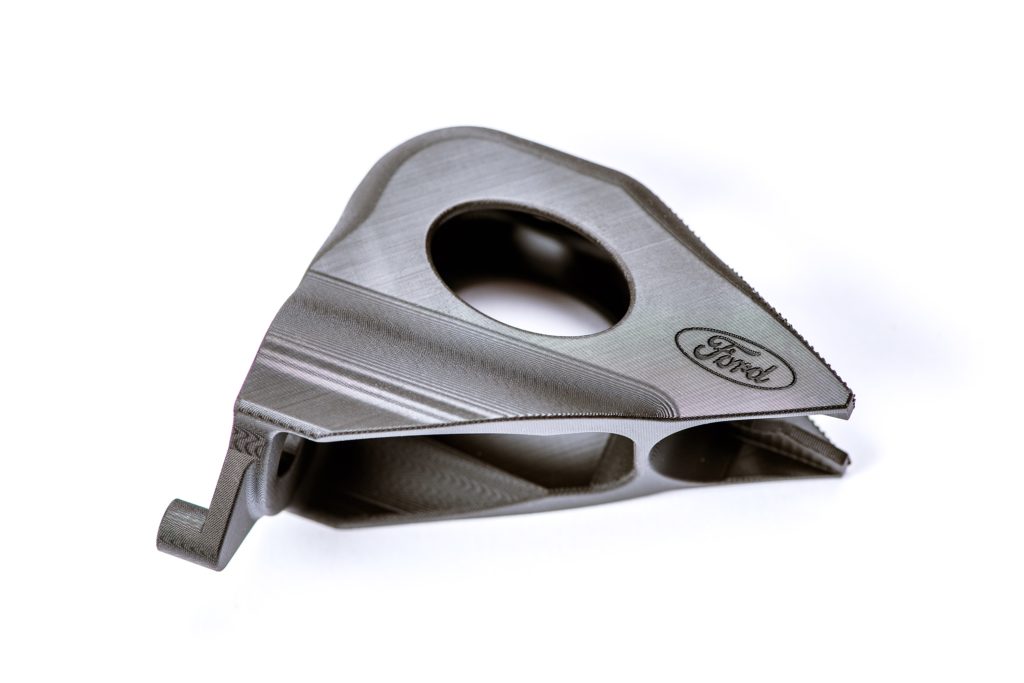 "Ford has a very mature model and distribution system for maintaining lean levels of inventory in our distribution centers and at our dealerships," Ford manufacturing spokeswoman Hannah Jolly wrote in an email. "We are currently using the Carbon solution to ensure that we are properly positioned to support anticipated demands and minimizing the consumer disruption."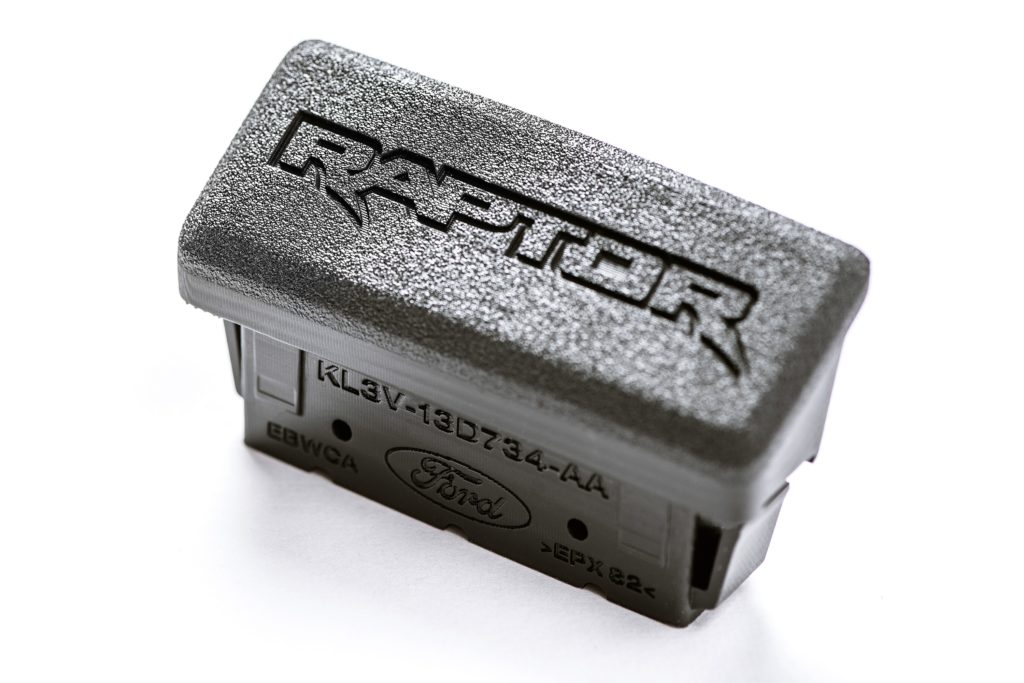 Ford in December described a $45 million Advanced Manufacturing Center with 3-D printing capabilities.
Today, Ford is driving the future of 3D printing in the automotive industry. The Advanced Manufacturing Center has 23 3D printing machines and is working with 10 3D manufacturing companies. This allows Ford experts to develop applications with different materials – from sand to nylon powder to carbon. One application currently under development has the potential to save the company more than $2 million.
There are 3D printed parts in the manufacturing and production of Ford vehicles. The soon-to-be-revealed Shelby Mustang GT500, coming at the North American International Auto Show in January, has two 3D printed brake parts, while the F-150 Raptor built for China includes a 3D printed interior part. As 3D printing becomes more affordable, 3D parts will become more prevalent.
Three-dimensional printed parts also help employees improve vehicle quality. Assembly line workers at Michigan Assembly Plant, where Ford builds the Ranger pickup, use five different 3D printed tools. These tools played a critical role in the launch of Ranger, removing weeks from an already tight timeline and ensuring quality is built in – from the first vehicle that rolled off the line.
Ford, which purchased the third 3D printer ever made in 1988, now has 90 3D printers globally producing parts and tools. On the shop floor, workers team with advanced manufacturing experts to identify ways to save the company time and money, including how to 3D print replacement parts to keep lines running instead of waiting for parts that can take weeks to be fabricated.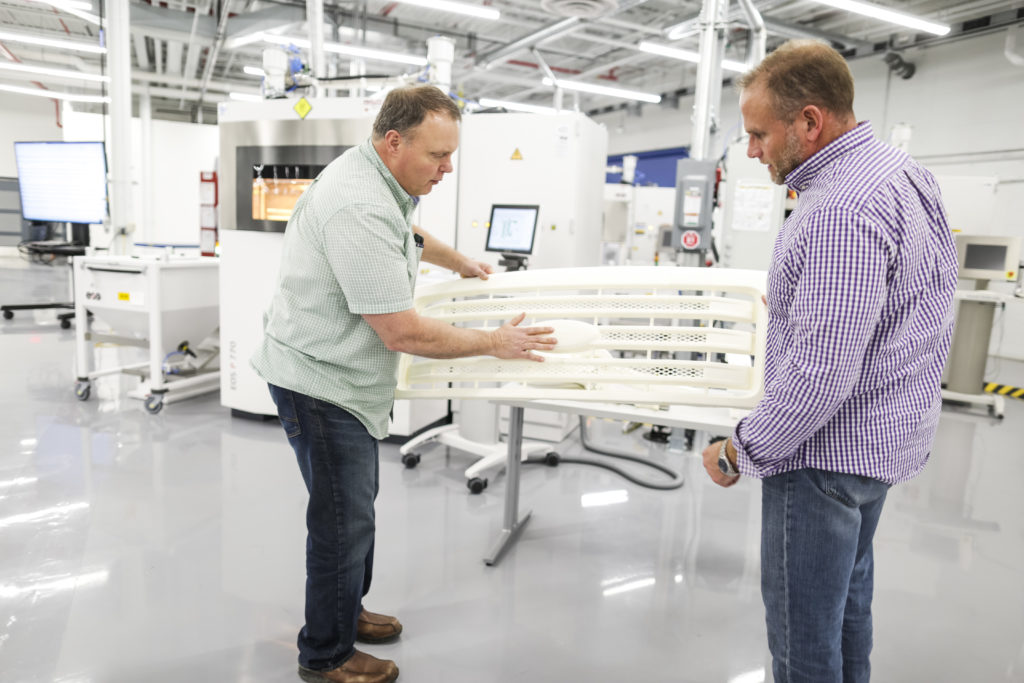 This is pretty wild and really could make for some interesting parts deliveries in the future as Ford gets more comfortable with the technology. However, it also raises new concerns about sourcing. If you think "Opt-OE" is a controversial and complicated topic to unravel right now, just wait until folks start advertising "Opt-OE," "aftermarket" or "reconditioned" parts which are entirely or partially 3-D-printed.
You don't, for example, want someone with less advanced 3-D printing system attempting to pass off 2006 Focus HVAC parts made of a less durable polymer as OEM parts made of Ford-approved EPX82, for example. Ditto any 3-D metal parts like Ken Block's Hoonifold or Bugatti's titanium brake calipers.
Holden aspirator
At least one other 3-D-printed automotive part appears to been nominated for the SPE awards. The program explains that General Motors was able to simplify and save money on an air temperature aspirator for a Holden Commodore GM sells in Australia.
"Adapting an existing OE component using additive manufacturing solved a production part supply issue for an HVAC system," the program states of the nominated aspirator. "The existing part was a two-piece assembly which was redesigned to a one piece, to take advantage of selective layer sintering. A weight savings of 1g and a cost saving of $0.94 per part was achieved. By not having to create new tooling, etc. there was a $37,880 cost avoidance. Lead time to first sample was 2 days compared to 12 weeks if traditional processing was used." (It's unclear if the dollars are USD or AUD, but you get the idea.)
"After end of vehicle production, the part usage reduced to less than 10 pieces annually, and it was realised the original tooling was no longer available. (It had been disposed of.) The low volume, nonvisual aspect, and under dash mounting (no UV exposure) made it an ideal component for production development using additive manufacturing," Blair Hocking & Stuart Redpath wrote in SAE Australasia's Vehicle Technology Engineer magazine.
More information:
"Carbon and Ford Expand Collaboration to Digitally Manufacture New Durable, End-Use Parts"
Carbon, Jan. 16, 2019
"FROM FANTASY TO REALITY: FORD'S NEW $45 MILLION ADVANCED MANUFACTURING CENTER BRINGING THE FUTURE TO LIFE – TODAY"
Ford, Dec. 4, 2018
"FORD ENGINEERS MAKE RECORD-BREAKING 3D PART TO HELP BRING KEN BLOCK'S 'HOONITRUCK' TO LIFE"
Ford, Jan. 29, 2019
Society of Plastics Engineers 2018 Automotive Division Innovation Awards program
SPE, Nov. 7, 2018
"Automotive Component Manufacture Using 3D Printing Technology"
Blair Hocking & Stuart Redpath, SAE Australasia Vehicle Technology Engineer, April 2018
Images:
Ford has 3-D-printed an "intricate aluminium intake manifold that supplies air from the turbochargers to the engine's cylinders" for Gymkhana TEN star Ken Block's 1977 F-150 "Hoonitruck," the OEM said. (Provided by Ford)
Carbon 3-D-printed this Ford Focus lever arm for Ford. (Provided by Carbon)
Carbon 3-D-printed this Mustang GT500 parking brake bracket for Ford. (Provided by Carbon)
Carbon 3-D-printed this Ford F-150 Raptor plug for Ford. (Provided by Carbon)
Eric Kouba and Rob Salenbien of Ford's additive manufacturing team look at a 3-D-printed F-150 grille Dec. 4, 2018, at Ford's Advanced Manufacturing Center. (Provided by Ford)
Share This: