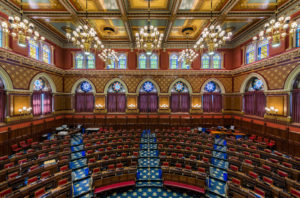 The Alliance of Automobile Manufacturers has said its campaign to pursue 2019 bills barring auto insurers from disregarding OEM repair procedures was meant to exempt parts.
But the concern that requiring procedures would by definition ban anything other than new OEM parts — an issue that arose during 2018 hearings on an Auto Alliance-backed Rhode Island bill — might continue to persist, creating a stalemate between repairers and parts vendors.
However, a potential solution might arise this week in Connecticut.
Connecticut Raised House Bill 7266 — which is to receive a committee hearing at noon Thursday — would require body shops to follow OEM procedures unless the customer provides written authorization otherwise. It also would bar insurers from policies which "require a motor vehicle repair shop, as defined in section 14-65e of the general statutes, to deviate from the collision repair guidelines, procedures, recommendations and service bulletins issued by the vehicle or original equipment manufacturer."
It triggered the kind of opposition from the alternative parts industry described above.
LKQ government affairs representative Andreas Heiss wrote Tuesday to the Joint Insurance and Real Estate Committee that the measure would "enable auto manufacturers to change all of their guidelines, procedures, and recommendations to only recommend the use of their parts. LKQ is not opposed to a body shop performing proper repairs and receiving just compensation, but the proposal falls short of defining/outlining the OEM guidelines and recommended repair procedures. The OEMs have a financial interest and there is nothing to stop them from changing all of their guidelines and procedures to only recommend the use of new OEM parts."

OEM position statements today generally recommend against anything but new OEM parts.
"The language in this bill would require automobile repair shops to conduct repairs with the original manufacturer," Valerie Petrillo of Petrillo's Used Auto Parts wrote in opposition to HB 7266. "Automotive Recyclers would be eliminated from supplying these parts. Automotive Recyclers are committed and efficient finding … parts and equipment for all automobiles and the repair shops fixing the cars. This bill would eliminate work and possible jobs for the Dismantlers and their companies. This bill would not be good for the automotive recycling industry."
However, the Auto Alliance — which represents 12 of the nation's largest automakers — might have the language to win parts vendors over to supporting the measure or staying neutral.
Auto Alliance state government affairs senior director Wayne Weikel provided us with a copy of his written testimony ahead of the hearing Thursday. In it, the Alliance offers an amendment specifically exempting parts from HB 7622's provisions.
"Based on our advocacy for this issue in other states, I am aware that some will argue that automaker interest in this issue is only to sell more genuine OEM parts," Weikel's written testimony states.
"… While Alliance members absolutely believe all consumers would be best served by using genuine OEM parts on their vehicle – parts which have been designed and tested in the same manner as the original parts on the vehicle – that is not our fight on this bill. This legislation is about safe and proper repair of all vehicles after a collision. To show that our intentions on this are true, I have attached to this testimony a proposed amendment, which would stipulate that, regardless of any language contained in an OEM repair procedure to the contrary, the use of replacement parts in an insurance-funded repair shall be governed by solely by Connecticut's existing law on the subject, Chapter 700, Section 38a – 355." (Emphasis his.)
The proposed amendment would expand the bill's Section 1 regarding insurers to state:
Notwithstanding any provision of the general statutes no insurer licensed to issue policies of automobile insurance providing bodily injury, property damage liability, comprehensive, or collision coverages shall condition payment of a claim to the insured or to any person conducting a collision repair based upon the utilization of any repair procedure or specification that does not conform to the original equipment manufacturer's documented procedures, specifications or allowable tolerances of such vehicle year, make, model, and trim level. If a repair procedure or specification from an original equipment manufacturer includes a directive to conduct a scan, calibration, or diagnostic test of vehicle electronic systems before or after the commencement of repairs, such directive shall be considered as a required part of the repair procedure.
Notwithstanding any statements or recommendations contained in the original equipment manufacturer's repair specifications or procedures relative to the use of original equipment manufacturer parts, governance of the use of parts in the course of an insurer-funded repair shall be solely dictated by Chapter 700, Section 38a – 355 of the Connecticut state code.
We asked Weikel if the Section 2 bill language requiring repairers to follow OEM repair procedures would have to be modified or if the bill's permission to deviate from those procedures with customer authorization was seen as the way to allow alternative parts.
Weikel wrote in an email that he felt that the new Section 1's language would override Section 2 and close the circle. He acknowledged it would probably be cleaner to amend Section 2 as well, but wrote he didn't want to change too much of someone else's bill. Besides, Section 1 would still solve the parts issue, he wrote.
Procedures, not parts
Finding language that alleviates parts vendors' concerns could be the secret to enacting laws requiring insurers to cover the cost of OEM repair procedures. As Weikel's testimony pointed out, there's no leg to stand on to claim that the procedures developed by the companies which built the car shouldn't be followed.
Weikel mentioned the deposition of body shop manager Boyce Willis contributing to the 2017 $31.5 million courtroom loss of John Eagle Collision for deviating from Honda repair procedures. (The plaintiffs later settled for an undisclosed amount.) Willis' testimony held that insurers could override OEM repair procedures "by not paying the bill."
Weikel continued:
In the months since this verdict was released, we have learned this is far from an isolated experience – much more the norm than the outlier. In effect, collision shops are forced to decide between making a proper repair and receiving proper payment for their work.
This is not right. Insurance companies have actuaries to price insurance policies; they do not have engineers who know how to repair today's complex vehicles. Substituting – whether through formal or implied financial pressure – untested repair procedures for OEM repair procedures will only lead to unsafe vehicles on the roadways across the country. Consumers buy insurance to be made whole after an accident; shoddy repairs, designed to get a repair done faster and cheaper, but not done correctly, are not part of the policy.
There is no credible argument to suggest why any repair procedure, other than the one produced by the vehicle's manufacturer, should be followed. In fact, there actually are not any "other" procedures to follow. A shop either follows the technically sound practices established by the OEM or they are not following any approved repair plan. What may have worked for decades, when vehicles were a lot less complicated, simply does not cut it anymore. For a time, "industry" practices may have been sufficient; that time has passed.
All three national collision trade groups and the national insurer and repair training organization I-CAR have also said for years OEM repair procedures are the standard of care.
LKQ disputes OEM recommendations related to part selection, but it doesn't dispute the OEM instructions on how to install the part in question.
The company's parts (aftermarket, salvage and remanufactured) must generally be installed just like an OEM part to keep the shop eligible for the LKQ Promise of Protection, according to North America Sales and Marketing Vice President Terry Fortner.
LKQ Remanufacturing Vice President Scott Miller said that while LKQ's reman process starts with reverse engineering the product to ensure that any original factory (OE) defects were removed, he agreed that a shop's installation of the final remanufactured part would follow OEM guidelines.

New Hampshire
Weikel said the Auto Alliance has proposed a similar amendment for New Hampshire House Bill 664, which is currently before that state's House Commerce and Consumer Affairs committee with a March 14 deadline.
The Automotive Service Association has also told the committee it doesn't want New Hampshire HB 664 to apply to parts.
"To be clear, ASA does not support the use of OEM parts only," ASA lobbyist Robert Redding Jr. wrote in a Jan. 28 letter to the committee's head. "ASA's interest is in requiring the industry to adhere to a set of repair procedures that assure the best opportunity for vehicle safety on our highways. …
"ASA supports a competitive parts marketplace. We do not believe HB 664 harms the collision repair marketplace. In addition, ASA does not believe this legislation will impact insurance rates. All segments of the collision repair industry should support quality, safe repairs. Establishing a baseline of expected repair procedures is a step towards quality, safe repairs for the motoring public."
One of that bill's sponsors, New Hampshire state Rep. Kermit Williams, D-Wilton, has also confirmed he didn't intend the measure to cover parts.
Be heard: Connecticut lawmaker information can be found here. New Hampshire lawmakers can be found here and here.
Correction: A quote from written testimony provided by Auto Alliance state government affairs senior director Wayne Weikel omitted an ellipses in an earlier version of this story. The passage has since been corrected.
Featured image: The Connecticut House of Representatives is seen in 2015. (gnagel/iStock)
Share This: