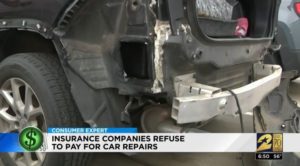 An Auto Body Association of Texas-supported House bill recently got a major nod of approval from a Houston TV news personality.
The piece by KPRC "consumer advocate" Amy Davis is supportive of Texas House Bill 1348 and sympathetic to collision industry viewpoints on certain issues. The video and associated article posted Thursday could be a good resource shops in Texas and other states can use to educate customers and lawmakers.
"Some repair shops say most drivers don't know that many insurance companies won't pay for the repairs needed to get your car safely back on the road," Davis introduces the broadcast, which interviews Greg Luther of the Houston Auto Body Association and Helfman Dodge Chrysler Jeep Ram Fiat Alfa Romeo and Maserati collision center operations.
The bill even receives approval from anchor Owen Conflenti during the post-segment banter.
After Davis observes that HB 1348 is likely to "get some pushback from the insurance industry" and KPRC will follow its progress, Conflenti remarks of the bill, "That's a good one, Amy. It is."
Davis notes that "a lot of things out there to protect consumers" are before the Legislature this session, implying the measure is among them.
The KPRC broadcast kind of goes all over the map, skipping from highlighting bad repairs to non-OEM parts to insurer steering in less than two minutes. However, HB 1348 is also extremely far-ranging in the scope of collision industry issues it addresses. (Besides, as a repairer once told another state's legislature, "we have a lot of problems in our industry, sir.")
HB 1348 will hold insurers to OEM repair procedures. It declares that a carrier can't "disregard a repair operation or cost identified by an estimating system, including the system's procedural pages and any repair, process, or procedure recommended by the original equipment manufacturer of a part or product."
It cracks down on certain insurer parts practices by defining "like kind and quality" and banning insurers from demanding "a vehicle be repaired with a part or product on the basis that the part or product is the least expensive part or product available" or requiring a policyholder to "purchase any part or product from any vendor or supplier, including an out-of-state vendor or supplier, on the basis that the part or product is the least expensive part or product available."
But the bill also cracks down on steering and questionable prevailing rates by restricting insurer behavior and demanding a neutral third party conduct labor rate surveys using door rates.
Currently, Texas law bars insurers or representatives from taking referral fees from a shop, requiring a first- or third-party claimant to use a certain shop, or forcing either to "travel an unreasonable distance to repair the damage." HB 1348 would now also prevent insurers from imposing "any out-of-pocket cost other than the deductible" because a customer picked a particular shop to restore "the vehicle's condition before the damage occurred."

HB 1348 was introduced Feb. 4 and sent to the Texas House Insurance Committee on Feb. 27. It does not yet appear to have been scheduled for a hearing.
Be heard: Texas legislator contact information can be found here and here.
More information:
"Proposed Texas law could require insurance companies to pay for quality car repairs"
KPRC, March 28, 2019
Share This: