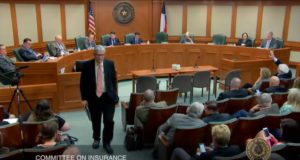 An APCIA representative on Tuesday testified against a Texas bill compelling insurers to pay for the cost of repairs done to automaker specifications, arguing that the measure lacked confirmation body shops used them and suggesting some repairers might lie about it.
American Property Casualty Insurance Association state government relations Vice President Joe Woods' questionable testimony opposing House Bill 1348 also described adjusters as the line of defense for repair quality.
HB 1348 will hold insurers to OEM repair procedures. It declares that a carrier can't "disregard a repair operation or cost identified by an estimating system, including the system's procedural pages and any repair, process, or procedure recommended by the original equipment manufacturer of a part or product."
In addition to demanding insurers acknowledge repair procedure, the bill defines "(r)easonable and necessary amount" as "the amount determined by the original equipment manufacturer's manufacturer and estimating systems required to repair a vehicle to the condition before the covered damage to the vehicle occurred."
It also defines "like kind and quality" for aftermarket parts and addresses steering and questionable prevailing rate surveys.
Woods told the Texas House Insurance Committee on Tuesday that no regulation confirms collision repairers will use the OEM repair procedures they're billing for.
"They're gonna charge a $250 blueprint fee, which (they) do now," Woods said, defining this as the time spent researching repair procedures.
"They'll do that, but there's no guarantee anywhere that they actually will do that," he said. "And most of 'em are gonna actually follow — I mean, 98, 99 percent are gonna follow the manual step by step. But you're still gonna have folks out there that will glue a roof on, cover up the work, and send it back out on the road."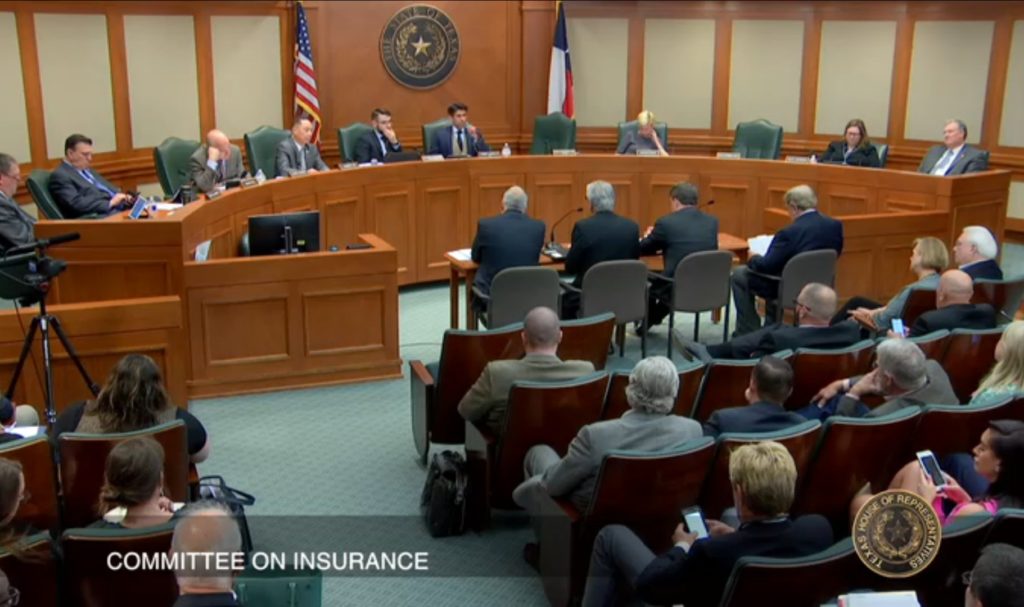 Fraud and un-'workmanlike' behavior
Woods is essentially arguing that because 1-2 percent of shops commit fraud, insurers shouldn't be required to reimburse consumers who patronize the honest 98-99 percent of shops billing for OEM repair procedures they execute.
Let's take it a step further for the sake of argument. The Insurance Information Institute reports a mix of vendors and consumers contribute to what is an approximate 10 percent of loss costs being fraudulent across all insurance lines. Pretend that all auto insurance policyholders are completely honest and the entire 10 percent of loss fraud is committed by body shops. Woods' argument still falls apart. Ninety percent of collision repairers and 100 percent of consumers still deserve to be covered frictionlessly for following the repair procedures developed by the manufacturer of the damaged car.
Woods' argument also backfires with a reference to the Seebachan v. John Eagle Collision center case, in which a Texas jury found a body shop responsible for much of the severity of a Honda Fit crash because the facility adhesive-bonded the vehicle's roof. Jurors awarded $31.5 million; the plaintiffs and shop later settled for an unspecified amount.

John Eagle Collision Center body shop director Boyce Willis in a deposition had agreed the facility bonded the roof with 3M 8115 adhesive despite little concrete evidence or engineering knowledge to support the decision — particularly as 3M and Honda instructions state otherwise.

Honda OEM repair procedures demand a shop tack-weld the front and rear corner edges of the new roof and then perform a combination of two- and three-plate spot welds and MIG plug welds. More than 100 welds are required by the manufacturer, plaintiff Marcia Seebachan told the committee during testimony supporting the bill.
"It is unconscionable that companies can undermine this process by approving insufficient repairs," Seebachan told the committee Tuesday. She said two of her injuries should have killed her, and another could have.

The John Eagle case clearly shows shops who fail to follow OEM procedures in Texas can face consequences.
Woods also forgets other checks on shops deviating from repair procedures and the appalling ones who go a step further and bill for OEM procedures they never did.
First and foremost, the III reports that insurance fraud is indeed a criminal offense in Texas.
Body shops in the state also can be sued by a consumer for breach of express or implied warranty under the Texas Deceptive Trade Practices Act. The Texas Supreme Court in Melody Home Manufacturing Company v. Barnes nailed down a vendor's responsibility.
"We hold that an implied warranty to repair or modify existing tangible goods or property in a good and workmanlike manner is available to consumers suing under the DTPA," the court wrote.
It proceeded to define the concept and declare it unwaivable:
We define good and workmanlike as that quality of work performed by one who has the knowledge, training, or experience necessary for the successful practice of a trade or occupation and performed in a manner generally considered proficient by those capable of judging such work. We do not require repairmen to guarantee the results of their work; we only require those who repair or modify existing tangible goods or property to perform those services in a good and workmanlike manner.
In this case, the breach of the implied warranty was plainly within the common knowledge of laymen and did not require expert testimony. The jurors had sufficient knowledge to find that the failure to connect a washing machine drain would not be considered good and workmanlike by those capable of judging repair work.
Consistent with the trend in recent consumer protection legislation and sound public policy, we further hold that the implied warranty that repair or modification services of existing tangible goods or property will be performed in a good and workmanlike manner may not be waived or disclaimed. (Emphasis ours.)
All three national collision trade groups and the national insurer and repair training organization I-CAR have said for years OEM repair procedures are the standard of care. Automakers, who develop repair instructions they've proven will fix the vehicles correctly, also hold shops should follow their procedures.

Finally, some of the other 98-99 percent of shops Woods deemed honest and adhering to OEM procedures would probably be happy to post-repair-inspect their rivals' work for a suspicious insurer or customer.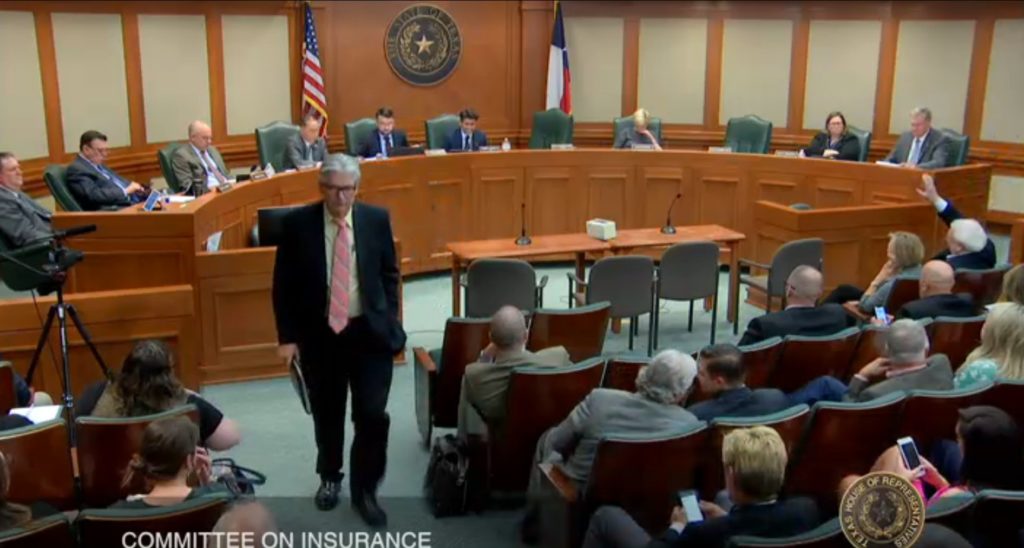 Adjusters ensure repair quality?
Woods' testimony on repair procedures continued with another feat of logical gymnastics. He essentially made the case that insurers shouldn't be compelled to pay for OEM repair procedures because the carriers are ensuring shops follow them.
"So, this is a highly unregulated business," Woods said. "The insurance adjusters are really the only people that … have any shot at regulating practices and quality."
Which is funny, because Nationwide just argued to the Pennsylvania Supreme Court in fall 2018 that it had no duty at all to verify quality (at least in Pennsylvania).
"In the Bergs' third question presented for this Court's review, they seek to have this Court declare that Nationwide itself had a duty under Pennsylvania law to verify that the vehicle, and presumably every vehicle that gets repaired pursuant to an insurance policy, was repaired properly and that its failure to do so is bad faith," Nationwide wrote regarding Berg v. Nationwide. "This question does not warrant this Court's review because no such duty exists, and even if it did exist it would not prove that Nationwide acted in bad faith." (Emphasis Nationwide's.)
Earlier in its motion against the Supreme Court hearing the appeal, the carrier pointed out that it wasn't necessarily checking for quality at all on the Jeep at the heart of the case. Those repairs were overseen by a Nationwide direct repair program shop.
"Nationwide's Steve Potosnak testified that Nationwide representatives typically went to Lindgren only to ensure that the repair shop was complying with its prior appraisals," Nationwide wrote. "Potosnak specifically testified that he would review the quality of repairs 'only if there was a complaint filed' about a vehicle. Here, of course, there is no evidence whatsoever that any complaints were raised with Nationwide. Thus, it is not surprising that there is no evidence that Nationwide re-inspected the Jeep. Likewise, it makes perfect sense that there are no completed re-inspection reports. Rather than supporting the Bergs' argument, the lack of a completed re-inspection form corroborates, rather than undermines, the fact that no repair inspection took place and that Nationwide was unaware of any issues. While the Bergs argue that 'reinspection reports should exist in the claim file,' … they fail to cite any precedent holding that a failure to perform re-inspections constitutes bad faith, as opposed to mere negligence." (Emphasis Nationwide's.)
And State Farm certainly doesn't seem to have caught John Eagle Collision' infamous incorrect hail repair that Woods cited moments before.
Instead, that case raised a question of broader insurance industry behavior that directly seems to suggest a need for bills like HB 1348. According to Willis' deposition:
A. (Adhesive) is — it is a accepted repair alternative, based on our cars and insurance certifications.
Q All right. And let's have an agreement today that we don't use the word "insurance." Can we — is that cool?
A. Well, unfortunately we're guided by insurance.· So — the — if you brought your car into my shop, right, the insurance company's going to dictate what — how we're going to repair your car.
Q. I understand. But the — but you — your — as a certified body shop, you have to — you — the — the insurance company cannot trump the OEM specifications, correct, sir?
A. Yes, they can.
Q. Where does it say that?
A. By not paying the bill.
Auto Body Association of Texas board member Chad Kiffe (Berli's Body & Fine Finishes) acknowledged during the hearing that body shops have a responsibility to do the job right — it's not just an insurer problem. He noted that many shops still didn't use OEM repair procedures.
"It's within ourselves as well," he said. "But we need to take out the excuse that we can't get paid for it."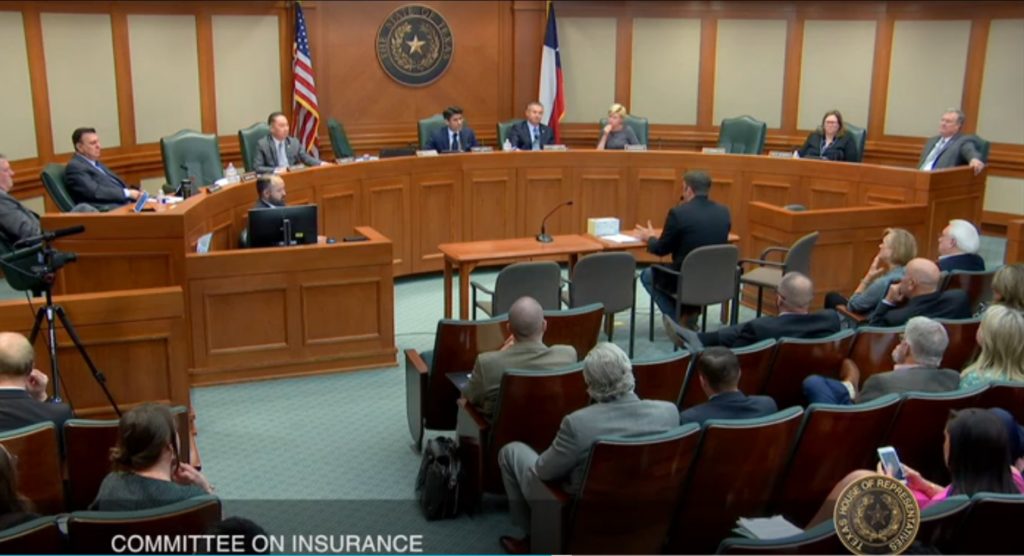 More information:
Texas House Insurance Committee hearing on House Bill 1348 (Starts at about 2:44:40.)
Texas Legislature, March 9, 2019
Images:
American Property Casualty Insurance Association state government relations Vice President Joe Woods, standing, departs a hearing of the Texas House Insurance Committee on March 9, 2019. (Screenshot from Texas Legislature video)
American Property Casualty Insurance Association state government relations Vice President Joe Woods, second from right in center, appears before the Texas House Insurance Committee on March 9, 2019. (Screenshot from Texas Legislature video)
Auto Body Association of Texas board member Chad Kiffe (Berli's Body & Fine Finishes) acknowledged during a Texas House Insurance Committee hearing March 9, 2019, that body shops have a responsibility to do the job right — their failure to do so can't just be blamed on insurers. (Screenshot from Texas Legislature video)
Share This: