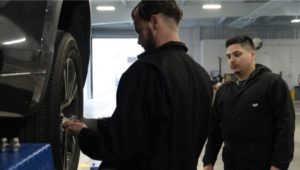 Lyft Chief Operating Officer Jon McNeil last month said the company's Driver Services initiative would include in-house repair shops which would "designed to operate twice as fast, at up to half the cost for drivers."
"Drivers will be served by Lyft team members, including certified mechanics, selected for their expertise and passion for helping our community," McNeil — a former CEO of Sterling Collision — wrote in a March 26 Medium post. "We expect to offer services with discounts up to 50% on maintenance, repairs, car washes and more, putting more money back in their pockets.
"We also want our services to be available where drivers live, which is often outside the city centers where they drive. To that end, we're also launching a mobile service that will be available to Lyft drivers on-demand."
Lyft tells drivers it has already opened one Driver Center location, "with a goal of 34 more locations and additional services coming by the end of the year." A spokesman in an email Friday identified South San Francisco as the home of the first center.
The spokesman listed "oil changes, collision repair, tire rotation, etc." as examples of the typical services being offered.
"Yes, we plan on offering auto body repair at specific service centers where they are properly zoned to carry that work out," the spokesman wrote.
Lyft also offers drivers discounts for services through Pep Boys. Its website points to other driver rewards, but we couldn't access them Saturday without a driver account.
According to Lyft, nearly 2 million drivers — 1 percent of the workforce — are affiliated with the company and have earned more than $10 billion collectively.
The centers could potentially poach a little Lyft driver business away from shops located in ride-share-heavy markets. But the greater business challenge might actually be the increased competition for automotive and collision techs from a company with deep pockets.
For example, it's one thing if an MSO buys a 5-technician shop and just seeks to keep those five positions filled. The market's demand relative to its supply hasn't actually changed. But Lyft opening 34 brand new facilities with however many new positions each boosts the demand while the supply stays low.
More information:
"Introducing Lyft Driver Services"
Jon McNeil in Medium, March 26, 2019
Featured image: Lyft said it has opened one Driver Center to deliver quicker repairs at lower costs for its drivers, "with a goal of 34 more locations and additional services coming by the end of the year." (Provided by Lyft via Medium)

Share This: