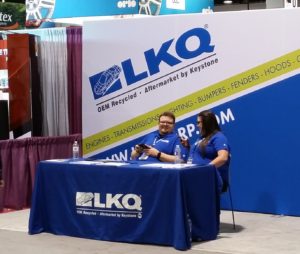 LKQ last week said its organic North American parts and services organic revenue fell 1.4 percent in the first quarter — but still outperforming the 2.6 percent decline in collision and liability claims CCC found impacting the entire industry.
However, the first quarter of 2019 had one fewer selling day than 2018 did, and the prior year saw "monster organic" growth, LKQ CEO Dominick Zarcone told investors April 25. This made for "tough comps," he said. (Special thanks to Seeking Alpha, whose transcript helped us find and check quotes.)
Adjusted for one fewer selling day, the LKQ segment's organic growth was actually "up slightly," he said on the company's latest earnings report. The publicly-traded S&P 500 company's quarterly results and earnings calls provide valuable macroeconomic data repairers can use to plan their own business strategies.
The "parts and services" data also encompasses business lines other than the traditional recycled and aftermarket parts lines serving the collision repair industry. According to LKQ, glass and aircraft parts saw declines and dragged down the overall segment results.
We're checking with LKQ to obtain year-over-year data for its organic collision and aftermarket growth for a true apples-to-apples comparison to the CCC metric. However, same-day comparisons to 2018 found the collision industry parts organic sales rising 1.8 percent, according to Zarcone.
But barring something bizarre happening in a year-over-year comparison to CCC, it seems fairly safe to say LKQ's collision parts business significantly beat the "market" of available crashes to fix and buy parts for.
Zarcone told analysts April 25 the company continued to believe the "outperformance in our growth relative to the CCC data" was tied to more vehicles in the "collision sweet spot" of 3-10 model years old.
He also credited insurance carriers' "ongoing efforts to reduce the cost pressures" associated with increased cycle time "and labor due to shortage of technicians" as fueling a demand for alternative parts. He didn't elaborate on the latter, but it sounds like a reference to insurers accepting higher labor rates from shops which need to pay technicians more.
We couldn't find first-quarter 2019 data, but Enterprise wrote in Mitchell's latest Industry Trends Report that the average fourth-quarter 2018 length of rental was 12.7 days. Though this was 0.3 percent higher than 2017, Enterprise warned the wide degree of variance nationally meant the gain was "not reflective of a genuine national trend." CCC "Crash Course" data found DRP keys-to-keys times flat overall over the past three years ending in the third quarter of 2018 — but repairable times growing.
"Importantly, organic growth in North America ended on a strong note," Zarcone said in what seemed to be a reference to North American parts and services. March had "significant improvement" from January and February," he said.
Zarcone called January historically "pretty soft," and Chief Financial Officer Varun Laroyia noted that the month saw the government shutdown impacting 800,000 people, which had an "amplification impact."
More services?
LKQ told analysts it planned to add more services like those of Elite Electronics.
"We are delighted to have the Elite team join LKQ, and we look forward to adding additional service-focused businesses to our suite of customer offerings," Zarcone said. LKQ bought the company in April.
Elite offers pre-and post-repair diagnostics, calibration, reprogramming, Zarcone said. It also offers airbag replacement, frame replacement and theft and vandalism repair, he said.
"This transaction is directly aligned with our strategic pillars of growing our customer offering and adapting to new technologies," Zarcone said. "We have been signaling for some time now that select service offerings could be an excellent complement to our North American parts business."
More information:
LKQ first-quarter 2019 earnings call
LKQ, April 25, 2019
Seeking Alpha first-quarter 2019 LKQ transcript
Seeking Alpha, April 25, 2019
Featured image: The LKQ booth at NACE 2016 is shown. (John Huetter/Repairer Driven News)
Share This: