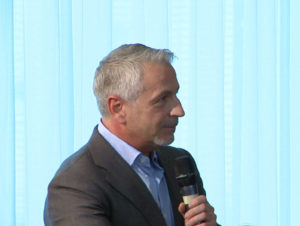 Citing unnamed internal sources, German automotive business news outlet Autohaus on Monday reported Solera founder and CEO Tony Aquila would leave the Audatex parent company.
"I don't have any information to provide," spokeswoman Sarah Lofdahl of Solera public relations firm BizCom Associates said when we asked her about Aquila on Tuesday. She promised to update us if that changed.
We've also reached out to Aquila through his personal website and to Solera parent company Vista Equity, which purchased the information provider in 2016 for $6.5 billion and took it private. Continue to check Repairer Driven News for updates.

Autohaus cited "several representatives from the insurance industry and Solera employees" that both Aquila and Chief Financial Officer Renato Giger would leave "at the end of June," according to a Google Translate version of the German-language article.
Autohaus called it unclear if the departures were an "agreed exit" or something else, though it pointed out that takeovers like Vista Equity's 2016 purchase typically see the target firm's management stick around for three years and then leave.
Solera's "Leadership Team" webpage on Tuesday still listed Aquila and Giger as the heads of the company.
Collision interests
If true, the management changes could impact collision repair given the company's broad automotive portfolio. Its products in America include APU, AutoPoint, Audatex, DST, Hollander, Identifix and LYNX Services.
The company in February also announced it would build a "Revolutionary" automotive and insurance training facility in Texas.
"Focused on providing factual, credible and documented research, CESVI LIV NA will curate data on reparability, diagnostics and procedures," Solera wrote in a news release. "The center will also disseminate this research throughout training and deliver expert consultancy on advanced technology trends.
"Research will span the automotive insurance, collision repair, vehicle manufacturer and vehicle owner industries. CESVI LIV NA will provide insight and deliver tools to reduce repair costs within the North American claims environment. Additionally, CESVI LIV NA will integrate OEM repair procedures into consultation and training that promotes best practices in vehicle service, maintenance and repair."
The Dallas Morning News in March reported that the center spans 13,000 square feet, cost nearly $9 million and is expected to open in July.
"This center will add value to the automotive insurance industry. Our research, consultation, technology and training will provide data and insights into the most efficient and effective repair processes; which will then support better residual values and create more cost-efficient automotive repairs ensuring safe vehicles get back on the road," facility Executive Director Chris Mullen said in a statement.
Founding and sale
Aquila says he started Solera out of his garage after selling two other companies.
"Dissatisfied with the lack of transparency and efficiency which plagued the automotive industry, Tony embarked on a mission to transform the vehicle ownership experience by leveraging the power of digital innovation and technological disruption," Aquila's personal website states.
"Today, with his office still in a garage, Tony leads more than 6,000 employees who serve over 200,000 customers and partners in 80+ countries."
Solera went private because shareholders weren't patient enough for a long-term strategy focused on innovation and "content," CEO Tony Aquila told "Bloomberg Markets" in 2016.
It was difficult to get credit from investors for the game plan, as "we weren't getting the same equal return to the invested capital," he told "Bloomberg Markets."
As yields turned negative, the company sought out private equity capital, "which understands that from a longer-term perspective," according to Aquila, who was interviewed by "Bloomberg Markets" during the Goldman Sachs Leveraged Finance Conference.
For industry insiders and financial wonks curious to know more about the sale, Solera provided an interesting and detailed account in this Oct. 5, 2015, Schedule 14A proxy filing. See the section "The Merger."
Another fascinating account arises in a 2018 Delaware Chancery Court opinion regarding a dispute over the value of Solera shares at the time of the merger. Solera/Vista Equity basically won; the shares sold for $55.85, the petitioners wanted $84.65, and the court found the equities worth $53.95 without synergies.
The opinion by Judge Andre Bouchard describes the value Aquila had to the company and potential buyers.
"Solera's stock price affected Aquila personally," Bouchard wrote. "His compensation was tied to 'total shareholder return' and the majority of his stock options were underwater. Aquila did not receive a performance bonus in 2011, 2012, or 2013. In February 2015, he emailed Thomas Dattilo, Chair of the Compensation Committee, saying 'I've poured a great deal of time, inventions and sacrifice during this time in the company's transition and I really need to get something meaningful for it.'
"At one point, Aquila threatened to leave Solera if his compensation was not reconfigured. The Board recognized Aquila's value to the Company and took his request and threat to leave seriously. Dattilo commented 'the way [S]olera is structured, we would probably need three people to replace him, and even that would not really fulfill the Solera requirements because of the pervasive founder[']s culture found there. . . . Solera possibly couldn't exist without Tony.' Although the Compensation Committee was looking for a solution to address Aquila's underwater stock options, they ultimately 'didn't get it done.'"
Aquila at the same time explored taking the company private in a transaction.
"The reality is that Aquila's participation in a transaction was a prerequisite for a financial sponsor to do a deal," Bouchard wrote. "As petitioners put it, 'Aquila is Solera.' Consistent with that reality, all of the private equity firms that later submitted bids made clear that those bids depended on Aquila continuing to lead the Company. In other words, a go-private transaction never would have been a possibility without buyers becoming personally acquainted and comfortable with Aquila."
More information:
"Tony Aquila verlässt eigenes Unternehmen"
Autohaus, May 13, 2019
"Solera CEO Aquila: The App War Is Coming"
"Bloomberg Markets" on Bloomberg, May 17, 2016
Featured image: Solera CEO Tony Aquila is seen Oct. 30, 2014, at the Allianz-Solera Summit in Germany. (Solera Holdings/PRNewsFoto)
Share This: