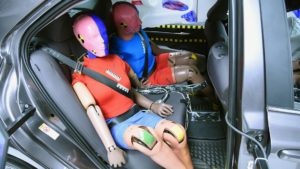 The Insurance Institute for Highway Safety last month said backseat passengers aren't kept safe enough during frontal crashes, and it plans to factor those occupants' risk into future tests.
The results and plans detailed in an April 25 article suggest auto body shops could see automakers introducing new vehicle technology to restore during a collision repair. Their findings also reinforce the need to follow OEM inspection and replacement procedures for restraints like airbags and seat belts protecting all vehicle seats.
IIHS 2014 research found a failure to wear a seat belt a "big factor" in backseat injuries and crashes — but "many older adults and children over age 9 suffered injuries even when belted," the IIHS wrote in an April 25 post.
IIHS research
The organization has now studied specific injuries seat-belted humans age 6 or older received in frontal crashes. It relied upon 117 crash incidents in which someone in the back seat was killed or seriously hurt despite wearing a seat belt. Most of the 117 crashes were considered survivable.
"Child restraints are so effective that when young children in properly used restraints die, it's usually because the crash was so severe that improving the restraints wouldn't have made a difference," IIHS senior research engineer and paper lead author Jessica Jermakian said in a statement. "The fact that our sample had mostly survivable crashes tells us that we need to do a better job restraining adults and older children in the back seat."
Ironically, many of the 117 incidents saw a front-end collision injuring the people in the back more than those seated in the front, according to the IIHS.
The IIHS hypothesized "restraints in the rear didn't perform as well as the ones in the front" and reported those restraints are either absent or less equipped than those in the front:
As soon as a frontal collision starts, seat belts in the front seat tighten around the occupants, thanks to embedded devices called crash tensioners. At the same time, the front airbags deploy within a fraction of a second. Depending on the crash configuration, the side airbags may deploy too.
The tightened belts and deployed airbags keep the front-seat occupants safely away from the steering wheel, instrument panel and other structure when the vehicle stops abruptly, even if the force of the crash pushes that structure inward. To reduce the risk of chest injuries, these belts also have force limiters, which allow some webbing to spool out before forces from the belt get too high.
In the rear seat, side airbags protect passengers in a side crash, but there are no front airbags, and the seat belts generally lack crash tensioners and force limiters.
Although intruding structure is usually not an issue in the back seat during a frontal collision, crash forces can cause a back-seat passenger to collide with the vehicle interior. Seat belts can prevent that, but, as the new study shows, seat belts without force limiters can inflict chest injuries.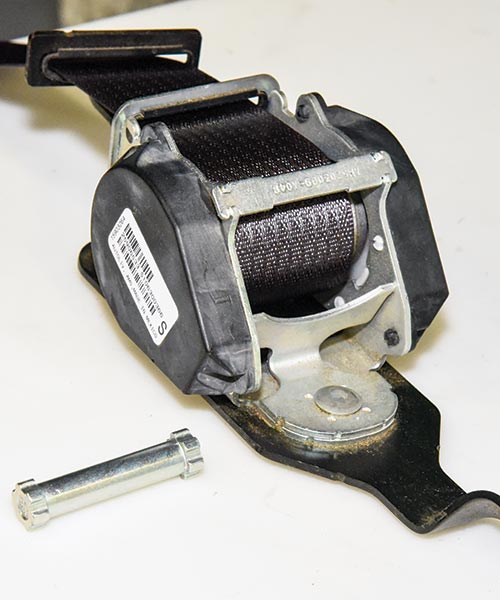 The IIHS' new 117-crash study found 22 of the injured passengers and 17 of the 37 dead passengers "with documented injuries" sustained harm to their chests. (The IIHS indicated that reports of fatalities often don't document the injuries sustained by the deceased.) This was the most common injury seen.
The researchers concluded "the rear-seat chest injuries were mostly due to excessive forces from the shoulder belt."
The IIHS suggested OEMs could alleviate this by sticking force limiters into the rear seat belts or using inflatable belts like those announced by Mercedes and Ford.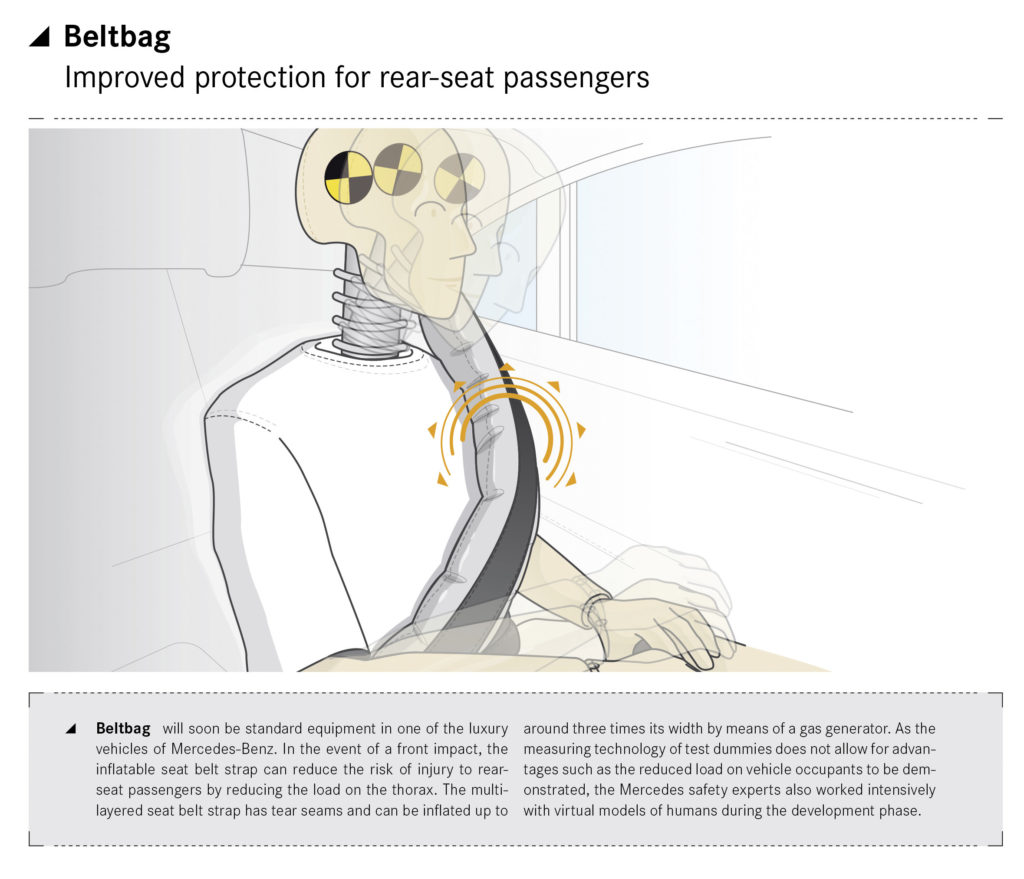 The No. 2 injury, reported in 18 fatalities and nine injuries, involved trauma to the head.
"Many of the fatal head injuries occurred in crashes considered unsurvivable," the IIHS wrote. "In some nonfatal crashes, passengers hit their heads against the vehicle interior, but researchers couldn't confirm any such incidents in the fatal cases, which generally had less detailed information about injuries."
The IIHS suggested OEMs could use crash tensioners or airbags in front of the backseat passengers to prevent the head from striking something.
"This is a big reason why force limiters usually go hand in hand with crash tensioners," Jermakian said in a statement. "With a crash tensioner, a person is held firmly against the seat from the beginning of the crash, so a slight loosening of the belt from the force limiter isn't a big a problem."
The IIHS won't require OEMs to adopt a specific piece of technology as a solution for backseat injuries. It'll just rate backseat risk and leave it up to the OEMs to manage that risk.
"We're confident that vehicle manufacturers can find a way to solve this puzzle in the back seat just as they were able to do in the front," IIHS President David Harkey said in a statement.
Based on the IIHS analysis, it seems as though collision repairers will be seeing OEMs adding some combination of airbags, "Beltbags" (to use Mercedes' term), force limiters and crash tensioners.
This will likely increase the parts bill for repair — but it also might introduce additional labor operations depending on OEM inspection requirements for seat belts and airbags.
Inspections
The IIHS results prove the danger in letting uninspected restraints back onto the road.
If a seatbelt without a crash tensioner, force limiter or both increases the risk to a rider's chest or head, then a seatbelt in which either device fails to deploy properly in a subsequent crash introduces the same risk.
Which makes the prospect that shops are failing to follow OEM instructions on such inspections alarming.
"Of the nearly 100 procedures and items we ask about over the course of four surveys each year, this is the one that most keeps me awake at night," Collision Advice CEO Mike Anderson said in a summer 2018 statement discussing "Who Pays for What?" survey results on seatbelt inspections.
About 31 percent of shops who ask to be reimbursed for the procedure when dictated by OEM repair procedures reported being paid "always" or "most of the time." However, it was more likely for insurers to "never" pay the shop for their work — and still even more likely the shop had never asked. Around 60 percent of respondents reported never pursuing reimbursement.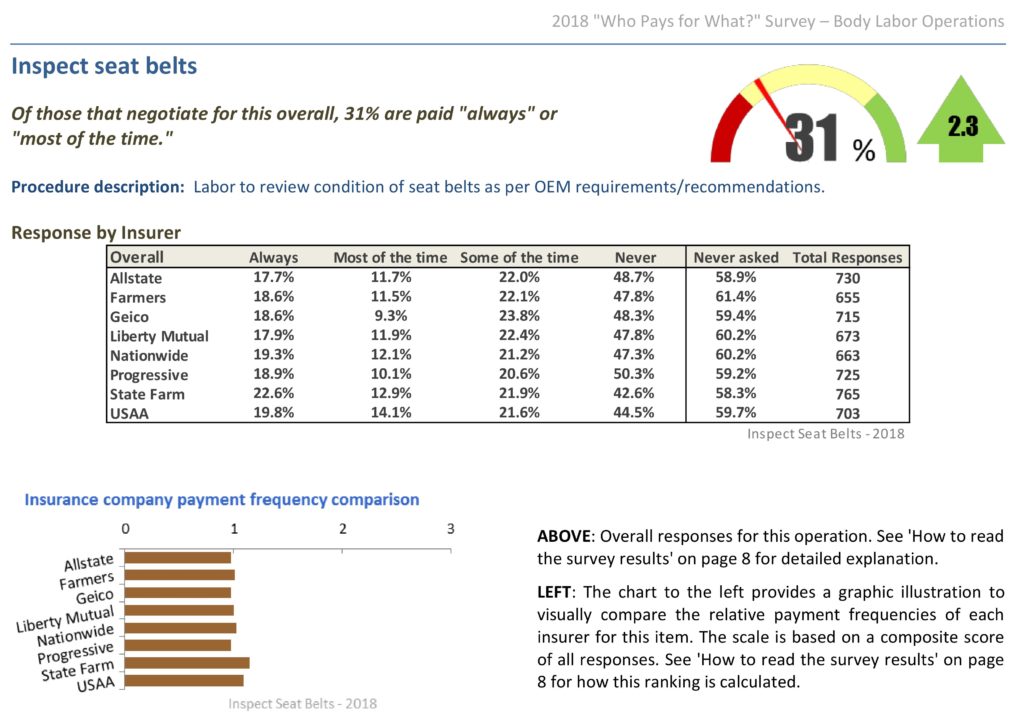 Anderson feared this absence of requests stemmed from ignorance rather than generosity.
He said in a statement this was "very concerning in that it indicates to me that too few shops are researching OEM repair procedures and are thus not aware" of OEM requirements.
"Some even go so far as to state seatbelts must be replaced if they were in-use during a collision," he said in a statement. "Some OEMs also state that the inspection process includes using a scan tool."

Volvo, for example, declared in a position statement that any airbag deployment at all triggers the need to inspect occupied seats ("When in doubt, replace," Volvo writes) and automatically demands the shop replace all pretensioners and seatbelt buckles on those occupied seats, according to Volvo.
However, you also must inspect "Seat belts, buckles, car seat anchors and other components" related to all unoccupied seats too, Volvo wrote. "When in doubt, replace," the OEM stated.
General Motors might require extensive seat belt inspection and testing following any collision, auto body repair experts demonstrated during a spring 2018 "Repair University Live."
Failure to perform what host Kristen Felder (Collision Hub) jokingly called the show's "four-hour seat belt test" could result in a pricey lawsuit and serious customer injury or death.
Felder and co-hosts Larry Montanez (P&L Consultants) and Mark Olson (Vehicle Collision Experts) were demonstrating blueprinting on a 2012 Chevrolet Malibu LT. While some of the steps they described on the show might be specific to that specific year-make-model combination, General Motors position statements (2322743 and 2133164) dating back to at least 2014 do confirm or imply that multiple restraint tests and inspections are indeed necessary after any collision on any GM vehicle.
Assured Performance technical compliance Vice President Aaron Clark at SEMA 2017 described a "devastating" experience of a lawsuit tied to airbags failing to deploy in an 80 mph crash. The impact killed the dog and rendered two occupants paraplegic, he said.
Clark said an OEM repair procedure, one present on "a lot of vehicles," declared that in the event of a frontal impact — a vaguely defined term, he pointed out — with undeployed airbags, about 14 different elements on the vehicle needed to be checked by a shop.
The OEM's instruction would have required 15.5 hours of labor to remove items like the dash, console and steering column to check every one of the relevant modules, sensors and wiring connections.
"I did not perform any of those operations," Clark said.

Clark's failure to follow OEM repair procedures wasn't a conscious decision. Collusion Solutions was either unaware that the requirement existed or didn't understand it, he said.
More information:
Rear-seat occupant protection hasn't kept pace with the front"
Insurance Institute for Highway Safety, April 25, 2019
NASTF links to OEM repair procedures
Images:
The Insurance Institute for Highway Safety in April 2019 said backseat passengers aren't kept safe enough during frontal crashes, and it plans to factor those occupants' risk into future tests. (Provided by the IIHS)

A seat belt force limiter is shown at left. The little rod inside a retractor twists during a crash, playing out a little slack to alleviate crash force. (Provided by IIHS)
The "Beltbag" from Mercedes is shown in this illustration. (Provided by Mercedes)
April 2018 "Who Pays for What?" survey results show a lack of shop billing for seat belt inspections — and insurer reimbursement of the repairers who do. (Provided by Collision Advice and CRASH Network)
Share This: