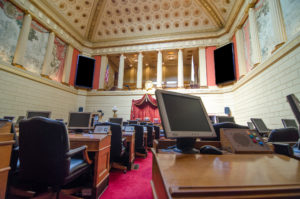 The Alliance of Automobile Manufacturers on Monday called on Rhode Island lawmakers to no longer exempt auto glass work from a law requiring insurers to accept OEM repair procedures.
Last session, Senate Bill 2679 added the following language to Rhode Island General Laws 27-10.2-2:
(d) When "OEM part(s)" are used in the repair of a motor vehicle, no insurance company may require any repairer to use repair procedures that are not in compliance with the recommendations of the original equipment manufacturer.
(e) This chapter shall not apply to the repair or replacement of motor vehicle glass performed by licensed motor vehicle glass repair shops pursuant to chapter 38.5 of title 5.
This year's SB 850 and companion House Bill 6104 would dial this back and only exempt glass shops "for non-collision related damage." However, the vehicle owner must be told "in writing that installation of an aftermarket glass will require re-calibration of safety related systems, for which cost the insurer is responsible." The customer also must have the option to demand OEM glass in those situations.
Auto Alliance state government affairs senior director Wayne Weikel told the House Committee on Corporations on Monday it "should be proud" of the previous year's bill. Nevertheless, it was "fully appropriate" for HB 6104 to revisit the glass exemption, he said.
When the exemption was proposed in 2018, "we didn't object as loudly as we should have," Weikel said.
The OEMs represented by the alliance didn't appreciate the impact of the exemption, he said. "We do now," he said.
Auto glass and its replacement used to be "decidedly low-tech," Weikel said. "That time has passed."
Making sure a windshield stays in place when an airbag deploys "is vital," Weikel said. Newer vehicles need the cameras behind windshields recalibrated following a glass replacement, he said.

"We think it is inappropriate to grant glass companies an exclusion to these rules," Weikel said.
If automakers say the recalibration needs to occur and Allstate and the APCIA in testimony this session agreed, "why is that not the law?" Weikel asked.
Weikel cast doubt on the notion that it was unclear if calibrations needed to be done.
"If you follow automaker repair procedures, it's not confusing," he said, pointing to what he described as clear Ford directions related to a 2018 Explorer.
"Why should we ever allow a company not to follow these rules?" he asked.
HB 6104 didn't go far enough, according to Weikel. He proposed an amendment which would exempt all glass work as long as the vehicle owner signs a disclosure document stating:
ATTENTION: THIS GLASS REPAIR OR REPLACEMENT HAS NOT FOLLOWED THE GUIDELINES FOR REPAIR PRESCRIBED BY YOUR VEHICLE'S ORIGINAL MANUFACTURER. AS A RESULT, ADVANCED VEHICLE SAFETY SYSTEMS, SUCH AS LANE DEPARTURE WARNINGS, FORWARD COLLISION WARNINGS, EMERGENCY BRAKING, AND AIRBAG DEPLOYMENT MAY NOT FUNCTION AS INTENDED BY THE VEHICLE MANUFACTURER. VEHICLE OWNERS ARE STRONGLY ENCOURAGED TO BRING THE VEHICLE TO AN AUTHORIZED FRANCHISE DEALER OF THE VEHICLE MANUFACTURER OR A QUALIFIED INDEPENDENT REPAIR FACILITY TO ENSURE THE PROPER CALIBRATIONS ARE COMPLETED.
This exemption-with-written-consent permission would end completely on Dec. 31, 2022 — glass would be treated the same as other insurer-paid repairs.
Such a transition period was appropriate, Weikel said. "It is not appropriate to jeopardize occupant safety because a business model is not capable of doing a correct repair," he said.
OEM glass must also be installed "if specifically requested by the owner" under the Auto Alliance's proposed amendment.
American Property Casualty Insurance Association state government relations Vice President Frank O'Brien called Weikel's testimony "self-serving" and "a bit histrionic."
He said that when a windshield is replaced, it must be done correctly and the calibration needed to occur. "We don't have a dispute with that," he said.
But he raised the issue of an OEM calling for their adhesive, glass, technician and facility to be used, mentioning Volvo in particular.
Volvo in a position statement has instructed collision repairers to only have an authorized location perform windshield replacements using only OEM glass and Volvo-approved adhesive.
"It's Volvo all the way through," he said, declaring that the insurers would be attacked for such a "stunt."

The Auto Body Association of Rhode Island supported the original HB 6104. Asked about the trade group's views on Weikel's amendment, Jina Petrarca, (Petraraca & Petrarca Law Offices), replied in an email Friday:
"We do not have any comment directly on the suggested amendment at the moment, except to say we are pleased that the introduction of this legislation with the proposed changes to the exemption in the law has sparked a very important conversation regarding consumer notification of potential safety issues. Most people are simply unaware of the important role windshields play in the safety and integrity of their vehicle. ABARI has always done its best to bring these issues to light for the purpose of consumer protection. Our laws will have to continue to evolve as technology does, and we are hopeful we will continue to stay ahead of the curve in Rhode Island."
The House committee recommended Monday that SB 6104 be held for further study, and the Senate Judiciary Committee on May 7 did the same with SB 850 after a hearing that day. SB 848 and 849, which are also relevant to auto claims, were also held for future study.
Be heard: Rhode Island lawmaker contact information can be found here and here.
Featured image: The Rhode Island House Chamber is shown. (Marc Dufresne/iStock)

Share This: