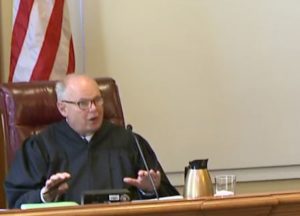 Ninth Circuit Court of Appeals Judge N. Randy Smith last week raised the potential for an Oregon policyholder to sue an auto insurer for refusing a scan even if the threshold for breach of contract wasn't met.
Litigation on the grounds of breach of implied good faith and fair dealing might still stand, Smith suggested during oral arguments in Hansen v. GEICO.
Leif Hansen sued GEICO — and seeks class-action status — after the insurer refused to cover diagnostic scans on his 2017 GMC Sierra 3500. According to Hansen's complaint, despite General Motors' directive to pre- and post-repair scan all vehicles, GEICO wouldn't pay for $100 scans of the GMC 3500 by Artistic Car Body because of the absence of a dash light. The truck had received rear bumper damage during a crash.
Hansen, who was acting as a policyholder in this case, sued for breach of contract and breach of the implied covenant of good faith and fair dealing.
U.S. Oregon District Court Chief Judge Michael Mosman last year threw out the case with prejudice, prompting the appeal. GEICO had argued successfully that a scan wasn't the actual damage to a vehicle it was bound to cover under the insurance contract.
Hansen's contract stated, "We will pay for collision loss to the owned auto or non-owned auto for the amount of each loss less the applicable deductible." It defines "loss" as "direct and accidental loss of or damage." (Emphasis GEICO's.)
"There's no coverage" for pre- and post-repair scans, GEICO attorney Dan Goldfine said during oral arguments May 13. "The scan is not the damage to the vehicle," he said later in the hearing.
Hansen attorney Robert Koch argued that a scan was simply the only way to find "latent damage" in a vehicle.
"In the complaint, you don't know" of any defect in the vehicle because of a failure to scan, Smith said. (Note: We've presented excerpts from judges' questions and the attorneys' replies here to give readers a sense of the back and forth in court May 13; full questions and answers can be seen in the video below.)
"We don't know without doing the scan," Koch said. Damage to circuitry wasn't visible to the naked eye, he said.
"You don't really suggest that there's damage," Smith said. The point was that the plaintiff didn't know but felt a scan should be done so they would, he said.
Koch said it's "impossible" for an ordinary purchaser of insurance to know the damage.
"You don't know that it wasn't restored," Smith said.
Judge Ryan Nelson said the debate appeared to be the level of due diligence GEICO or the mechanic should show.
"There's always something more they could've done," he said of GEICO.
Smith later said that as he understood Oregon law, breach of good faith could be claimed even if a contract wasn't breached.
Nelson later said it came back to manufacturer recommendations, and Koch agreed. The contract doesn't assume those recommendations would be followed, he said.
"Your position would be that the manufacturer's recommendation informs the reasonable contractual expectations at the same time," he said.
Yes, Koch said.
Smith later asked Goldfine if the covenant of good faith and fair dealing could be breached even if the contract wasn't.
"I suppose that's true," Goldfine said.
Klamath Off-Project Water Users, Inc. v. Pacificorp says it's "exactly true," Smith said. As long as it doesn't contract the contract's language, Goldfine replied.
Nothing in Hansen's policy said GEICO shouldn't have conducted a scan and and nothing in the express language said GEICO had to, Smith said.

"Nonetheless, you do do scans" and pay for them, and "and so it could be a reasonable contemplation of the parties that you would do scans every time to make sure that the damage has been repaired," Smith said.
Why would GEICO's failure to cover a scan not be a question of breach of good faith, he asked.
A little later, Smith also brought up the concept of loss and damage.
"To determine the amount of your loss and your damage in this contract, somebody's got to make that determination," Smith said. "There's nothing in this contract that says who determines it or how it's to be determined."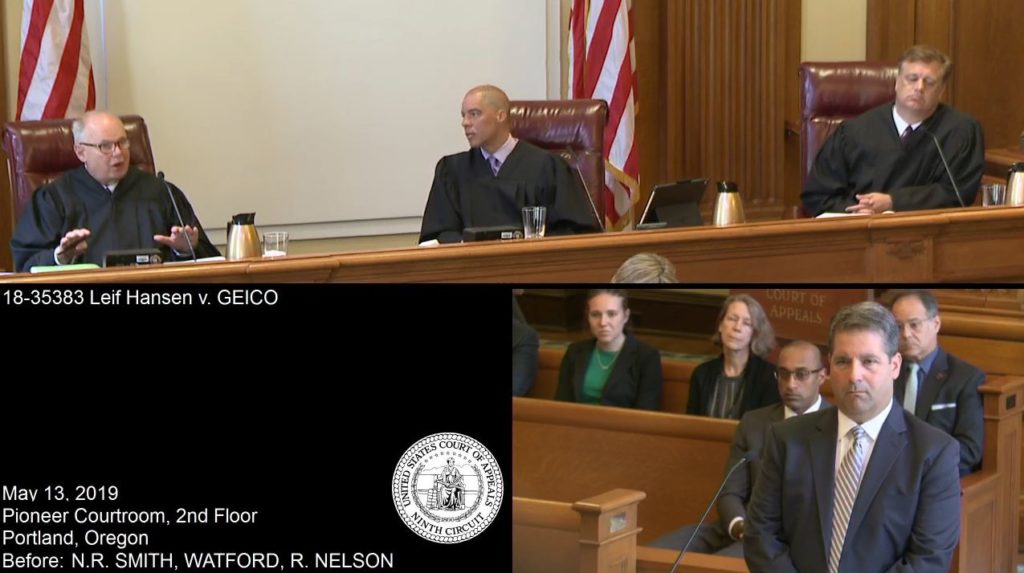 Nothing in exclusions said GEICO didn't pay for scans, "and you admit you do pay" for these scans "when you think they're necessary," Smith said. So why wasn't it a question of failure to act in good faith, he asked.

Hansen hadn't demonstrated the scan was necessary, Goldfine said.
"That's not necessarily so," Smith said. Hansen thinks there's more damage, and a scan is the only way to tell that, he said.
"He wants a just-in-case scan," Goldfine said.
Koch noted in his rebuttal May 13 that while it wasn't included in the court record, Hansen did later pay for his own scan of the GMC 3500.
"He did find that there was damage to the car," Koch said. That would be added to the court record should the Ninth Circuit remand the case, he said.
More information:
"18-35383 Leif Hansen v. GEICO"
Ninth Circuit Court of Appeals, May 13, 2019
Images:
Ninth Circuit Court of Appeals Judge N. Randy Smith speaks May 13, 2019, during oral arguments in Hansen v. GEICO. (Screenshot from Ninth Circuit video on YouTube)
From left, Ninth Circuit Appeals Court Judges N. Randy Smith, Paul Watford, and Ryan Nelson participate in a hearing on Leif's v. GEICO on May 13, 2019. (Screenshot from Ninth Circuit video on YouTube)
Ninth Circuit Court of Appeals Judge N. Randy Smith speaks May 13, 2019, during oral arguments in Hansen v. GEICO. GEICO attorney Dan Goldfine is at bottom right. (Screenshot from Ninth Circuit video on YouTube)

Share This: