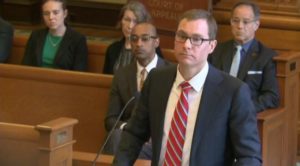 Attorney Robert Koch this month said two Oregon legal precedents meant GEICO was wrong to deny pre- and post-repair scans of his client's 2017 GMC 3500.
Both the Oregon Supreme Court decision in Gonzales v. Farmers (2008) and the Oregon Court of Appeals ruling in Busch v. Ranger (1980) apply here, Koch told the Ninth Circuit Court of Appeals on May 13. GEICO, meanwhile, has called the precedents irrelevant to the matter at hand. It'll be up to the Ninth Circuit to decide who's right.
Another Oregon collision repairer contacted us Tuesday asking if we could provide more details about the cases, and we thought there'd be enough interest among shops and consumers nationwide to explore them here.
Koch represents collision repairer Leif Hansen, who had sued GEICO as a consumer claiming breach of contract and breach of the implied covenant of good faith and fair dealing.
U.S. Oregon District Court Chief Judge Michael Mosman last year threw out the case with prejudice, following GEICO's successful argument that a scan to see if something was wrong wasn't damage to a vehicle covered under the policy. Hansen appealed.
Hansen's contract stated, "We will pay for collision loss to the owned auto or non-owned auto for the amount of each loss less the applicable deductible." It defines "loss" as "direct and accidental loss of or damage." (Emphasis GEICO's.)
Gonzales v. Farmers
The Oregon Supreme Court in Gonzales v. Farmers agreed with the Oregon Court of Appeals that an insurer which couldn't restore a vehicle to preloss condition owed the difference.
We hold that "repair," as used in the policy at issue in this case, requires defendants to restore plaintiff's vehicle to its preloss physical condition.   If defendants do not or cannot so restore plaintiff's vehicle, defendants must compensate plaintiff for the diminished value of the vehicle.
Defendants assert that plaintiff's claim, when reduced to its essence, would lead to an absurd result:  if an insurer has restored a vehicle to its preloss condition, an insurer nevertheless is obligated to pay for diminished value that results from only stigma attached to that vehicle because the vehicle has been involved in a collision.   Defendants argue that the supposed negative perception of prospective buyers regarding a repaired car's worth following a collision is not included in the policy's definition of "repair."
In this case, plaintiff does not claim damages for stigma, as defendants describe that concept above.   Plaintiff submitted an affidavit in opposition to defendants' summary judgment motion that stated that he was "not satisfied that [his] vehicle had been repaired with like kind and quality parts, and was not restored to its preloss condition.   The vehicle had a number of problems that did not exist before."   Plaintiff also submitted two expert affidavits describing the inability of body shops to restore preloss physical condition in certain circumstances.   Because this case involved a genuine dispute about whether defendants had restored the vehicle to its preloss condition, we need not decide whether the policy requires payment for a claim based solely on "stigma."
Plaintiff Jose Gonzales' policy on his 1993 Ford pickup truck stated Farmers "will pay for loss to [the] insured car caused by collision less any applicable deductibles." It defined "loss" as "direct and accidental loss of or damage to [the] insured car, including its equipment," according to the Supreme Court.
His policy defined its limit as what "it would cost to repair or replace damaged or stolen property with other of like kind and quality;  or with new property less an adjustment for physical deterioration and/or depreciation," and it promised to "pay the loss in money or repair or replace damaged or stolen property." The word "repair" was never defined, according to the court.
"No credible dictionary defines loss in the insurance context as merely visible physical damage," Hansen wrote in his Sept. 14, 2018, brief to the Ninth Circuit.
Busch v. Ranger
Busch v. Ranger involved the owners of an airplane suing Ranger Insurance after it said it wouldn't pay for a teardown if the operation didn't find any damage to the craft. The plane had bumped both propellers on the ground during a landing, and an Federal Aviation Administration inspector declared the vehicle unairworthy because the engines hadn't been inspected as called for in a letter from OEM Avco Lycoming.
"Thus, under the FAA's system for regulating the maintenance and repair of civil aircraft, plaintiffs' aircraft, once having been determined not to be airworthy, would not be approved as airworthy and could not be returned to service until the engines had been torn down, inspected and approved," the Appeals Court wrote. "Defendant refused to pay for any of the work performed on the engines, and this action ensued."
The plane's insurance policy's "All Risks While in Motion" language said Ranger would "pay for direct and accidental loss of or damage to the aircraft, hereinafter called loss, occurring while the aircraft is in motion under its own power or the momentum generated therefrom, or while the aircraft engine is operating, including fire or explosion caused by or resulting from collision of the aircraft with any object and including disappearance if the aircraft is missing and not located for sixty (60) days after takeoff." (Emphasis added.)
The trial judge had agreed with Ranger that only physical damage counted. The Appeals Court ruled otherwise:
That language reflects two erroneous ideas: first, that certification as airworthy or not was irrelevant to whether plaintiffs had suffered "direct and accidental loss of or damage to the aircraft"; and, second, that the policy covered only "physical" damage. As to the latter point, given that the insurer could have so limited its policy expressly but chose not to, the generality of the terms used must be construed in favor of coverage. As to the first error, the insureds, when they bought an "all-risks" policy covering an airplane that could only lawfully be operated if it was certified airworthy, had a right to expect that the coverage would extend to recompense them for all of the consequences of an accident that caused the aircraft to be rendered "unairworthy." Any other reading of the policy would unreasonably defeat the "character and (…) beneficent purposes" the insureds had reason to understand the policy represented and served. The tear down and inspection was not merely a safety precaution. Without it, plaintiffs simply had no airplane at all as a practical matter. It would be beyond reason to say that all of the risks against which they were insured were only those which produced open and obvious or visually observable destruction of parts of the plane. Such a reading would reduce the damage coverage to a mere portion of the reasonable expectations of the owner of an airplane.
On remand, it will only be necessary to determine which items of expense proved by plaintiffs were necessitated by the federal airworthiness certificate standards.
Those two decisions and the idea of the manufacturer's position get the idea of a scan beyond a consumer whim to something which should be covered under the policy, Koch told the appellate court.
It's not just the manufacturer's position statement, "it's the logic behind that statement. … There's literally no other way" to identify and diagnose damage, he said.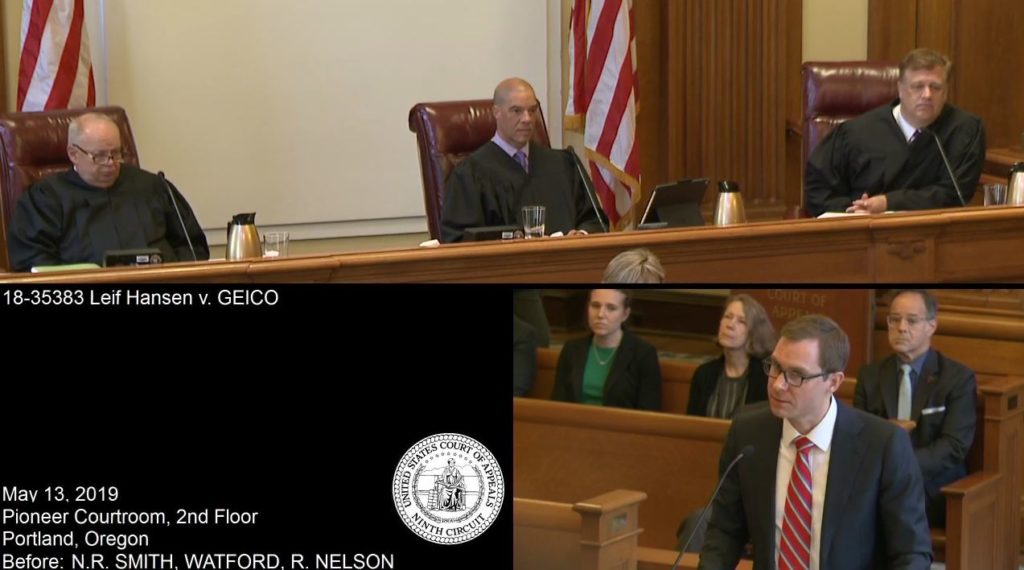 GEICO rebuttals
GEICO called the decision in Gonzales irrelevant "because Hansen fails to allege that: (1) his Truck was not restored to 'pre-loss' or 'preaccident' physical condition; or (2) any failure to restore the Truck to 'pre-loss' or 'preaccident' physical condition decreased its value. Hansen alleges no unrepaired collision damage."
Koch in his rebuttal said Hansen was alleging unrepaired damage — it just couldn't be identified without the scan. In fact, after the complaint was dumped by the trial court, Hansen had a scan done and "he did find that there was damage to the car," Koch said.
GEICO also challenged the use of Busch by stating that unlike the plane in that case, nothing was legally preventing Hansen from operating the vehicle.
"Hansen's claim here is not analogous," GEICO wrote. "He does not allege that he cannot legally drive his Truck without the requested scan; he does not allege anything is wrong with the Truck whatsoever. Quite the opposite, he repeatedly acknowledges the requested scan is merely a precautionary measure."
Hansen countered in his reply that "GEICO ignores the dual holdings in Busch: (1) that a lack of airworthy certification could constitute damage under the policy, and (2) that 'loss of or damage to' insured property extends beyond 'only "physical" damage' to include the cost of inspecting the property in connection with a damage claim. The second holding controls here."
Health diagnostics
Hansen's reply brief also mentions an interesting precedent in health insurance repairers might wish to review.
In SAIF and Sherman Paint & Collision v. Carlos-Macias (2018), the Oregon Court of Appeals agreed with an Workers' Compensation Board "order determining that the diagnostic services were compensable because they were necessary to determine the extent of claimant's disability from his accepted conditions."
The claimant had hurt his left shoulder, and though SAIF paid for surgery and agreed he suffered a strain and rotator cuff tendinosis, a dispute "arose when claimant's orthopedist recommended diagnostic tests to determine the cause of claimant's continued symptoms."
GEICO had argued that the injury in SAIF and other health insurance cases Hansen cited was known.
"Here, the requested scan is not part of—much less a necessary part of—any plan to treat or repair any identified damage or defect," GEICO later wrote.
The injury was the crash, Hansen argued.
"Here, Hansen's car suffered a collision injury, and a digital scan is but one repair measure of determining and treating the extent of that injury," Hansen's reply brief states.
More information:
"18-35383 Leif Hansen v. GEICO"
Ninth Circuit Court of Appeals, May 13, 2019
Featured images: Attorney Robert Koch, seen at bottom right, speaks to the Ninth Circuit Court of Appeals on May 13, 2019. (Screenshot from Ninth Circuit video)
Share This: