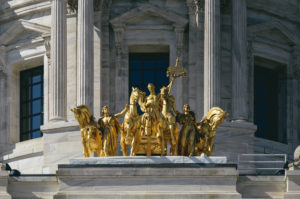 With one repair procedure bill already potentially in play for the 2020 calendar, a Minnesota representative has introduced a more aggressive measure which targets insurer steering and price-driven part selection as well.
State Rep. Mary Franson, R-Alexandria, introduced House File 2919 on May 20, just prior to the end of the 2019 legislative year. A Minnesota legislative staffer said Tuesday the measure and existing fellow auto body repair bill House File 2234, sponsored by Rep. Ruth Richardson, DFL-Mendota Heights, will be eligible for consideration during the 2020 session starting Feb. 11, 2020.
"This was brought to me by a business owner," Franson wrote in an email Wednesday when asked about HF 2919 and her thoughts on HF 2234. She referred us to Osakis, Minn.-based Jack's Auto Body.
Rodger Larson, who handles estimating and insurance work at Jack's Auto Body, said he pushed for the bill.
Larson said he had a successful experience asking the Legislature to pursue an unrelated worker's compensation measure and felt he'd seek assistance again on collision repair.
Larson said his shop was an Alliance of Automotive Service Providers of Minnesota member but was unaware the AASP-MN had promoted HF 2234.
"Our bottom line is 100 percent consumer protection," he said of the new bill.
He stressed this point repeatedly during the interview, noting at one point that customers have no idea about issues related to the repair of their vehicles.
"This isn't about the shop," he said. "It's about consumers. …"I see things that I don't think are fair to the consumer."
HF 2234 and HF 2919
After what supporter AASP-MN described as a planned deletion of a passage defining a "Satisfactory repair," an upcoming amended HF 2234 is expected to simply add language defining an unfair settlement practice roughly along the lines of the bill today:
(18) conditioning payment to settle a claim on the use of a repair procedure or specification that conflicts with the repair procedures and specifications recommended by the original equipment manufacturer of the vehicle. Notwithstanding any statements or recommendations contained in the original equipment manufacturer's repair specifications or procedures with respect to the use of original equipment manufacturer parts, clause (7) governs the use of parts during an insurer-funded repair.
Clause (7) in Minnesota 72A.201, Subdivision 6 allows carriers to request recycled parts (and presumably refurbished ones) but forbids them from requiring policyholders to accept any aftermarket parts except glass. Should HF 2234 pass, insurers would continue to have these rights even if OEMs recommend differently.
Parts
HF 2919 goes much further. It would eliminate language preventing an insurer having to "pay more than a reasonable market price for parts of like kind and quality in adjusting a claim."
Instead, an insurer couldn't "specify a price for a part or other materials necessary for the satisfactory repair of the vehicle."
Nor could the carrier:
(7) require a vehicle to be repaired with a specific part or product solely because it is the least expensive part or product available;
(8) require a vehicle to be repaired with a part that costs less than the reasonable and necessary amount of the part. For purposes of this section "reasonable and necessary amount" means the amount determined by the original equipment manufacturer and estimating systems required to repair a vehicle to the condition before the damage to the vehicle occurred (Emphasis added.)
"When I buy insurance, I'm insuring an OEM vehicle," Larson said.
Steering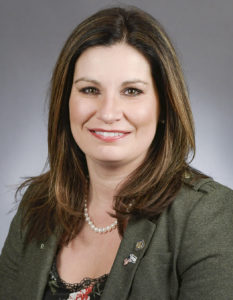 The bill would also crack down hard on steering, defining as an unfair settlement practice the act of merely "suggesting" that "repairs to any damaged vehicle must be made by a particular contractor or repair shop or that parts, other than window glass, must be replaced with parts other than original equipment parts."
Minnesota law already bans carriers from "engaging in any act or practice of intimidation, coercion, threat, incentive, or inducement for or against an insured to use a particular contractor or repair shop" but makes an exception for "benefits included within preferred vendor programs." HF 2919 would end that exemption, thereby forcing insurers to treat consumers the same whether they used a DRP or non-DRP shop.
Insurers couldn't even hint to a consumer that a referral was possible under the language, though presumably a consumer could still ask them for one. HB 2919 would remove from the mandatory disclosure of shop choice law the sentence, "Have you selected a repair shop or would you like a referral?""
It'd prohibit insurers from any attempt to "influence the insured's or claimant's choice of repair shop," not just after the consumer had picked a shop. (The current cutoff under Minnesota law.)
Repair procedures
Finally, the bill would no longer give insurers any wiggle room in rejecting "a repair operation or cost identified by an estimating system" (current law merely says they can't "unilaterally and arbitrarily"), nor would it peg this law to a system both an insurer and repairer had agreed to use.
It also added language forbidding carriers from disregarding costs identified by "the system's procedural pages and any repair, process, or procedure recommended by the original equipment manufacturer of a part or product."
Larson during the interview described a preference for "very straightforward, layman terms" in legislation.
AASP-MN surprised
Alliance of Automotive Service Providers of Minnesota Executive Director Judell Anderson, whose organization had worked on HF 2234, said the trade group was caught off-guard by the new bill.
"We didn't have anything to do with it," she said.
Typically, the organization is involved in any collision repairer-friendly bill and is only surprised during sessions by bills it would oppose, Anderson said. Unexpected bills seeking to benefit the auto body industry hadn't really arisen before, she said.
"Those typically don't come out of the blue," Anderson said.
Anderson said she thought the ideal strategy in such a situation would be to work together on a "single version of something."
The AASP-MN's lobbyist will seek to meet with Franson and learn more about the legislation, Anderson said.
Anderson said some language in HF 2919 was "flawed," such as the reference to using repair procedures from the part manufacturer, rather than the automaker — "little stuff like that" — but hopefully AASP-MN could work with Franson.
Anderson also indicated that political realities might make the new bill difficult to pass.
Insurers already have expressed disagreement with HF 2234, and it's likely they'd even more strongly object to HF 2919's elevated consumer and shop protections.
Minnesota House Commerce Committee Chairwoman Laurie Halverson already had pulled HF 2234 just prior to her panel hearing it, the AASP-MN reported in March.
"However, late on March 14th, the Alliance was contacted by the bill author, Representative Ruth Richardson, who shared concerns of the Committee Chair, Representative Laurie Halverson, regarding the lack of agreement between the insurance industry and the repair industry," AASP-MN wrote. "The Chair opted to pull the bill from the Committee Agenda in favor of continuing discussions between the two industries with the intention of trying to find accord."
Anderson explained at the time that the Commerce Committee — which has received HF 2919 — likes what it calls "'peace in the valley.'" It's not interested in brutal legislative fights, she said.
Ultimately, some bills are just going to be unavoidably controversial, it seemed to us. Anderson said in March sometimes bills held to pursue accord will be granted a hearing regardless in a future Minnesota session, other legislation might not.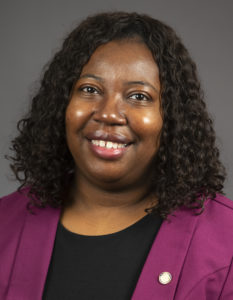 HF 2234 is sponsored by four other lawmakers besides Richardson, DFL-Mendota Heights. Its companion Senate File 2390 is sponsored by Assistant Senate Majority Leader Karin Housley, R-St. Mary's Point, and Sen. Dan Sparks, DFL-Austin. It's currently before the Senate Commerce and Consumer Protection Finance and Policy Committee that counts Housley as Vice Chairwoman and Sparks as the ranking minority member.
Be heard: Minnesota lawmaker contact information can be found here.
More information:
"AASP-MN Legislative Initiative Cut Short"
Alliance of Automotive Service Providers-Minnesota, March 19, 2019
Images:
The Minnesota Capitol is shown. (Andy445/iStock)
Minnesota state Rep. Mary Franson, R-Alexandria. (Provided by Minnesota Legislature)
Minnesota state Rep. Ruth Richardson, DFL-Mendota Heights. (Provided by Minnesota Legislature)
Share This: