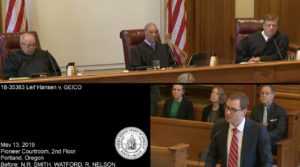 A three-judge Ninth Circuit appellate panel on Wednesday found an Oregon shop owner made a strong enough case to move forward with a lawsuit over GEICO's refusal to cover scanning a late-model truck.
The opinion May 29 overturns U.S. Oregon District Judge Michael Mosman's dismissal with prejudice of Leif Hansen's two-count lawsuit against GEICO. A dismissal with prejudice kills a case for good, while a dismissal without prejudice means the plaintiff can bring back a revised version.
Ninth Circuit Judges N. Randy Smith, Ryan Nelson and Paul Watford ruled that Mossman was right to dismiss Hansen's breach of contract claim — but he should have given Hansen a chance to amend it. However, the trio found Mossman shouldn't even have thrown out Hansen v. GEICO's allegation the carrier broke the implied covenant of good faith and fair dealing.
"The district court erred, because the contract does not expressly state how the parties must determine the loss to the vehicle," the Ninth Circuit wrote. "Hansen has sufficiently pled that the industry standards and practices—here, the manufacturer's recommendation that diagnostic scans be run every time the particular truck model at issue is involved in a collision—effectuated a potentially reasonable contractual expectation that GEICO would cover the cost of diagnostic scans in these circumstances. Nor do the exclusions on liability make it unreasonable to expect that the cost of a diagnostic scan, when necessary for repair, would be included in the cost of a repair. In fact, GEICO conceded that in some cases, it will reimburse for the cost of performing diagnostic tests." (Emphasis ours.)
Hansen sued GEICO as a consumer, not as a body shop owner — and he seeks class-action status on behalf of other consumers. He filed the litigation in December 2017 after GEICO refused to cover diagnostic scans on his 2017 GMC Sierra 3500. According to Hansen's complaint, despite General Motors' directive to pre- and post-repair scan all vehicles, GEICO wouldn't pay for $100 scans of the GMC 3500 by Artistic Car Body because of the absence of a dash light. The truck had received rear bumper damage during a crash.
Hansen's policy stated, "We will pay for collision loss to the owned auto or non-owned auto for the amount of each loss less the applicable deductible." (Emphasis GEICO's.)
GEICO defines "loss" as "direct and accidental loss of or damage." It defines the limits of liability as either the cash value of the property or whatever amount "will not exceed the prevailing competitive price to repair or replace the property at the time of loss, or any of its parts, including parts from non-original equipment manufacturers, with other of like kind and quality and will not include compensation for any diminution of value that is claimed to result from the loss. Although you have the right to choose any repair facility or location, the limit of liability for repair or replacement of such property is the prevailing competitive price which is the price we can secure from a competent and conveniently located repair facility. At your request, we will identify a repair facility that will perform the repairs or replacement at the prevailing competitive price." (Emphasis GEICO's.)
Breach of contract
However, Hansen's argument that GEICO breached the contract wasn't strong enough to survive a motion to dismiss, according to the Ninth Circuit.
"Under the policy, however, GEICO's liability is limited to paying costs of the 'loss of' or 'damage to' the vehicle, as measured by the cost of repair. To be sure, a diagnostic scan might be covered if it is part of the process of 'restor[ing] plaintiff's vehicle to its preloss physical condition,' the court wrote, citing Gonzales v. Farmers — which defines "repair" for Oregon. "However, Hansen has not made the necessary allegations that GEICO breached its obligation to pay under the policy."
Hansen also hadn't demonstrated how he was harmed by GEICO's refusal to pay for a scan, according to the appeals judges. (Before you can sue for breach of contract in Oregon, you have to prove damages, according to an 1988 state case cited by the Ninth Circuit.)
"Hansen has not alleged any indication, either from the car's internal mechanism or a body shop mechanic's recommendation, that the diagnostic scan would reveal further damage to the car resulting from the collision," the Ninth Circuit wrote. "In other words, Hansen has not identified anything broken that needs to be repaired. Nor has Hansen alleged that he paid for the scans himself."

This could change. Hansen attorney Robert Koch noted in his rebuttal dring Ninth Circuit oral arguments May 13 that while it wasn't included in the court record, Hansen did later pay for his own scan of the GMC 3500.
"He did find that there was damage to the car," Koch said. That would be added to the court record should the Ninth Circuit remand the case, he said.
As noted above, the appeals judges felt Mossman should indeed let Hansen revise his lawsuit rather than immediately killing the case.
"However, we have made clear that district courts commit reversible error by dismissing a suit without any chance to amend, even if no request has been made, unless the district court determines additional facts could not possibly cure the deficiency," the Appeals Court wrote.
What if nothing is found?
According to Smith, a party can breach the implied covenant of good faith and fair dealing without actually breaking the contract.
This notion and the ruling Wednesday seem to indicate scanning and other diagnostic procedures (such as measuring) under a contract like Hansen's might legally break down along these lines in Oregon — at least in the mind of the Ninth Circuit:
Any procedure that uncovers damage needs to be paid for as part of the loss. An insurer who fails to do so and has policy language like Hansen's is breaking the contract.
Any procedure that doesn't uncover damage but should be reasonably expected to be done — such as a post-repair scan, test drive or post-repair measuring — must be covered under the notion of good faith and fair dealing. A reasonable person drawing on things like OEM procedures would expect this to be done.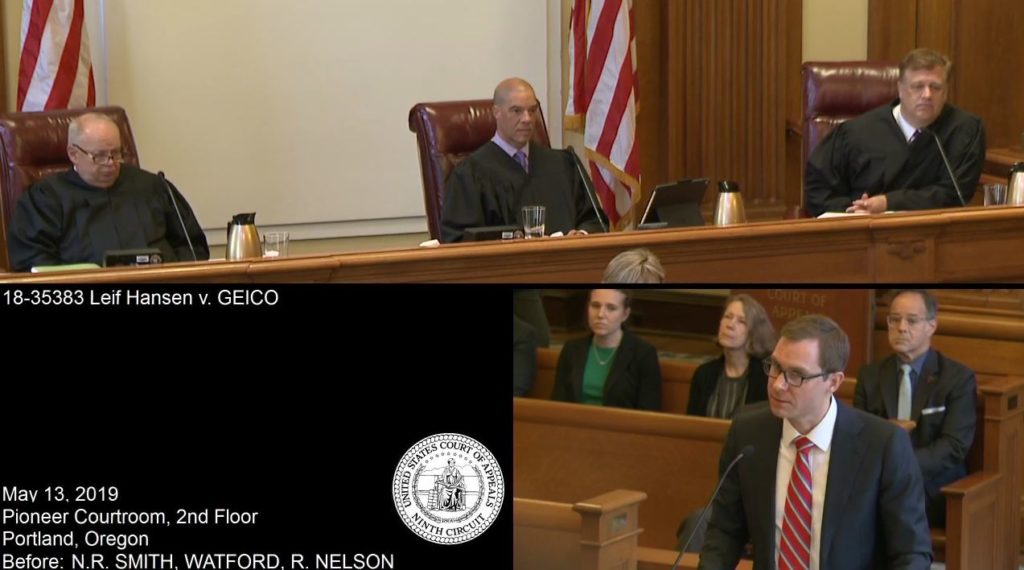 Koch during oral arguments May 13 also raised the interesting case Busch v. Ranger. That litigation would seem to indicate a scan to confirm everything's fine and no damage existed would still be part of a loss. Unfortunately, the Ninth Circuit didn't discuss Busch in its ruling.
Busch v. Ranger involved the owners of an airplane suing Ranger Insurance after it said it wouldn't pay for a teardown if the operation didn't find any damage. The plane had bumped both propellers on the ground during a landing, and an Federal Aviation Administration inspector declared the vehicle unairworthy because the engines hadn't been inspected as called for in a letter from OEM Avco Lycoming.
"Thus, under the FAA's system for regulating the maintenance and repair of civil aircraft, plaintiffs' aircraft, once having been determined not to be airworthy, would not be approved as airworthy and could not be returned to service until the engines had been torn down, inspected and approved," the Appeals Court wrote. "Defendant refused to pay for any of the work performed on the engines, and this action ensued."
The trial judge had agreed with Ranger that only physical damage counted. The Oregon Appeals Court ruled otherwise:
That language reflects two erroneous ideas: first, that certification as airworthy or not was irrelevant to whether plaintiffs had suffered "direct and accidental loss of or damage to the aircraft"; and, second, that the policy covered only "physical" damage. As to the latter point, given that the insurer could have so limited its policy expressly but chose not to, the generality of the terms used must be construed in favor of coverage. As to the first error, the insureds, when they bought an "all-risks" policy covering an airplane that could only lawfully be operated if it was certified airworthy, had a right to expect that the coverage would extend to recompense them for all of the consequences of an accident that caused the aircraft to be rendered "unairworthy." Any other reading of the policy would unreasonably defeat the "character and (…) beneficent purposes" the insureds had reason to understand the policy represented and served. The tear down and inspection was not merely a safety precaution. Without it, plaintiffs simply had no airplane at all as a practical matter. It would be beyond reason to say that all of the risks against which they were insured were only those which produced open and obvious or visually observable destruction of parts of the plane. Such a reading would reduce the damage coverage to a mere portion of the reasonable expectations of the owner of an airplane.
On remand, it will only be necessary to determine which items of expense proved by plaintiffs were necessitated by the federal airworthiness certificate standards.
More information:
"18-35383 Leif Hansen v. GEICO"
Ninth Circuit Court of Appeals, May 13, 2019
Images:
Attorney Robert Koch, seen at bottom right, speaks to the Ninth Circuit Court of Appeals on May 13, 2019. (Screenshot from Ninth Circuit video)
From left, Ninth Circuit Appeals Court Judges N. Randy Smith, Paul Watford, and Ryan Nelson participate in a hearing on Leif's v. GEICO on May 13, 2019. (Screenshot from Ninth Circuit video on YouTube)
Attorney Robert Koch, seen at bottom right, speaks to the Ninth Circuit Court of Appeals on May 13, 2019. (Screenshot from Ninth Circuit video)
Share This: