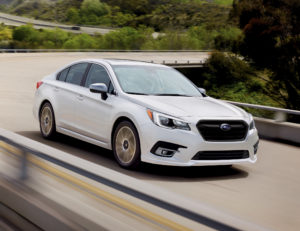 Subaru in June recalled more than 2,000 Legacies and Outbacks after discovering spot-welding tips had been improperly dressed.
Few of the 1,965 2019 Outbacks and 142 2019 Legacies recalled June had actually reached consumers, a Subaru spokeswoman said Tuesday.
"We expect the actual number of cars that have the issue actually in owners hands is between 12 and 20," product spokeswoman Jessica Tullman wrote in an email. "We are checking the entire population, but defect rate is low and we estimate just 200 cars are affected."
Subaru's June 26 recall notice posted on NHTSA delivers a similar message, estimating 12 percent of the potentially 2,107 vehicles actually had anything wrong with them. Subaru said it decided to recall the vehicles June 21.
Both this incident and another Subaru recall of Ascents last year over absent spot welds demonstrate mistakes that a collision repairer could easily make as well in the aftermarket. They highlight the importance of following welding best practices and fixing any issues immediately.
A Subaru factory employee on June 6 "heard an abnormal noise from the duct area" while the factory body shop installed the duct below the cowl panel, Subaru wrote in a June 26 recall report. The recall was instituted June 1.
"Upon closer examination, it was observed that certain spot welds, located on the duct below the cowl panel, may not have been properly applied," Subaru wrote. "The issue was escalated within Subaru, and the supplier was informed of the condition."
By June 7, supplier Austin Tri-Hawk Automotive had tracked down the welder that was to blame.
"During the manufacturing process at the supplier's factory, the spot-welder tip is cleaned and re-shaped by a dresser (grinding machine)," Subaru wrote. "During production of potentially affected parts, the grinding machine may have been blocked by excess metal chips/powder, thus reducing the effectiveness of the welder."
The issue reminds one of advice a panel of two repairers, a welding instructor, and an equipment supplier shared with the collision repair industry in a 2017 Society of Collision Repair Specialists video.
Incorrectly prepared or selected welder tips are a common culprit in faulty squeeze-type resistance spot welds, the panelists said during Part 2 of a three-part 2017 SCRS video series on welding. (SCRS did another series of videos this year with information including conducting test welds. See that trilogy here.)
Panelist Barry Dorn (Dorn's Body & Paint), a former SCRS chairman, noted at the time that managers might not often see the tips' condition and asked how frequently they should be replaced.
"You look for the tips being clean," said panelist Dave Gruskos (Reliable Automotive Equipment). Good tips nowadays might be made from a high enough quality material that a scuff pad would be enough to clean them, he said.
Some modern welders even keep track of your spot welds "and force you to clean your tips" past a certain threshold, he said then.
In 2018, panelist Toby Chess of Kent Automotive told an SCRS audience it was "amazing" that shops used welders daily but had no idea how to maintain them.
He told the Collision Industry Conference during a similar presentation that week that welders were the "most abused" piece of equipment in a body shop.
And lest any shops be confused by the Subaru explaining its dresser to as "grinding machine" in the NHTSA recall, we point out that Chess in 2018 said a typical grinder wasn't sufficient to prepare tips — a shop needed an actual dresser or just to replace the tip.
During a separate presentation during NACE that week, Vehicle Collision Experts CEO Mark Olson said repairers should use a fresh tip every time they do a major repair and treat the tips like any other consumable.
These experts' advice for the collision repair industry more or less echoes how Austin Tri-Hawk fixed the problem at the factory level.
Subaru said the company "cleaned the grinding machine, changed the welding tip, and implemented procedures to prevent recurrence" on June 7 — the same day it spotted the issue.
Subaru said the welds delivered by the improperly prepared spot welders could pose a safety risk.
"Potentially affected vehicles may have a long-term reduction in body strength," the OEM wrote. "In the event of a crash, vehicle structure may not perform as designed, increasing the risk of injury."
As noted above, most of the vehicles never reached consumers. Subaru will inspect spot welds of vehicles produced on that assembly line and repair any Legacy or Outback with a problem. Customers can either have a new car, ask that Subaru buy it back or send the vehicle back to the factory for a free repair.
"We are offering a replacement vehicle as to not inconvenience the owners as the cars are brand new," Tullman wrote.
Missed welds
Last year, Subaru recalled 293 2019 Subaru Ascents because of the "possibility that some spot welds were missed around the B-pillar." It traced the problem to "improper software programing for the welding robots."
In collision repair terms, that translates into a body tech that didn't follow OEM procedures on weld count/location and/or had been taught incorrectly about welding. Considering the low participation in I-CAR welding courses until State Farm's ultimatum to DRP shops, that scenario could be very real.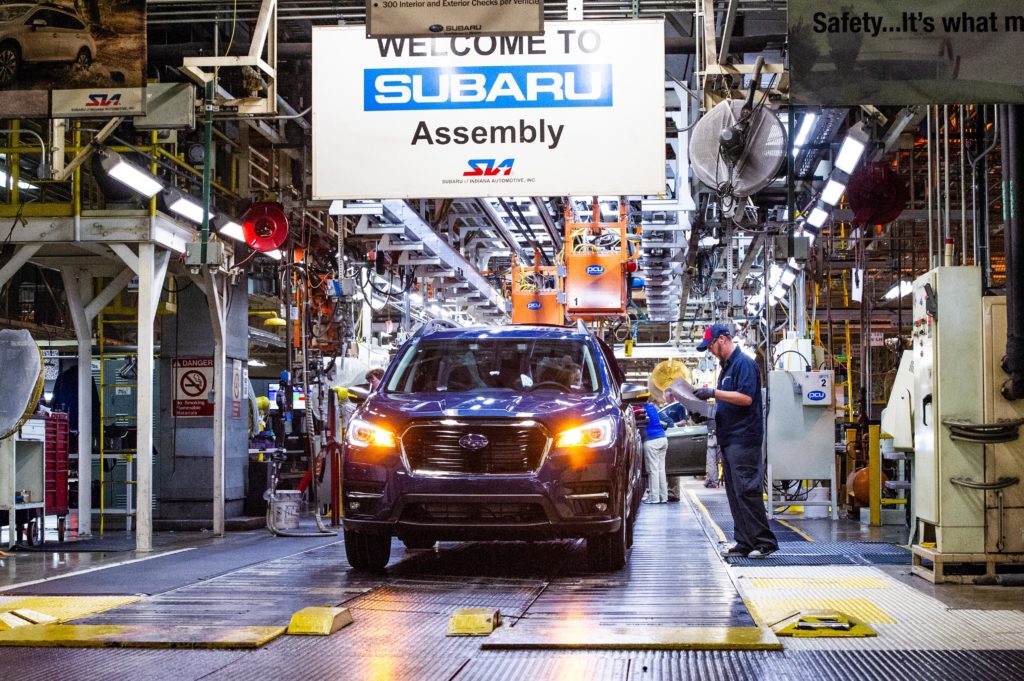 "If some of the spot welds around the B-pillar were missed, the strength of the vehicle's body may be reduced, potentially increasing the risk of injury in the event of a crash," Subaru wrote.
Subaru noticed the missing welds on an Ascent during "a routine sampling inspection" — which ought to show repairers the importance of quality control processes — on July 21, 2018. By July 22, it had reprogrammed the robots.
The recall was decided July 26, 2018. Only 1 percent of the 293 recalled Ascents were expected to have an issue, and Roadshow reported that only nine had actually reached consumers.
Repairers should also note that Subaru didn't try to invent a new structural repair process on the fly to fix its mistake.
"All potentially affected vehicles will be inspected by an SIA factory representative, and if the vehicle is missing any spot welds, the vehicle will be replaced with a new one," Subaru wrote. "There is no physical remedy available; therefore, any vehicles found with missing welds will be destroyed."
More information:
Subaru Legacy and Outback recall
Subaru via NHTSA, June 26, 2019
Subaru via NHTSA, Aug. 2, 2018
Images:
The 2019 Subaru Legacy is shown. (Provided by Subaru)
The Subaru Indiana factory's production of the 2019 Ascent is shown. (Provided by Subaru)
Share This: