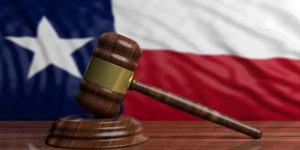 A U.S. Southern District of Texas Judge on Monday dismissed asTech's litigation against rival scan tool manufacturer AirPro over allegedly misleading statements to customers.
Judge Ewing Werlein Jr. found insufficient grounds for the Texas-based asTech parent company Repairify to sue the Florida-based AirPro in the federal Texas district, despite some of the allegedly misleading comments appearing on AirPro's website for Texans and theoretically the entire planet to see.
The ruling didn't really address the merits of the case or other law relevant to it, merely the venue, and Werlein's dismissal without prejudice allows asTech parent company Repairify to refile the litigation. CEO Doug Kelly declined to comment on the ruling and if asTech planned to bring the lawsuit in another location or appeal to the Fifth Circuit.
Werlein's ruling provides a look at how a court evaluates regional jurisdiction in cases of national companies with even broader online presences.
Werlein said that if AirPro were shown to have actually emailed Texas customers with the allegedly defamatory statements, then asTech would be free to sue there.
"However, Defendant's uncontroverted evidence is that although it distributed the materials about which Plaintiff complains (and which Defendant maintains are truthful), 'none of the individuals or entities that received the information were located in the State of Texas or' based in the State of Texas.'"
AsTech had argued that AirPro sent comments to its customer Asbury Automotive Group, a national chain which does business in Texas. But Werlein said that since the email in dispute went to a regional manager in Atlanta and not Texas, it didn't create Texas jurisdiction.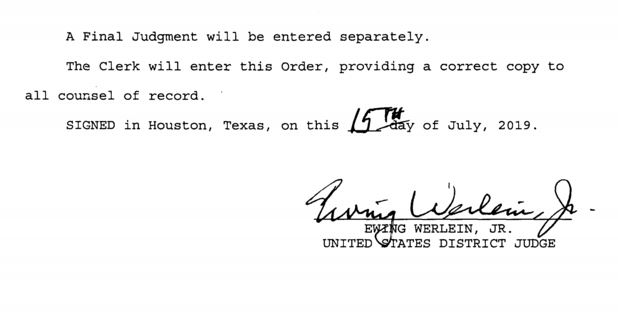 AirPro's sales and marketing Vice President Frank LaViola has a home in Houston, but Werlein said that wasn't enough either.
"Plaintiff infers that based on his title, LaViola must be responsible for the allegedly defamatory statements in Defendant's advertising campaign (which Defendant calls the 'Truth Campaign'), but Defendant produces uncontroverted evidence that Laviola was hired in January 2019 and 'was not involved in the planning, development, or initial execution of the Truth Campaign,' was not 'involved in any aspect of creating the Truth Campaign,' does not control the content of Defendant's website, and 'did not direct, order or authorize any of the posts complained of in AsTech's Complaint,'" Werlein wrote. "Given this uncontroverted proof regarding the facts that underlie Plaintiff's claims, LaViola's mere presence in Texas does not support Plaintiff's assertion of specific personal jurisdiction."
Werlein said AirPro's customer base being 2 percent Texan and its attempt to hire staff there also didn't tie the case to that venue. AsTech hadn't provided any "allegation or evidence that these minimum contacts have any relation to the allegedly false statements that form the basis of Plaintiff's claims."
Even asTech's status as a Texas company allegedly harmed by online and email comments didn't meet the benchmark for litigation in Werlein's Texas district, according to the judge.
Werlein said the comments had to be shown to specifically reference Texas or target Texans.
"In the absence of any statements by Defendant about or expressly directed at Texas, the mere fact that Plaintiff is a citizen of Texas is insufficient to establish specific jurisdiction under the both parties compete nationwide "effects test," particularly where and not only–or even primarily–in Texas," Werlein wrote.
Repairify/asTech had argued jurisdiction was supported by the ability of Texans to directly interact with AirPro through ORION and "Contact Us" features on the website containing the allegedly defamatory comments, according to the judge.
"Plaintiff argues that these features make Defendant's website active, or at least interactive, under the Zippo test used by the Fifth Circuit," Werlein wrote. But asTech hadn't said "there is anything false, misleading, or otherwise improper about the interactive portions of Defendant's website," he wrote.
Instead, asTech's dispute lay in part with the static "Truth Campaign" page, according to the judge.
"Defendant produces uncontroverted evidence–and indeed Plaintiff does not argue to the contrary–that the portions of the website containing the statements that Plaintiff identifies as false and misleading are not interactive and do not allow for the exchange of information," he wrote.
Werlein also rejected a request by asTech for limited jurisdictional discovery to help make its case for the venue.
"Plaintiff does not state what additional evidence it reasonably expects to find if discovery were allowed," the judge wrote. "The parties, which. know each other well and have engaged in previous litigation against each other, have filed full briefs including their verified evidence related to Defendant's contacts with Texas alleged in Plaintiff's Complaint. As observed, the evidence submitted fails to establish that Defendant is subject to personal jurisdiction in Texas. Without stating what other facts pertinent to jurisdiction are expected to be discovered and a plausible basis for that expectation, Plaintiff fails to carry its burden to show that additional jurisdictional discovery is warranted."
Images:
Photo illustration of the legal system and Texas. (Rawf8/iStock)
A U.S. Southern District of Texas Judge on Monday dismissed on a technicality asTech's litigation against rival scan tool manufacturer AirPro over allegedly misleading statements to customers. Judge Ewing Werlein Jr. found insufficient grounds for the Texas-based asTech parent company Repairify to sue the Florida-based AirPro in the federal Texas district, despite some of the allegedly misleading comments appearing on AirPro's website for Texans and indeed the entire planet to see. (Provided by Southern District of Texas)
Share This: