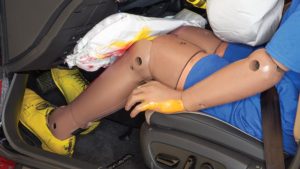 Collision repairers, insurers and consumers might see repairs get slightly easier and more affordable soon, based on new Insurance Institute for Highway Safety research finding knee airbags have a "negligible" safety effect.
In fact, it's possible the supplemental restraint systems can inflict more injuries upon the occupant, the IIHS said Wednesday.
If OEMs reverse a trend of what the IIHS called "increasingly common" knee airbags, it could reduce severity and repair complexity on two levels.
Obviously, there'd be less work and parts expense to remove and replace or remove and install the airbag. But there'd also be one fewer item to check in what repairers indicate could be an intensive — and therefore expensive — mandatory inspection process following collisions.
Besides reducing cost of ownership/insurance, dumping a useless airbag would mean an OEM could earn a higher profit margin on tens of thousands of units produced or reduce the MSRP to help move those units. It also means the automaker has less mass to hinder fuel economy or that must be offset through the expense of lightweighting.
However, the IIHS did note Wednesday that some OEMs are using the airbags to help protect the unbelted occupants studied in federal crash testing. The research organization didn't rule out that knee airbags improved safety in such collisions.
"It's possible that knee airbags would help unbelted occupants in real-world crashes," the IIHS wrote Wednesday. "The IIHS study didn't look specifically at crashes in which people weren't using seat belts, and dummies are always belted in IIHS vehicle ratings tests."
An interesting piece of 2017 research in Traffic Injury Prevention found that focusing on protecting belted occupants only might lead to safer designs for those passengers even if more harmful to unbelted occupants. It didn't study knee airbags, however.
The IIHS studied more than 400 frontal crash test outcomes and real-world crash reports from 14 states to see if knee airbags affected injury probability.
"Knee airbags had only a small effect on injury measures recorded by dummies in IIHS driver-side small overlap front and moderate overlap front crash tests," the IIHS wrote. "In the small overlap test, knee airbags were associated with increased injury risk for lower leg injuries and right femur injuries, though head injury risk was slightly reduced. The airbags had no effect on injury measures in the moderate overlap test."
In the real world, the probability of injury fell from 7.9 percent to 7.4 percent with a knee airbag equipped — but that wasn't statistically significant.
"There are many different design strategies for protecting against the kind of leg and foot injuries that knee airbags are meant to address," IIHS knee airbag paper co-author and IIHS senior research engineer Becky Mueller said in a statement. "Other options may be just as, if not more, effective."
More information:
"IIHS researchers find little benefit from knee airbags"
Insurance Institute for Highway Safety, Aug. 7, 2019
"Effectiveness of knee airbags across two crash paradigms"
Insurance Institute for Highway Safety, July 2019
Featured image: A knee airbag on a 2019 Lexus ES 350 is shown. (Provided by Insurance Institute for Highway Safety)
Share This: