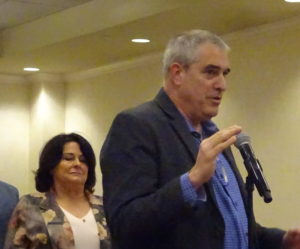 While praising a New Hampshire bill currently awaiting a decision by Gov. Chris Sununu, a collision repair expert recently warned the industry against trying to pack too much into OEM repair procedure bills.
Vehicle Collision Experts CEO Mark Olson in a July 2 Auto Body Repair Network column applauded "a relatively simple proposal in New Hampshire would require insurers to pay all claims based on repairers' use of OEM repair procedures." Both houses approved New Hampshire House Bill 664 in June, with a minor wording tweak for consistency later.
Sununu, a Republican, has not responded to our inquiry regarding his thoughts on signing or vetoing HB 664.
The bill would 60 days after passage add the following language into law:
XXIV.  Vehicle Repair Standards.  No insurance company, agent, or adjuster shall knowingly fail to pay a claim to the claimant or repairer to the extent the claimant's vehicle is repaired in conformance with applicable manufacturer's procedures.  Notwithstanding any statements or recommendations contained in the manufacturer's procedures relative to the use of parts, governance of the use of any and all parts, in the course of an insurer-funded repair shall be solely dictated by RSA 407-D:3-a and not by a manufacturer's recommendations or procedures.
(a)  If the vehicle is equipped with an advanced driver assistance system, an automotive glass company, repair facility, or insurer informing, approving, or conducting glass repair or replacement shall:
(1)  Prior to approving or performing glass repair or replacement, inform the consumer if a calibration of that system is required and if such calibration will be performed;
(2)  If performing such calibration, meet or exceed the manufacturer's procedures or specifications; and
(3)  If a calibration was not performed or not completed successfully, inform the consumer that the vehicle should be taken to a vehicle manufacturer's certified dealership, a qualified automobile glass company, repair facility, or other qualified repairer capable of performing the calibration of an advanced driver assistance system that meets or exceeds the manufacturer's procedures or specifications.
(b)  If the vehicle is equipped with an advanced driver assistance system, an automotive glass company, repair facility, or insurer informing, approving, or conducting a scan or calibration for motor vehicle repairs or replacement:
(1)  Shall not be limited to tooling or equipment dictated or recommended by the manufacturer's procedures or specifications.
(2)  Shall calibrate an advanced driver assistance system meeting or exceeding the manufacturer's procedures or specifications.
(c)  If a repairer does not accept a paint and materials estimate proposed by an insurer, the insurer shall reimburse the repairer based on any third-party guidelines generally accepted by automobile repair shops and insurers, and used by the repairer.
(d)  In this paragraph, "manufacturer's procedures" means a manufacturer's written procedures, specifications, tolerances, and other technical requirements or instructions with respect to repairs. (Minor formatting edits.)
Olson in the ABRN column warned against bills which went beyond requiring insurers to pay for OEM repair procedures and required repairers to follow them.
This might seen counterintuitive and surprising given his advocacy for following OEM repair procedures. But he warned in the column that it's rare — "if ever" that a shop always follows them exactly.
Olson presented similar views at the April Society of Collision Repair Specialists Repairer Roundtable. He at that time approved of the insurer OEM repair procedure payment mandate — "totally love that" — but not an OEM procedure adherence mandate upon shops.
"Those are really separate issues," he said.
Similar to his July column, Olson said in April that the simple act of aiming a Ford Fusion headlight was an involved one — including checking the air pressure, oil and washer fluid; having the vehicle on level grounds; and adding 150-pound weight in the front of the car.
There was a database issue on how much of this was actually included in the aim headlight time, but "more importantly, how many shops are actually doing that?" Olson said.
Aiming the headlights without following all of the instructions meant "you just broke the law."
"That's also called fraud," Olson said. It could be used against a repairer, he said.
Olson in his July 2 column also warned against complicating the issue and drawing more opposition by adding an OEM parts requirement to such legislation.
The Alliance of Global Automakers itself has supported this stance, proposing parts exemptions in bills like New Hampshire's. Its legislative ally the Automotive Service Association, which does not oppose the use of alternative parts, also has supported a narrow focus this session.
"This is important from ASA's perspective and if we have any hope of bill passage, we cannot include additional, controversial issues," ASA lobbyist Robert Redding Jr. agreed in an email July 31.
The ASA, SCRS, AASP and Assured Performance have formally endorsed OEM repair procedures as the standard of care since at least 2011.
Be heard: Sununu can be reached here or through a ASA form here.
More information:
"OEM REPAIR PROCEDURE LAWS NEED A NARROW FOCUS"
Mark Olson in Auto Body Repair Network, July 2, 2019
"ASA Urges Approval of New Hampshire OEM Repair Procedure Legislation"
Automotive Service Association, July 29, 2019
Featured image: Vehicle Collision Experts CEO Mark Olson speaks April 17, 2019, at the Society of Collision Repair Specialists Repairer Roundtable. (John Huetter/Repairer Driven News)
Share This: