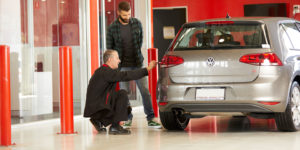 Suncorp, one of Australia's two largest insurers, announced Tuesday it would sell its Capital S.M.A.R.T body shop chain to the country's No. 1 MSO.
The AMA Group will pay about $281.6 million ($420 million AUD) and receive 90 percent control of Capital S.M.A.R.T.; Suncorp will keep a board seat in addition to its 10 percent. AMA will also spend another $13.4 million ($20 million AUD) to buy the Suncorp-owned parts vendor ACM Parts.
Suncorp said AMA paid a 20x multiple of Capital S.M.A.R.T.'s earnings before interest, taxes, depreciation and amortization for the rival body shop chain. AMA said Monday it worked out to a "pro-forma EV/EBITDA purchase multiple of 11.1x in FY20 and 9.5x in FY21 incorporating expected annual synergies of ($11.4 million USD)."
AMA said it'd pay for the deal through new debt and launching about $144.8 worth of stock.
Suncorp expected to clear about $184.4-$197.8 million in profit after taxes on the Capital S.M.A.R.T. sale.
Capital S.M.A.R.T. ("Small Medium Accident Repair Technology") fixes driveable low- and medium-hit cars. Its website states that it handles 3,700 bookings weekly and fixes more than 175,000 vehicles a year.
The Australian Financial Review's "Street Talk" column on Monday reported IBIS Worldwide estimates that AMA was No. 1 with about 7.2 percent market share and Capital S.M.A.R.T. No. 2 at 4-5 percent. It reported that Safelite parent Belron and Fix Auto also attempted bids.
AMA thought it'd have about a 10 percent share of the "metropolitan driveable repair market," based on 2018 fiscal year data.
The newspaper reported Tuesday that Suncorp had 50 body shops that almost exclusively handle repairs for Suncorp policyholders. The Financial Review said the purchase would grow the AMA network in Australia to 200 shops.
"The increasing complexity of repairs is driving significant change in the smash repair and parts procurement industry, and the divestment means Suncorp can focus on its core Insurance and Banking operations," Suncorp Group CEO Steve Johnston said in a statement. "Importantly, the agreement maintains Suncorp's competitive advantage and we look forward to working closely with AMA as an ongoing partner."
According to Suncorp, Capital S.M.A.R.T. will continue to fix cars for Suncorp customers under a 15-year arrangement Suncorp can extend twice for 5 years at a time.
"The MRSA preserves the cost advantages that Capital S.M.A.R.T has delivered to Suncorp over the past eight years and provides protection to ensure that defined service levels are maintained," an Oct. 1 Suncorp news release states.
"Under the terms of the Transaction, Suncorp will continue to use its existing valued network of smash repair partners."
---
Learn how to keep competitive amid growing MSOs at Repairer Driven Education
MSOs and franchise MSOs like Caliber and CARSTAR are growing, potentially squeezing independent shops. Get tips at SEMA on how to stay competitive with "Position yourself for sustainability" by John Shoemaker, BASF, on Nov. 4 and "CRUSHING IT!" with Matthew McDonnell, Big Sky Collision Center, and Ryan Taylor, Bodyshop Booster; "Why your collision center should be texting," with Tyler Brunatti, Podium; and "Be your own Berkshire" with Scott Broaddus, Virginia Asset Management on Nov. 5. The sessions are part of the Society of Collision Repair Specialists Repairer Driven Education Series running Nov. 4-8. Register here for individual courses or the series pass package deal, which includes the entire week of classes, all three parts of the OEM Summit, IDEAS Collide and the Nov. 7 Sky Villa afterparty.

---
ACM Parts will keep selling "genuine alternative parts to the repair market including Suncorp's repairer network." ACM sells OEM, recycled and aftermarket parts, according to the company's website.
Suncorp had bought out then-co-owner LKQ's stake in ACM Parts in 2016, National Collision Repairer reported.
"The acquisition of Capital S.M.A.R.T represents a strategically compelling and highly attractive opportunity for our customers and shareholders," AMA CEO Andy Hopkins said in a statement. "We are excited to combine Capital S.M.A.R.T's best-in-class capabilities in low to medium severity panel repairs with AMA's industry leading platform across the smash repair market. The Acquisition further strengthens our long standing close relationship with Suncorp which, in addition to committing to a 25.5 year service agreement with Capital S.M.A.R.T, is joining us as a partner in the business.
"The Acquisition will provide the opportunity for shareholders to benefit from significant EPS accretion and the creation of an industry leading platform to pursue further growth.
"We are looking forward to welcoming the impressive team at Capital S.M.A.R.T into AMA. Through the transaction process we have had the opportunity to spend considerable time with senior management as well as meet some of the highly capable operational team members. It was clear during this process that there is a very strong cultural alignment between Capital S.M.A.R.T and AMA. We believe that the combined AMA/Capital S.M.A.R.T group will open significant career opportunities for team members in both organisations."
"We are pleased to have reached an agreement with AMA, which is already a long-standing Suncorp partner," Suncorp insurance CEO Gary Dransfield said in a statement. "S.M.A.R.T has grown to be one of Australia's largest networks of smash repairers for driveable repairs which has reached an inflection point under Suncorp ownership. AMA's long-term partnership will ultimately benefit Suncorp and its customers. We built the S.M.A.R.T network on the basis of exceptional customer service. We are confident that AMA will maintain the high levels of customer satisfaction that S.M.A.R.T is known for, based on our own experience in working with them."
According to former National Collision Repairer publisher David Newton-Ross in 2017, the Australian auto insurance sector is incredibly consolidated, with insurers Suncorp and IAG holding about 70-80 percent of the Australia and New Zealand markets.
Unlike most American states, Australian insurers can dictate where a policyholder must go, though the carriers say 70-80 percent of customers don't have a preference anyway, according to Newton-Ross.
More information:
Street Talk column: "AMA to buy Suncorp's Capital SMART, ACM Parts"
Sarah Thompson and Anthony Macdonald, Australian Financial Review, Sept. 30, 2019
"AMA revs up as small panel beaters tripped by technology"
Australian Financial Review, Oct. 1, 2019
"Binding Agreement to sell Capital S.M.A.R.T and ACM Parts(;) Long term partnership to maintain service excellence"
Suncorp via AMA Group, Oct. 1, 2019
"AMA GROUP LIMITED ACQUISITION OF SUNCORP'S CAPITAL S.M.A.R.T & ACM PARTS BUSINESSES"
AMA Group via Suncorp, Oct. 1, 2019
Featured image: A Capital S.M.A.R.T. body shop is shown. (Provided by Suncorp)
Share This: