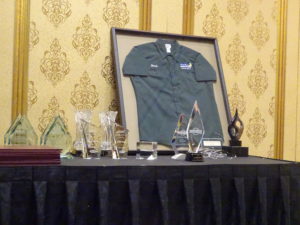 Leading nonprofits and BodyShop Business on Wednesday announced some of the collision repair industry's greatest charitable and professional achievements during the third annual Red Carpet Awards Breakfast.
"I see members of our industry coming together more and more to make a difference," striving to not only but most importantly give customers correct repairs, emcee Jennifer Jarzembowski said.
Jarzembowski, national business development manager at PPG, said "we are stronger together" and making huge improvements, but much more work could be done.
Here's a rundown of the awards and some color from the ceremony. Also, see our separate coverage of Wednesday's presentation of the March Taylor Kina'ole award to the late John Norris (CIIA/HARA) and Hall of Eagles induction of Albert Michael "Mike" Anderson (Collision Advice).
Collision Industry Electronic Commerce Association
Outstanding Dedication Award: Kelly Lawlor, Car-Part.com
CIECA past Chairman and trustee Clint Marlow (Allstate) called Lawlor "extremely dedicated" to the organization, contributing to the education and marketing committees, and attending nearly every meeting. He said she "always shares creative ideas" and continues to work to improve CIECA, and was particularly helpful in planning the latest CIECA Connex Conference.
Outstanding Contribution Award: Roy Schnepper, Automotive Service Association
Marlow said he was "thrilled" to acknowledge Schnepper. He said Schnepper recognized the need for a nomination committee to pick the new CEICA executive director following the departure of longtime leader Fred Iantorno. Schnepper volunteered to be the committee chair, and Marlow said Schnepper's thoughtful leadership, strengths, and desire to collaborate "makes him the best choice possible."
Outstanding Leadership: Steve Betley, Insurance Auto Auctions.
"Difficult times are when we learn an individual leader's core beliefs," Marlow said. He said one learns if the leader is selfless and transparent, puts the organization ahead of themselves, and seeks out diverse opinions. From his perspective and CIECA's there was "no better choice" than Betley, who currently serves as CIECA's chairman.
Company of the Year: Car-Part.com
CIECA said Car-Part.com contributes its time and expertise to more than a dozen committees which often meet each week. Its staff contributed more than 1,000 hours of their time creating, improving and testing the standards the entire industry uses. CIECA was "tremendously grateful" for the company, which he said understands the importance of being "innovative and to create new products."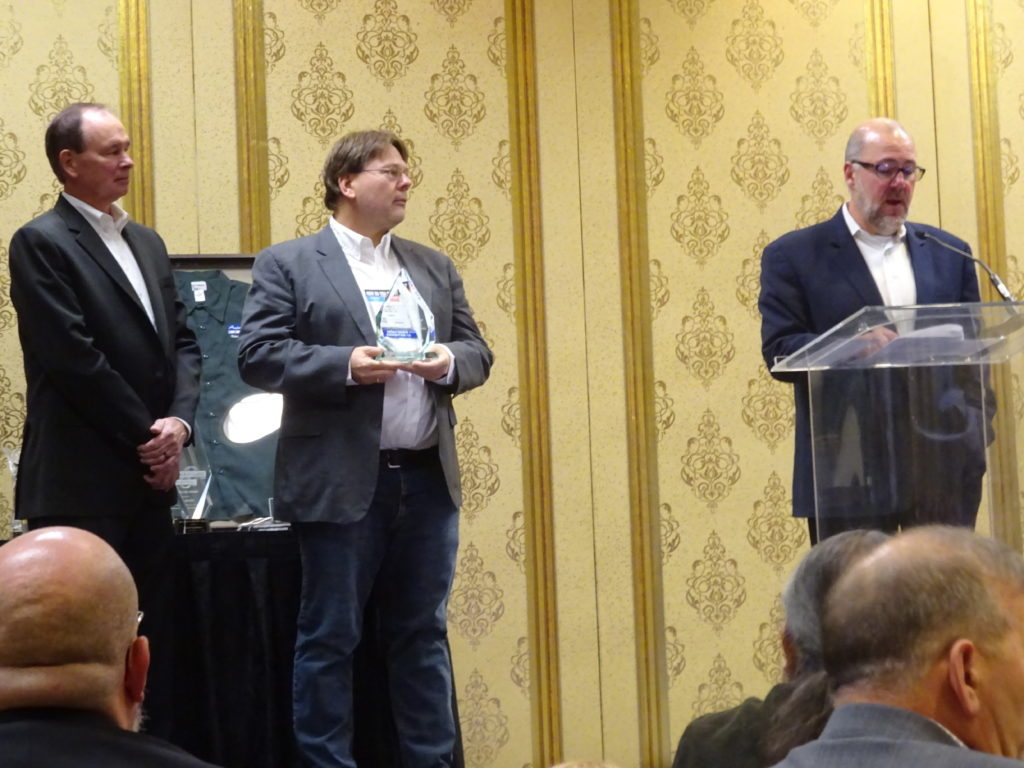 BodyShop Business
Single-shop Executive of the Year: Keith Hazen, Collision Repair Center
Babcox group publisher Sean Donohue said Hazen's past accomplishments included increasing gross yearly sales from $93,000 to $1.1 million at one company and increasing business 38 percent at another.
Multi-shop Executive of the Year: Ron Peretta, Professionals Auto Body
Donohue recounted Peretta's growth from opening in 1979 without equipment or credit to breaking ground on 15,000 square feet in 1992. He said Peretta continues to coach shops across the industry.
Donohue called both winners "true collision repair visionaries."
Collision Industry Foundation
Distinguished Service Award: Bill Shaw, CIF
It was the first time CIF had presented the award, President Michael Quinn (AirPro) said. A slide noted Shaw's 12 years as a CIF trustee and nine as its president.
Collision Repair Education Foundation
Fueling the Future Awards: Kyle Medeiros, Enterprise; Lisa Ferguson, Caliber; Gerry Poirier, Farmers.
CREF director of development Brandon Eckenrode said CREF was recognizing them for going "above and beyond" getting involved with local schools and markets to help collision programs. He said CREF saw strapped school collision programs as a "national program with a local solution."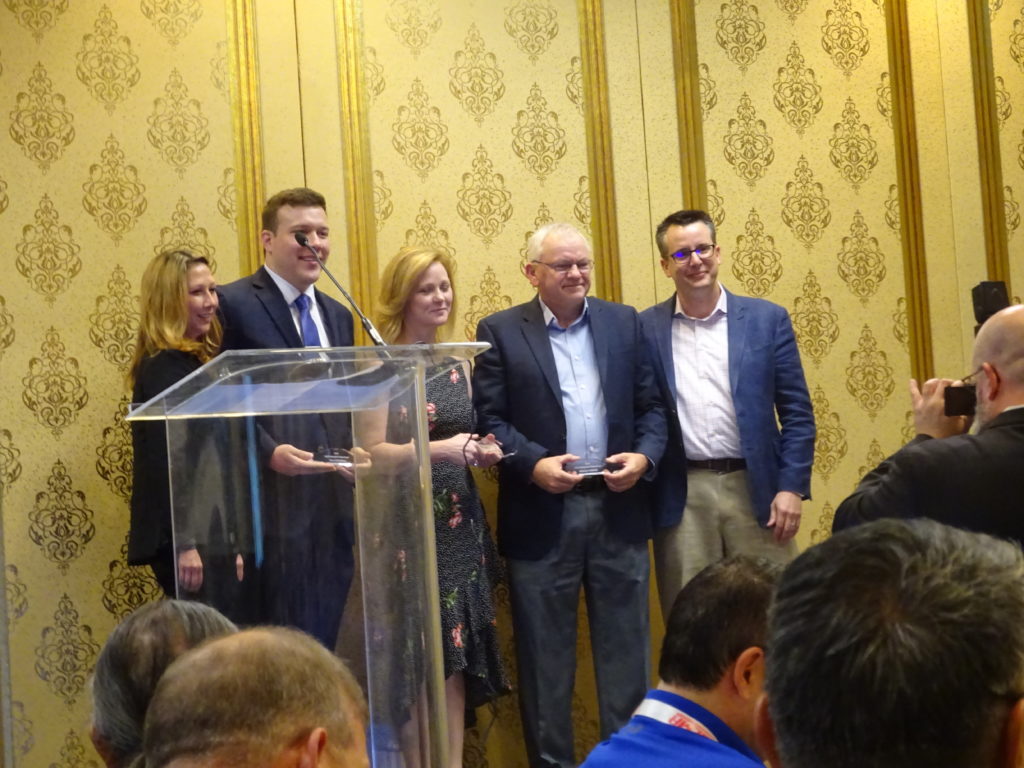 Medeiros's Nashville, Tenn., I-CAR committee reacted to the Collision Industry Conference's visit to the city earlier in the year by developing a Top Golf fundraiser resulting in more than $25,000, according to Eckenrode. He said CREF took the work the Nashville group did and used it as a model for other committees.
Eckenrode said Ferguson sits on school advisory boards, which he called "so very important," mentors youth, and worked on the inaugural Top Tech mentor-mentee competition earlier this year.
Poirier's Atlanta I-CAR committee has raised nearly $600,000 by itself since 2009 — including $100,000 each of the past two years. It's the third-largest contributor to the foundation industrywide, Eckenrode said — a ranking which takes into account corporate contributors as well.
I-CAR
Russ Verona Memorial Award: Dalton Collision/Jerry Dalton
I-CAR CEO John Van Alstyne said a shop must be Gold Class for five years straight, and the owner and staff must actively promote Gold Class and training to the industry. He said Dalton Collision "far exceeds these criteria," and its flagship facility has been Gold Class for more than 20 years — longer than any other in the state.
He said Jerry Dalton "energetically" promotes the value of Gold Class to insurers, industry members and customers. Dalton also sits on advisory boards for two technical colleges and donates supplies for students, according to Van Alstyne.
Jeff Silver Award: Ted Hayes, Hayes Chrysler Dodge Jeep Ram
Van Alstyne said one of Hayes' shops has been Gold Class since 1991. He said Hayes invests in training for staff and views employees as "extended family" — and many have responded by spending more than 25 years there. Hayes also offers job shadowing and provides high school and college collision programs with spare parts and sheet metal.
National Auto Body Council
Body Shop Image Award: Paul Branning, Branning Collision Centers
The Image Award recognizes a shop that has improved its interior and exterior significantly, elevating the community and demonstrating collision industry professionalism. NABC board member Debbie Teter (Garmat) called the facility a "very warm, inviting place" and said a juror remarked, "'It looks like a spa.'"
Award of Distinction: April Lausch, Faulkner Collision Center of Lancaster
NABC Awards Committee Chairwoman Marie Peevy (Automotive Training Coordinators) called Lausch a major supporter of Recycled Rides and the F.R.E.E. program.
"I believe that we have saved a lot of lives, and changed a lot of lives," Lausch said.
She called NABC's programs "amazing" and thanked "my entire team back in PA."
Automotive Management Institute Class of 2019
AAM: Jeanne Silver, CARSTAR Mundelein.
AMAM: Jack Chamiga, Fix Auto Chicago; David Mello, Anderson Behel; Barry Reddick Collision Pro; Kathy Mello, TGIF Body Shop; Roy Schnepper, Butler's Collision; Jim Silverman, Automotive Training Institute; Jeremy Winters Weaver's Auto Center; Diedra Wixon, Griffin Muffler & Brake.
"They believe in learning and education," AMI President Jeff Peevy said of the graduates.
Featured images: Scenes from the 2019 Red Carpet Awards Breakfast on Nov. 6, 2019. (John Huetter/Repairer Driven News)
Share This: