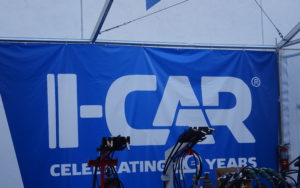 I-CAR said its members voted Thursday to shrink the organization's 22-seat board and grant a new nonvoting "Associate Member" status to all Platinum technicians, Gold Class shops, vo-tech schools, committee chairs and Sustaining Partners.
Members also voted to phase out the Industry Segment Advisory Councils in favor of a larger inter-industry "Member Council."
"I-CAR was created 40 years ago by the collision repair industry to serve the industry, and if there's one lesson we've learned these past four decades, it's the need to continue leading with relevancy and responsiveness," I-CAR Chairman Tim O'Day (Gerber Collision) said in a statement Friday. "I'm confident this refreshed Governance model represents a stronger governance architecture that keeps pace with the increased levels of training, information and services the organization is called to deliver, amid ongoing operational initiatives we must undertake to continue supporting our important mission."
Immediate past I-CAR Chairman Jim Roach (retired from Honda), told the April Collision Industry Conference that I-CAR had a "very large board" at 22 members. Its Executive Committee also seemed to make all the decisions and thereby render other committees of board members meaningless, he said. Members also had over the years said the board should be more inclusive, he said.
The new board format guarantees auto body shops four of the 13-17 board seats, with OEMs and insurers each getting three seats. I-CAR said this setup offered "stronger collision repair/OEM/insurer influence" and "collision repair dominance." The "Education" "Equipment, Tool and Supply" and "Related Services" segments each get one seat.
Three of the four collision repair board seats are locked to a particular segment of the market. One is apportioned to an independent shop representative, another will be filled by a representative from an MSO of between two and 199 locations, and the third is reserved for a candidate from an MSO with 200 or more shops. The fourth is open to anyone.
That's the 13 fixed seats. At any time, up to four more optional "Hybrid Directors" can be appointed for up to six one-year terms — so long as the candidate isn't tied to a body shop, insurer or automaker.
"These seats are designed to allow strategic competencies to be added to the Board in support of strategic initiatives and/or key knowledge and skill gaps identified," I-CAR explained in a FAQ.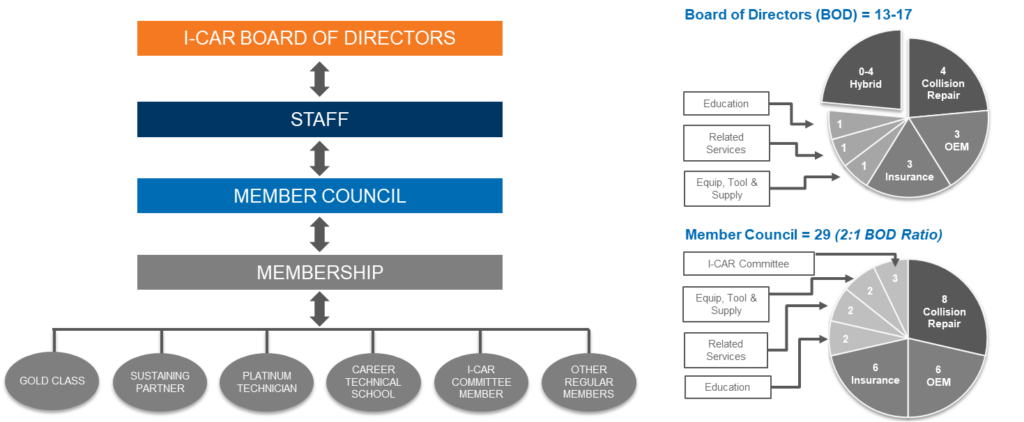 Regular board terms won't change. Board members named chairman will serve in that role for two years, while other board officers can hold that post for a maximum of two one-year terms.
The Associate Member program is expected to begin in early 2020. I-CAR did relate one element Friday: Associate members as well as regular members will be eligible to nominate board member candidates.
A "challenge nominee" can be submitted up to 30 days after the announcement of official nominees, so long as the challenge candidate has support from 10 percent of regular members (or five regular members, whichever is greater). The Nominating Committee will assess the challenge nominees like it would other nominees and can throw out anyone unqualified.
The Nominating Committee will include three Member Council representatives from the automaker, collision repairer and insurer sectors, and at least four board members.
Only regular members may vote in board elections or on bylaws changes. I-CAR said a person can become a regular member for a "nominal fee," and Sustaining Partners will be given that status for free. Voting has been switched to electronic instead of at an annual meeting, making it easier for regular members.
The new Member Council is expected to hold its first meeting in March 2020.
"The new Council with an expanded industry/customer/voice of customer focus ensures that I-CAR continues listening closely to industry needs and feedback, and allows for gradual sunsetting of the ISAC programming," I-CAR wrote.
I-CAR said in the FAQ it had built a "more serious and responsive Member program structure to capture the voice of the industry and make sure Board representatives truly understand the most serious and dominant concerns of the industry."
The Society of Collision Repair Specialists and Automotive Service Association will at a minimum each get one seat on the Member Council, and the I-CAR board vice chairman will also sit on the council. All other seat appointments will be made by I-CAR staff. "Staff will seek balance across segment reps when considering appointments (i.e. Independents, MSOs)," I-CAR wrote in the FAQs.
"The updated Governance model ensures that I-CAR remains ahead of the curve in its quest to support and accelerate its critical, vision and mission-based work: to equip each and every person in the collision repair industry with the technical knowledge, skills, information and solutions necessary to perform complete, safe and quality repairs for the ultimate benefit of the consumer," I-CAR wrote.
More information:
"I-CAR® FINALIZES UPDATED GOVERNANCE MODEL OFFERING MORE ROBUST, MODERN FRAMEWORK FOR NEXT ERA OF INDUSTRY SUPPORT"
I-CAR, Nov. 8, 2019
Images:
A sign in an I-CAR SEMA 2019 booth notes the organization's 40 years. (John Huetter/Repairer Driven News)
The new I-CAR governance structure approved Nov. 7, 2019, is shown. (Provided by I-CAR)
Share This: