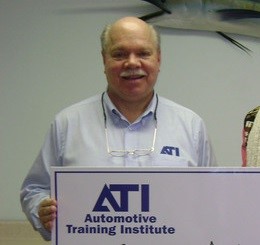 CARSTAR and Maaco parent company Driven Brands has bought the Automotive Training Institute, ATI President Richard Menneg confirmed Tuesday.
Menneg said the management team will remain in place — including himself as president and founder Chris "Chubby" Frederick as CEO — and no layoffs are planned among the company's 141 associates.
"We are excited to add ATI to the Driven Brands family and to support their focus on helping members realize their profits and dreams with the best coaching available," Driven Brands said in a statement Wednesday. "Driven Brands is committed to doing what it can to assist ATI in their pursuit of this vision by looking for ways to support their efforts while maintaining ATI's independence as an operating entity. To that end, no changes are planned with respect to ATI's mission, strategies, or management teams at this time."
ATI coaches more than 1,627 members in the collision and mechanical repair industries, according to its website. It says it has produced more than $1.78 billion in additional gross profit combined for customer shops and has helped collision estimators improve repair orders by an average of $650.
Menneg said the Driven Brands purchase won't make ATI's services exclusive to Driven Brands companies only. It wasn't meant to "suck us in," he said.
Asked if Driven Brands companies could receive deals on ATI's services, he said it was too soon to be able to share that information or know the "magnitude."
ATI had with the sales process sought to "help our members even more" and grow further.
"We were looking at ways to get better at what we do," he said,
Menneg said the sale was a "three-year journey" and "a major part of our succession plan."
Both private equity companies and strategic companies were interested, Menneg said.
"There were lots of suitors," he said.
ATI had seen year-over-year growth and profitability since "sort of the beginning of time" and was very healthy financially, according to Menneg.
Driven Brands is owned by a private equity company, but an ATI memo obtained by FenderBender classified the automotive conglomerate as "strategic."
ATI felt Driven Brands best met the company's goals to help its members and could give them greater buying power, Menneg said Tuesday.
"It was a great next step for us," he said.
More information:
"Driven Brands Acquires Automotive Training Institute"
FenderBender, Nov. 19, 2019
Featured image: Automotive Training Institute founder and CEO Chris "Chubby" Frederick is seen in this photo from a 2011 ATI $45,000 scholarship giveaway to Sonrise Automotives owners. (Automotive Training Institute/PRNewsFoto)
Share This: