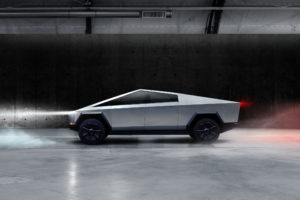 Tesla CEO Elon Musk on Thursday unveiled the Cybertruck electric pickup, describing its structure as a stainless-steel "exoskeleton."
Tesla appears to have removed the video livestream, and it can't be found among the company's videos on its public-facing site, press site or YouTube page. However, we were able to watch the event Friday on the Digital Trends YouTube channel, so thanks to Digital Trends for all the quotes you see here.
Musk said the body and bed on a traditional body-on-frame design "don't do anything useful." They're dead weight, he said.
The "fundamental design change" on the Cybertruck was to move the mass to the vehicle's outside, he said.
"We created an exoskeleton," Musk said. He likened it to the "stress-skin design" differentiating a monoplane from a biplane in aerospace.
The exoskeleton was made of "thick, ultra-hard stainless steel," Musk said.
The live reveal saw the Cybertruck's door receive two sledgehammer hits without a dent, in contrast to an unspecified pickup truck door also whacked on stage.
You want a truck that's truly tough, not "fake tough," Musk said. The Cybertruck "doesn't dent."
Video footage in the background also shows what Musk said was the vehicle being shot by a 9mm bullet.
"It is literally bulletproof," he said of 9mm gunshots.
Normal truck doors might as well be "tissue paper," he said.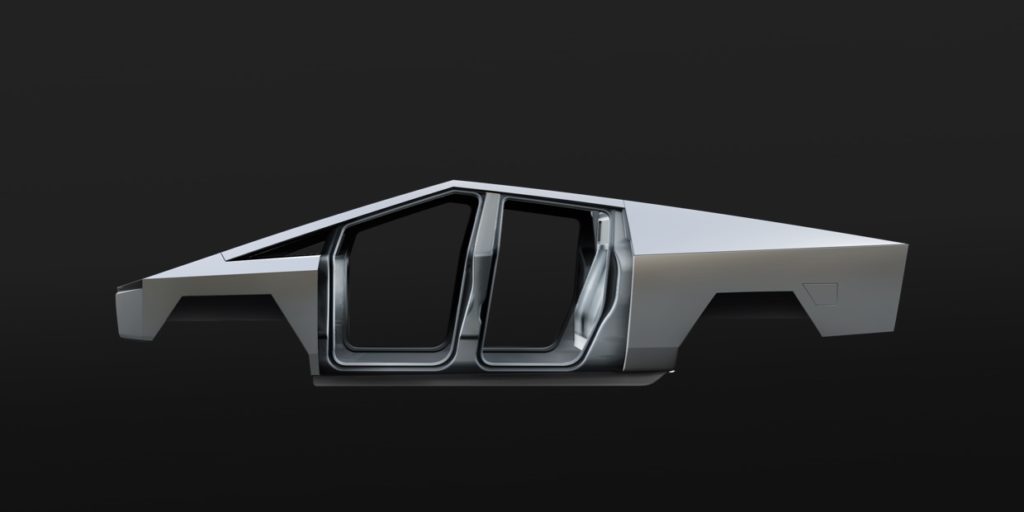 "Cybertruck is built with an exterior shell made for ultimate durability and passenger protection," Tesla's Cybertruck webpage states. "Starting with a nearly impenetrable exoskeleton, every component is designed for superior strength and endurance, from Ultra-Hard 30X Cold-Rolled stainless-steel structural skin to Tesla armor glass.
"… Help eliminate dents, damage and long-term corrosion with a smooth monochrome exoskeleton that puts the shell on the outside of the car and provides you and your passengers maximum protection."
It'll be interesting to see if the stainless steel creates any corrosion considerations for shops.
Musk also demonstrated the glass' strength on the driver's side window, but part of the demo apparently didn't go as planned. A ball thrown at one window produced a starburst of cracks.
"Maybe that was a little too hard," Musk said, though he noted that "it didn't go through."
A second try on the rear driver's side window produced the same outcome: a large bloom of cracks. Musk noted that the ball didn't pass through the glass.
He said in testing they threw "literally threw the kitchen sink" at the glass without it breaking. "For some weird reason, it broke now," he said.
Tesla's Cybertruck website describes the glass as follows: "Ultra-strong glass and polymer-layered composite can absorb and redirect impact force for improved performance and damage tolerance."
The Cybertruck starts at $39,900 for a single-motor rear-wheel drive, more than 250 miles of range and more than 7,500 pounds of towing capacity. Its price rises to $49,000 for a dual-motor all-wheel drive variant with more than 300 miles of range and more than 10,000 pounds of towing. A three-motor all-wheel-drive version costs $69,900 and delivers more than 500 miles of range and more than 14,000 pounds of towing.
Tesla says "production nears in late 2021" and Tri Motor version "production is expected to begin in late 2022."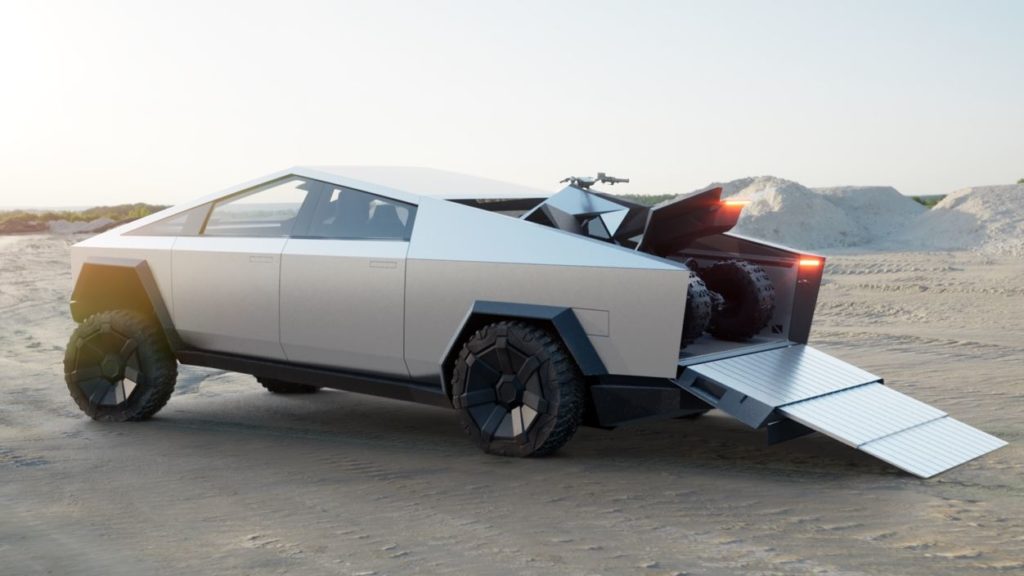 Other features:
The truck comes standard with an adaptive air suspension, which Musk called a "very important design element." The Cybertruck website says it can raise or lower the suspension 4 inches either way. The air suspension is a "pneumatic source" allowing Tesla to offer owners an "onboard air compressor," Musk said.
The vehicle has 110-volt and 220-volt outlets, using the battery itself as a generator, Musk said.
A ramp comes out of the tailgate, and the bed can be covered by "a magic tonneau cover that is strong enough to stand on." The cover in the video is shown to be a rolltop.
More information:
"WATCH LIVE! Elon Musk presents the new Tesla Cybertruck Launch"
Digital Trends YouTube page, Nov. 21, 2019
Images:
The Tesla Cybertruck is seen in this image provided by Tesla in 2019. (Provided by Tesla)
The Tesla Cybertruck's "nearly impenetrable exoskeleton" is seen in this image on Tesla's Cybertruck webpage. (From Tesla.com/cybertruck)
The Tesla Cybertruck's bed and tailgate ramp can be seen in this image from the Cybertruck webpage. (Screenshot from Tesla.com/cybertruck)
Share This: