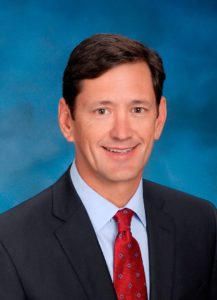 USAA announced last month that property and casualty insurance group President Wayne Peacock would ascend to the CEO role effective Feb. 1.
Peacock, who has more than 30 years with USAA and spent three as head of P&C, will succeed retiring five-year CEO Stuart Parker.
"Serving the military community is my passion, and it's an honor to follow a legacy of great leaders at USAA," Peacock said in a statement Dec. 17, 2019. "I am proud of the 35,000 USAA employees who come together to bring our mission to life by serving our members with excellence every day."
Chief Administrative Officer Jim Syring has been named head of the P&C group, USAA's largest business segment. The company said his prior responsibilities included USAA technology and security.
Parker was another longtime USAA employee, joining the company as a financial planner in 1998. He also served as president of the insurer's property and casualty group and spent time as chief financial officer and chief operating officer.
"It has been an honor to serve at USAA for nearly my entire civilian career," Parker said in a statement. "I am deeply appreciative of the loyal support and friendship from the board, fellow USAA employees and members and wish our team great success."
USAA wrote in a news release that his time as CEO saw him focus on "delivering world-class member experiences, expanding financial readiness and providing competitive employee benefits."
"We thank Stuart for his steadfast leadership during this important and transitional time in the life of our company," USAA Board Chairman Adm. Tom Fargo said in a statement. "Stuart has set a strong foundation for USAA to be a dynamic, enduring and compliant company well positioned to serve our members' financial security for generations to come. The Board and I wish Stuart and his family the very best."
Peacock also has led call centers, technology, marketing and strategy, according to USAA.
Peacock's P&C tenure recently saw the company notifying its direct repair program auto body shops to expect "a greater number of change requests" as it begins to review more estimates in an initiative set to start in September 2019.
"As more estimates are routed for review, you should expect to receive a greater number of change requests," USAA wrote. The individuals performing the reviews have clear specifications to assess when reviewing estimates, and the changes requested are due to items on the estimate that violate internal USAA vehicle repair guidelines."
USAA also announced in September 2019 it and Google Cloud have developed an artificial intelligence-based process to "allow for nearly instant vehicle damage estimates from digital images."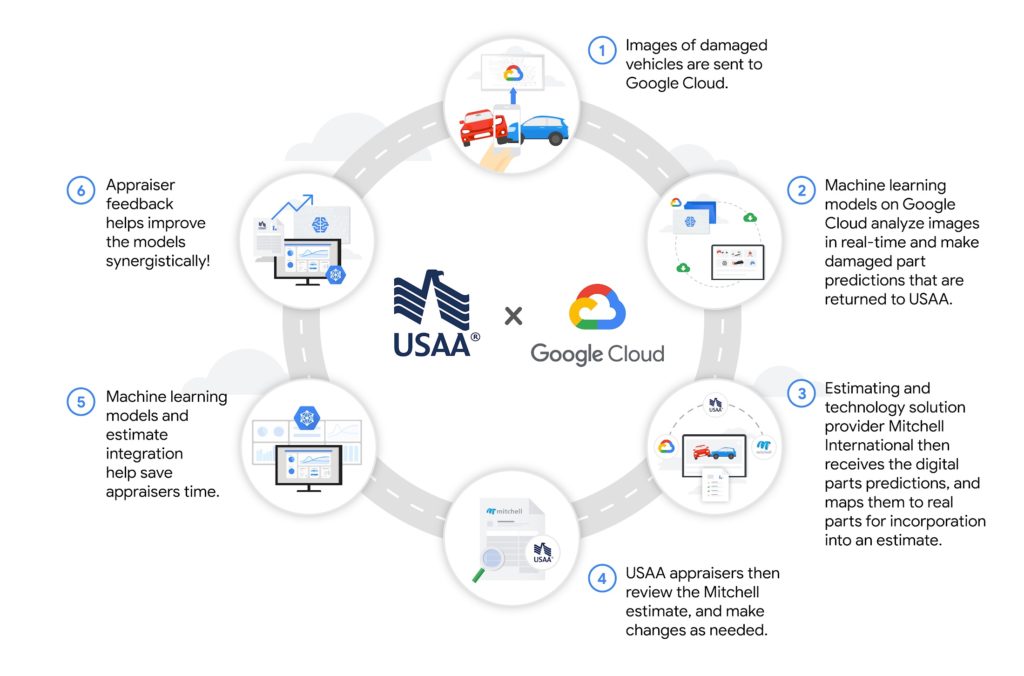 The insurer said the end goal was "touchless claims," a reference to the idea of handling an insurer's role in a loss completely through automation. Homeowners and renters insurer Lemonade is already handling some property claims like this today.
"Here is how it works: First, images of damaged vehicles are sent to Google Cloud. The images are then analyzed by Google Cloud models in real-time, which makes damaged part predictions that are returned to USAA," USAA wrote Tuesday. "Next, the predictions are sent digitally to estimating and technology solution provider Mitchell International, whose platform maps the predicted parts to real-parts and incorporates them directly into an actual estimate. USAA appraisers then review the Mitchell estimate, and make changes as needed. The machine learning models and estimate integration help save appraisers time, and the appraiser feedback helps improve the models synergistically."
More information:
"USAA Names Wayne Peacock CEO; Stuart Parker Retiring in 2020"
USAA, Dec. 17, 2019
Images:
USAA announced in December 2019 it would promote property and casualty group President Wayne Peacock to CEO effective Feb. 1, 2020. (Provided by USAA)
USAA announced Sept. 24, 2019, it and Google Cloud have developed an artificial intelligence-based process to "allow for nearly instant vehicle damage estimates from digital images." (Provided by Google Cloud)
Share This: