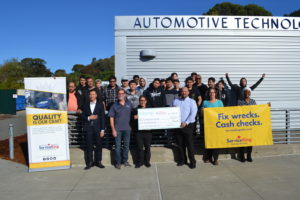 The Collision Repair Education Foundation last month said it and other donors provided nearly $500,000 worth of assistance to 102 schools in 29 states.
Hopefully, the awards will help make a dent in the tech shortage from the supply side. CREF director of development Brandon Eckenrode has described trade schools in dire need of resources, which could affect both the quality of graduates and their appeal to new students.
"The Collision Repair Education Foundation is proud to have so many dedicated industry partners supporting collision education," Melissa Marscin, CREF director of operations and administration said in a statement. "As school funding is decreasing, industry companies are stepping up to help fill the gap and give students the best education possible. These companies understand that the students of today are the industry employees of tomorrow."
CREF facilitated donations from other parties but also bankrolled $150,000 in Collision School Career Readiness Benchmark Grants itself.
The grants target schools who CREF said "excel" at teaching collision repair but can't afford to provide an even higher-quality auto body education. CREF categorizes schools into three tiers of readiness, with the lowest denoting a school with deficiencies such as only 50 percent of required tools and no estimating curriculum. The grants are supposed to help the shop upgrade and progress up CREF's ladder.
It gave separate $20,000 grants to Naples, Fla.-based Lorenzo Walker Technical College and Hayward, Calif.-based Eden Area Regional Operations Programs. CREF's descriptions of the two auto body repair programs offer a look at the kind of needs which exist among vo-tech facilities today.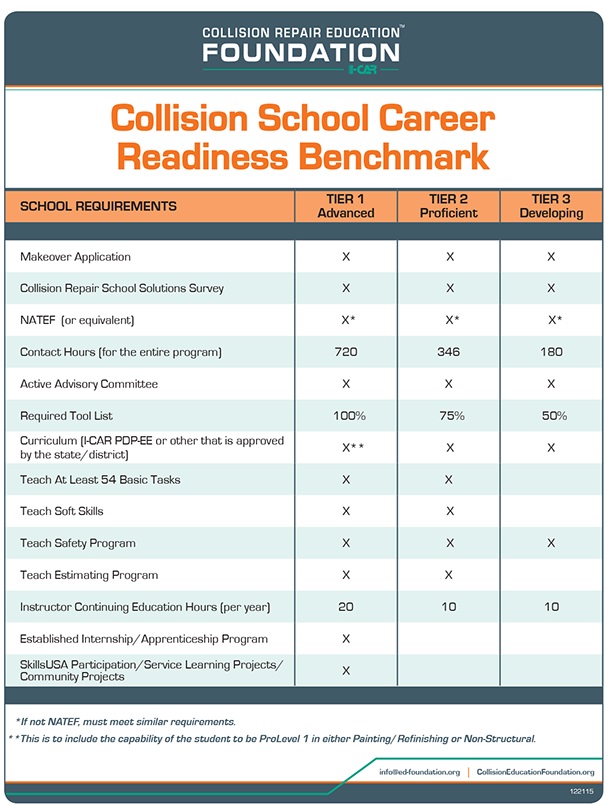 "(Lorenzo Walker's) collision program boasts a strong partnership with local businesses and a 90% placement rate for students. The school hopes to offer aluminum certification and a welding certification program," CREF wrote.
"… Students from Eden Area ROP's collision program have placed first in the California SkillsUSA competition in 2014, 2015, 2017 and 2019, and the program is in need of hand tools to progress to the next level."
CREF gave $10,000 to Littleton, Mass.-based Montachusett Regional Vocational Technical High School and $1,000 each to 10 more schools.
CREF accompanied its own Dec. 17, 2019, news release with announcements of other donations. Among them:
Other Readiness Benchmark Grants
CARSTAR kicked in $2,500 for the Hammond, Ind.-based Hammond Area Career Center and another $2,500 for the Omaha, Neb.-based Metropolitan Community College.
Enterprise Holdings gave $1,125 each to Marlboro, Mass.-based Assabet Valley Regional Technical High School and Charlton, Mass.-based Bay Path Regional Vocational Technical High School.
Fix Auto Puyallup awarded $1,000 to Bellingham, Wash.-based Bellingham Technical College. Fix Auto USA also gave a $5,000 Tim Clark Memorial Scholarship to Norwalk, Calif.-based Norwalk High School.
Honda passed out $4,000 grants to Norwalk, Calif.-based Cerritos College and Williamsport, Pa.-based Pennsylvania College of Technology.
Liberty Mutual and subsidiary Safeco gifted $2,500 to Tyngsboro, Mass.-based Greater Lowell Technical High School and $2,500 to Palmer, Mass.-based Pathfinder Regional Vocational Technical High School.
PPG donated $1,500 to Pittsburgh, Pa.-based Rosedale Technical College.
Service King gave out $25,000, split equally among five college programs in California and Texas.
"Service King is committed to supporting growth in our industry through the development of talent," Service King Chief Human Resource Officer Sean Huurman said in a statement. "We look forward to partnering with CREF and these schools to help build the next generation of collision technicians."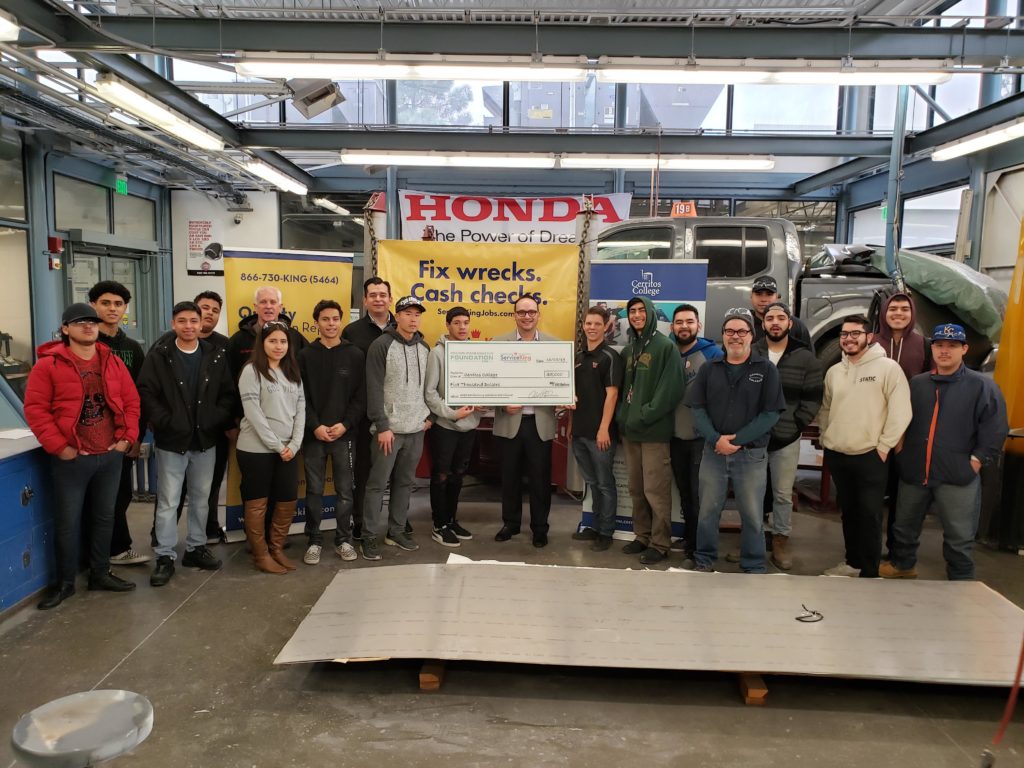 Classroom grants
CCC gave out two Classroom Enhancement Grants to two schools who had applied for the Benchmark Grant.
The classroom grants "are designed to assist schools' collision repair programs with classroom materials, such as electronics, tools, furniture and other items, to ensure that students pursuing a career in collision repair have access to a professional learning environment," according to CREF.
CCC gave $12,000 to Lebanon, Pa.-based Lebanon County Career and Technology Center and another $5,000 to Freeport, Ill.-based Highland Community College.
"These students are part of the next generation of collision repairers," CCC service operations president Mary Jo Prigge said in a statement. "It's never been more important to ensure students have access to technology and a learning environment that will prepare them for the fast-moving and complex collision repair industry. We're proud to invest in these programs and support the great work of the Collision Repair Education Foundation."
I-CAR grants
CREF said I-CAR Committees awarded $177,900 in grants to 39 schools in 10 states who applied for the benchmark program.
The Atlanta I-CAR Committee gave out $50,000 combined to five schools, with Woodstock, Ga.-based Etowah High School receiving half of it.
"The benefits of the Foundation to local schools is huge," Atlanta I-CAR Chairman Gerry Poirer said in a statement. "Many schools do not have the proper equipment, materials or supplies to reflect the requirements of the collision industry today. Many instructors feel like they're on an island, trying to make these programs function. When we help guide them, both through the Foundation and locally, their eyes light up that they now have some industry support. Schools we've worked with have seen student count increase, due to having better direction on what the industry is looking for from these graduates and better learning methods."
The Columbus, Ohio, Collision Education Group spread $4,500 among six schools.
The Greater Philadelphia I-CAR Committee award a combined $15,600 to six schools.
"The automotive industry needs influential people to share the future of our next generation," Greater Philadelphia I-CAR Chairman Lisa Ferguson said in a statement. "The best thing we can do is put time and effort into helping our youth and provide them with the tools they need to succeed. We can also help outfit the educational facilities to become better learning environments and ongoing support systems that the students will carry into their careers. Together, we can all play a part in making a difference!"
Indianapolis I-CAR gave $5,500 to Greenwood, Ind.-based Central 9 Career Center.
Knoxville, Tenn., I-CAR gave $7,500 each to three different schools. Nashville, Tenn.'s I-CAR gave $5,000 to Nashville-based Lincoln College of Technology.
"These grants, via the Foundation, help our local schools by providing them with the necessary tools and equipment to educate and train the industry's future technicians," Nashville I-CAR Chairman Kyle Medeiros said in a statement. "Involvement is important because, at the end of the day, we want to set up future generations for success. By giving back and providing them with the proper resources, we are collectively taking positive steps in seeing that future vision come to fruition."
Minnesota I-CAR gave $1,000 each to three schools.
Northern Virginia I-CAR handed out $7,500 to each one in a quartet of schools.
The Phoenix, Ariz., I-CAR awarded separate $5,000 grants to three different schools.
The Raleigh, N.C., I-CAR donated $10,000 to Fayetteville, N.C.-based Westover High School.
Saint Louis, Mo., I-CAR gave out $2,800 awards to each one of six Missouri schools.
3M backs new grant
3M put up $50,000 to what CREF called a new "Growing the Collision Education Programs of Tomorrow" it and the materials manufacturer had collaborated on. 3M invited others to contribute too.
"There is a real crisis in the industry related to the shortage of qualified technicians, and supporting career and technical education can help combat this dilemma," 3M automotive aftermarket division business development manager Mark Algie said in a statement. "The pace of change in automotive technology has accelerated, and it's critically important that collision students learn the latest repair techniques using modern tools, equipment and supplies. 3M wants to give back to the automotive aftermarket industry, and our partnership with the Collision Repair Education Foundation helps ensure tomorrow's collision industry workforce has the skills they need to succeed."
3M also gave $10,000 to Joplin, Mo.-based Franklin Technology Center and $10,000 to Eden Prairie, Minn.-based Hennepin Technical College.
"The grants provided to these two schools will be instrumental in helping their collision programs advance to the next level and ensure that their students graduate with the skills and confidence needed to enter the workforce," CREF Executive Director Clark Plucinski said in a statement. "The Foundation is excited to continue its work with 3M, and we are grateful for their ongoing support and their unparalleled dedication to the collision repair industry."
3M has donated more than $10 million in in-kind donations, grants, and "Hire our Heroes" support since 2008.
Thomas Coleman grants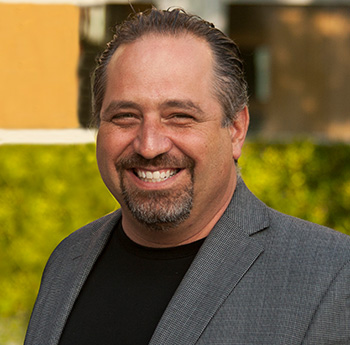 Two other benchmark applicants received huge awards from 1stCertified Collision Centers, which gave them each a Thomas Coleman Memorial Grant. The grant honors the "passion for ensuring the next generation of collision repair professionals received a proper education" of the late 1stCertified co-founder, who died of ALS in 2014, according to CREF.
Torrance, Calif.-based El Camino College received $25,000, and Norwalk, Calif.-based Norwalk High School got $20,000.
Norwalk High had a collision program of just $1,000 in 2018. Instructor Ken Cool will use 1stCertified's award to build 10 "fully equipped" work stations and buy equipment like "a set of MIG welding pliers and a new MIG welding machine."
Despite their scant budget, Norwalk High students have won four golds at SkillsUSA since 2011 and earned SkillsUSA Models of Excellence Awards annually since 2015.
"I'm still in disbelief that we secured that much money – the impact of this $20,000 is going to be amazing!" Cook said in a statement. "New equipment creates new experiences, and it's going to be exciting to watch everything take place! Our program has an actual wish list of tools, and now it's a reality! We are so grateful to everybody from 1stCertified Collision Centers, for this generous grant. Your $20,000 will become a great investment in the future of my students' lives and the collision repair industry."
Unlike Norwalk High, El Camino College has all the equipment it needs. It plans to focus on marketing, including on shop awareness for placement.
"There is a big disconnect in our area," El Camino College instructor Pati Fairchild said in a statement. "High school students don't realize what a good-paying career collision repair is, parents don't understand the industry or want their kids to pursue it, and most local shops don't know we exist and don't value collision repair grads as the custom-moldable, trainable, potential star techs they want to be."
Paint guns
BASF gave two spray guns valued at $1,000 each to 21 different schools who'd applied for the benchmark grants, resulting in an overall gift of $42,000 in tools.
"It's important to partner with industry organizations like CREF," BASF Refinish OEM manager Jeff Wildman said in a statement. "We need to ensure that the next generation of collision repair technicians have the latest tools and materials to help prepare them for their careers."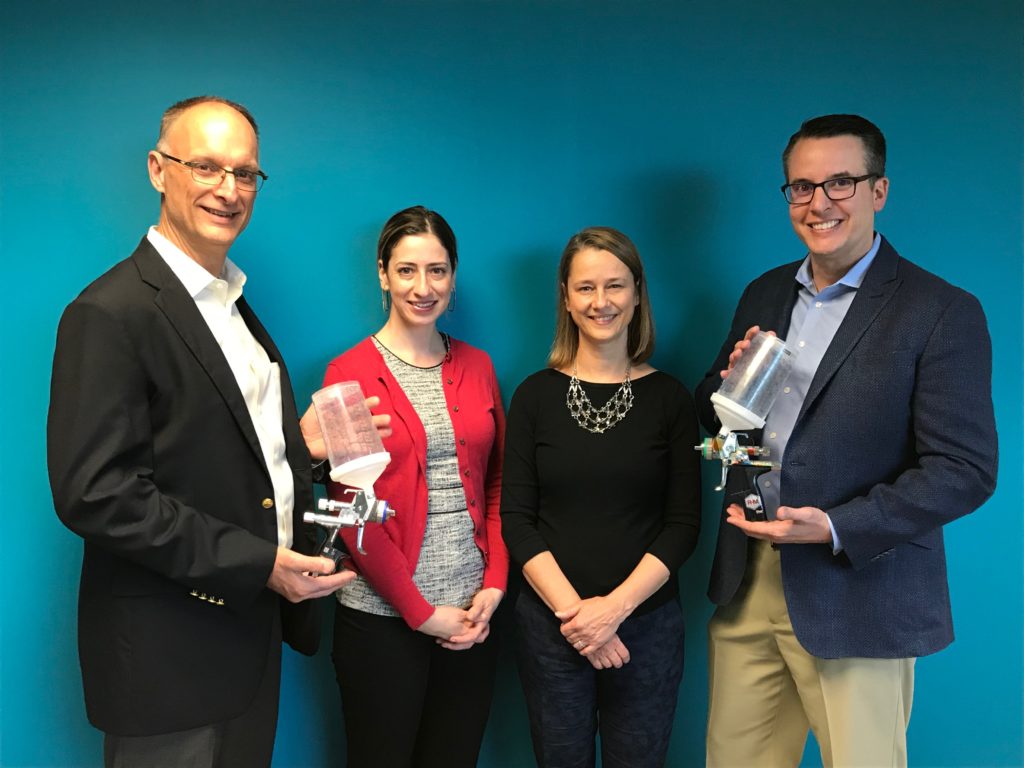 Anyone interested in helping CREF should contact Eckenrode at 312-231-0258 or Brandon.Eckenrode@ed-foundation.org.
Mitchell: $3.4M in free software
In other vo-tech charitable giving, Mitchell last week reported it donated more than $3.4 million worth of Mitchell Cloud Estimating software to dozens of schools in the 2019 calendar year.
"We're always looking for opportunities to give back, both to our professional and local communities," Mitchell auto physical damage solutions Executive Vice President Debbie Day said in a statement. "Our cloud-based estimating solution has brought our industry into the future, in that it frees estimators from their desks by allowing them to work anywhere, anytime, on any device. We are proud to support so many shop workers in their training and skill development with technology they'll use day-to-day and that has changed the way we write estimates."
"Mitchell's generous donation enables us to provide a teaching experience that leverages the cloud, equipping collision students for the future," Eckenrode said in a statement. "The knowledge and expertise afforded by the Mitchell Cloud Estimating solution has become a key part of how we can offer support to local high school and college collision instructors. We can provide first-rate training to schools across the country, thanks to Mitchell, to prepare shop workers and owners of tomorrow."
More information:
"Collision Repair Education Foundation Awards Nearly $500,000 in Grants to Improve Schools' Collision Programs Thanks to Industry Support"
Collision Repair Education Foundation, Dec. 17, 2019
"I-CAR Committees Raise Funds for Grants to Benefit Over Three Dozen Collision Repair Programs Through the Collision Repair Education Foundation"
CREF, Dec. 17, 2019
Images:
Service King gave out $25,000, split equally among five college programs in California and Texas. Pictured here is San Pablo, Calif.-based Contra Costa College, one of the $5,000 grant recipients. (Provided by Service King)
The Collision Repair Education Foundation's Collision School Career Readiness Benchmark Grant thresholds. (Provided by CREF)
Service King gave out $25,000, split equally among five college programs in California and Texas. Pictured here is Norwalk, Calif.-based Cerritos College, one of the $5,000 grant recipients. (Provided by Service King)
1stCertified Collision co-founder Thomas Coleman is shown. (Provided by 1stCertified Collision)
From left, BASF Refinish OEM manager Jeff Wildman, CREF development and marketing coordinator Tiffany Bulak, BASF Refinish North America marketing manager Jane Niemi, Manager and CREF development director Brandon Eckenrode pose. (Provided by BASF)
Share This: