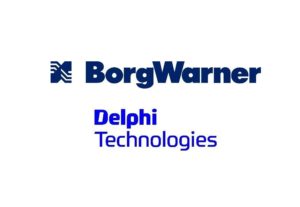 Major Tier 1 supplier BorgWarner announced Tuesday it would buy fellow Tier 1 Delphi in a $3.3 billion all-stock deal BorgWarner said would create a "leader in electrified propulsion systems."
BorgWarner ranked No. 22 on Automotive News' list of the largest automotive suppliers worldwide in 2018, with key offerings including "Turbochargers, electric motors, electronic control units, engine valve-timing, ignition systems, thermal systems, transmission-clutch systems, transmission-control & torque management systems." Delphi was 63rd, with key products described as "Powertrain & aftermarket parts."
BorgWarner estimated it did $10.17 billion in net sales over fiscal year 2019 compared to what Delphi estimated was its $4.36 billion.
"This is a compelling transaction that we are confident delivers clear benefits to our stakeholders," Delphi CEO Richard Dauch said in a statement. "Delphi Technologies' portfolio is highly complementary to BorgWarner's, and together we plan to create a pioneering propulsion technologies company uniquely equipped to serve OEMs and aftermarket customers around the world. BorgWarner's team shares our focus on addressing today's and tomorrow's challenges, and the combination will create exciting opportunities for our employees. We also expect our stockholders will benefit from the opportunity to participate in the future growth and upside potential of the combined company."
The news is probably a bigger deal for the service and mechanical repair world. However, it still seems notable for collision repairers because of the size of the companies and for what it indicates about an automotive shift to electrification.
"This exciting transaction represents the next step in BorgWarner's balanced propulsion strategy, strengthening our position in electrified propulsion as well as our combustion, commercial vehicle and aftermarket businesses," BorgWarner CEO Frédéric Lissalde said in a statement. "Delphi Technologies will bring proven leading power electronics technologies, talent and scale that will complement our hybrid and electric vehicle propulsion offerings. As a combined company, we look forward to delivering enhanced solutions to our customers while driving increased value for our stockholders."
"The combined company would offer customers a suite of integrated and standalone offerings of power electronics products (including high voltage inverters, converters, on-board chargers and battery management systems) and capabilities (including software, systems integration and thermal management)," BorgWarner wrote in a news release.
BorgWarner will give Delphi stockholders 0.4534 shares of BorgWarner stock for each of their Delphi shares. They'll own about 16 percent of the new company when the deal is done.
Lissalde will remain CEO of the new company following the close of the deal, expected to occur in the second half of the year.
"We have a great deal of respect for Delphi Technologies' team around the world and look forward to welcoming them to BorgWarner," Lissalde said in a statement. "We are confident that together we will be able to move faster to address market trends toward electrification."
"Following the close of the transaction, the combined company is expected to be one of the leading pure-play propulsion companies globally, serving light and commercial vehicle manufacturers and the aftermarket," BorgWarner wrote. "The combined company would offer a unique, more comprehensive portfolio of industry-leading propulsion products and systems across combustion, hybrid and electric, resulting in greater content per vehicle relative to BorgWarner today."
"This could be the beginning of powertrain consolidation, which is coming out of necessity," Evercore ISI analyst Chris McNally told Bloomberg before the announcement. "All the suppliers are dealing with lower global volumes combined with the transition toward electric vehicles, which requires heavy investment."
BorgWarner expected the merged company could save $125 million worth of synergies by 2023.
More information:
"BorgWarner to Acquire Delphi Technologies in All-Stock Transaction to Strengthen Propulsion Systems Leadership"
BorgWarner, Jan. 28, 2020
Featured image: The BorgWarner and Delphi logos. (Provided by BorgWarner via PRNewsfoto)
Share This: