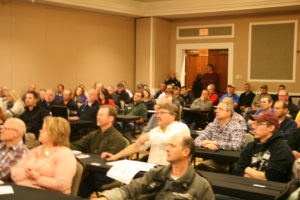 The Iowa Collision Repair Association said the Midwest Auto Body Trade Show will return later this month with more than 50 vendors and classes from I-CAR and others.
I-CAR will teach its aluminum 2015 Ford F-150 structural repair training course, "Coordinating the Repair Process," "Capturing Quality Photos," "The Art and Science of Estimator Interactions" and "Understanding Cycle Time" during the Feb. 27-29 event in Des Moines.
"In the current challenging climate of transition in our industry," ICRA trade show Chairman Dick Merron said in a statement, "we are excited about the training I-CAR will bring to this event."
"Knowledge   is your greatest competitive advantage," I-CAR Northwest Region business development principal Dave Robinette said in a statement. "Customers and our businesses depend on our industry to be skilled and informed. We need to know not only how to repair vehicles properly, but also to effectively document and communicate correct repairs to everyone involved,"
Another educational series includes "The Future of DRP  – Is Their One?" with Pete Tagliapietra of NuGen IT; "Cyber Security-Are You Protected," with Mark Claypool, Optima Automotive; "Get Paid  For What You Do" with Ron Reichen, Precision Body and Paint. There's also a session on OEM repair procedures whose course description asks, "Are you getting the correct information to get paid?"
"We have to get trained and be better and what we do-Period!" said Merron, owner of Iowa Auto Rebuilders and a former ICRA chairman.
More than 50 vendors are expected to fill the floor of the show at the Holiday Inn (4800 Merle Hay Rd.) venue.
"We recognize how important the vendor/suppliers are to our industry." ICRA Executive Director Janet Chaney said in a statement, "they are our lifeblood and keep us going at the frantic pace we need to move."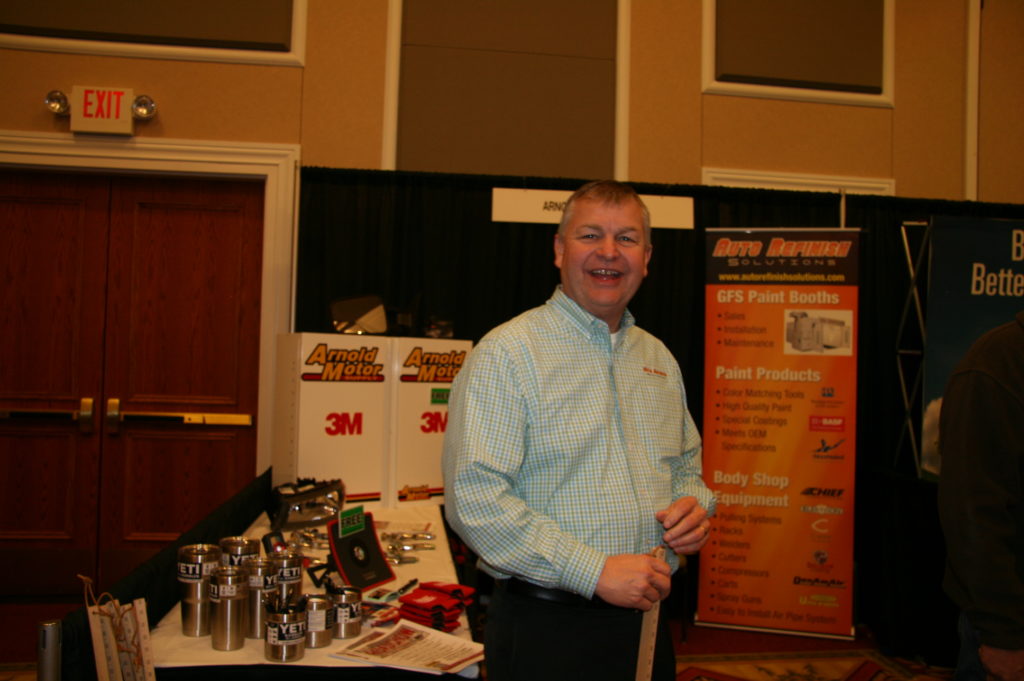 Finally, ICRA lobbyist Scott Weiser (Capitol Strategies Group) will discuss his legislative efforts.
Regional trade shows like the Midwest Auto Body event might be more important than ever this year to fill what might be a void left by NACE.
NACE organizer Messe Frankfurt told Autobody News in a 2018 article NACE would return to the U.S. in 2020 after a year off.
However, the company was less certain during an interview this month.
"We are still evaluating for this year," Messe Frankfurt business development manager Caitlin Clements said Thursday. At this point, the show seemed to be a no, but the company hoped to have more concrete information in the next few months, she said.
More information:
Midwest Auto Body Trade Show webpage
Midwest Auto Body Trade Show news release
Images:
A 2016 Midwest Auto Body Trade Show educational session audience. (Provided by Iowa Collision Repair Association)
Arnold Motor Supply Chief Operating Officer Terry Hammer appears at the 2016 Midwest Auto Body Trade Show. (Provided by Iowa Collision Repair Association)
Share This: