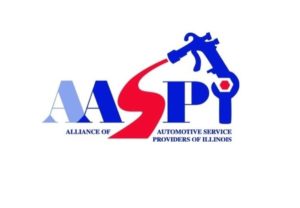 The Society of Collision Repair Specialists on Wednesday announced the Alliance of Automotive Service Providers of Illinois had signed on as its newest affiliate.
"AASPI is proud to join the ranks of the SCRS Affiliate Association network," AASPI President Bob Gottfred (Erie LaSalle Body Shop) said in a statement. "In part our willingness to partner with SCRS centers on their principle statement that through working together, collision repair facilities could inspire positive advancement in our industry.  AASPI is a strong advocate for the collision industry in Illinois and we believe this cooperative spirit between AASPI and SCRS will further enable our Association to advance the work we have started in this state and the work SCRS does nationally."
SCRS's emphasis on OEM repair procedures contributed to AASPI's interest in affiliation, according to SCRS.
"(W)ith the recent start to the state legislative session, the association (AASPI) will be renewing its efforts to provide statutory codification of best practices regarding original equipment manufacturer … procedures," SCRS wrote in a news release.
SCRS, the national Alliance of Automotive Service Providers, the Automotive Service Association and Assured Performance in 2011 declared OEM procedures to be the standard of care. In 2019, the three national trade groups and numerous  SCRS state affiliates signed a document declaring that "statement remains as true today, as it was in 2011."
"SCRS has long recognized that if a vehicle manufacturer documents a repair procedure as required, recommended or otherwise necessary as a result of damage or repair, that those published procedures would be the standard of repair," SCRS wrote in a news release Wednesday. "The association has routinely positioned itself in supporting the notion that disregarding a documented procedure that is made available to the industry creates undue and avoidable exposure to the consumer's safety and liability to the repair facility performing the repair."
AASPI last year pushed for Senate Bill 2104, which demanded collision repairers follow OEM procedures but carved out exemptions for parts and glass work. The legislation passed the Senate, but the Health Care Licenses Committee gutted the measure, amending it to replace all the body shop content with legislation related to pharmacists. That version ultimately became law.
On Thursday, original SB 2104 House sponsor Rep. Elizabeth Hernandez, D-Cicero, filed House Bill 4916. That measure would demand insurers cover OEM procedures except those related to parts selection and calibration tools.
AASPI history
AASPI started in the 1960s representing mechanical and collision repairers in the Chicago area, and it represents both aftermarket segments today statewide. It has adopted a variety of names and structures throughout its history, culminating in becoming an independent AASP entity in 1997.
"It's always very rewarding to us all to welcome in new states associations, especially those as tenured as AASPI," SCRS Vice Chairman Bruce Halcro (Capital Collision Center) said in a statement. "We want to work in tandem with trade associations or societies whose objectives are parallel with those of SCRS, and this was an easy decision for approval by the SCRS Board of Directors. AASPI has been a champion of repairers in IL for many years, and has an impressive list of resources and support that they extend to their membership."
AASPI Executive Director Brian Wojcicki (Illinois Capitol Group) described one resource on Wednesday.
"Over the past year we have actually used SCRS' news service a lot for reference and postings on our OEM resource section," Wojcicki said in a statement. "We built the member resource in 2019 and intend to continue to rely on information from SCRS and the other Affiliates as we keep it updated."
SCRS now counts 40 affiliates in the U.S. and Canada. These include AASPI's fellow AASP groups in Massachusetts, Minnesota, Missouri, New Jersey and Pennsylvania.
For more information about AASPI, visit www.aaspi.org. For more information about SCRS or about becoming an affiliate, contact info@scrs.com or visit www.scrs.com.
More information:
Alliance of Automotive Service Providers of Illinois website
NASTF OEM repair procedure portal
Featured image: The Alliance of Automotive Service Providers of Illinois logo is shown. (Provided by SCRS)
Share This: