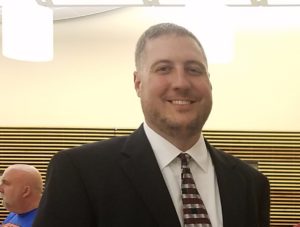 The Collision Repair Education Foundation last month celebrated New York collision instructor Brian McDonnell as its 2019 "Instructor of the Year."
"The Instructor of the Year Award recognizes an instructor who has gone above and beyond his/her roles and responsibilities as an educator to become a true leader, role model and mentor of the students they teach," CREF operations and administration director Melissa Marscin explained in a statement.
McDonnell teaches students at the Painted Post, N.Y.-based Greater Southern Tier BOCES Cooper Education Center's collision program — a program which produced two 2019 state-level SkillsUSA gold medalists.
"I really found out the caliber of teacher Brian is when I was his mentor," GST BOCES Cooper colleague Tammy Divens, a New Visions medical teacher and a registered nurse, said in a statement. "Brian works tirelessly to provide the most up to date skills and education for his students."
The award represented a sweep for the school. CREF also last year declared GST BOCES Cooper senior Samantha Welch the 2019 "Collision Student of the Year." Welch took fifth in collision estimating at the 2019 SkillsUSA Nationals and won the event at the New York state SkillsUSA.
Another one of McDonnell's students, Joshua Conner, took 13th in automotive refinishing at nationals after placing first at the New York SkillsUSA.
New York collision repairers had a chance to meet McDonnell and Welch at a CREF event at SEMA 2019. If you couldn't make it there, perhaps consider arranging a trip to the school to congratulate the honorees — and try a little recruiting of graduates to fill your tech shortage.
In other mentoring news, a Collision Industry Conference Talent Development Committee found many CREF career fair participants had discussed career placement with a counselor or mentor.
The data indicates repairers should also remember to sell school guidance counselors on the industry as well as parents and students themselves.
Out of the 138 career fair participants who responded, 72 (52 percent) said they had spoken with a counselor or mentor about job placement. Based on separate data regarding educational attainment, some or potentially all of these had reached the two- or four-year college level; only 122 out of 275 total respondents reported an educational level of high school.
If you're interested, the Alliance for Automotive Service Providers of Minnesota offers a kit of resources to teachers and school advisers free online as part of its "Car Careers" initiative.
CREF director of development Brandon Eckenrode in 2016 said he even had "a lot of elementary school counselors" tell him "'We get it.'"
"They've come around to accepting it (auto body work) as an option," he said.
More information:
"COLLISION REPAIR EDUCATION FOUNDATION ANNOUNCES RECIPIENT OF INSTRUCTOR OF THE YEAR AWARD"
Collision Repair Education Foundation, Jan. 21, 2020
Featured image: Greater Southern Tier BOCES Cooper Education Center collision instructor and Collision Repair Education Foundation 2019 "Instructor of the Year" Brian McDonnell is shown. (Provided by CREF)
Share This: