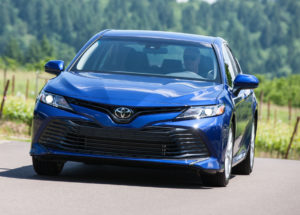 Nationwide on Monday announced a new insurance product which will use connected car data from late-model Toyota vehicles and give discounts of up to 40 percent for good drivers.
The program is similar to a Nationwide partnership announced by Ford on Friday for many 2020 model year vehicles (and the 2021 F-150).
Nationwide said the Toyota Insurance Management Solutions BrightDrive program would be open to vehicles from the 2018-20 model years which carry the Toyota Data Communication Module. Nationwide also said Toyota drivers lacking the connected car technology itself can still participate using the Nationwide SmartRide app or a plug-in device to collect data.
"All non-hybrid model year 2020 vehicles will be connected and capable of participating in the BrightDrive experience, with a few exceptions," Toyota wrote on the BrightDrive website. "Some 2018 and 2019 models are capable as well."
Nationwide spokeswoman Lyndsey Klevan said owners don't need to subscribe to a Toyota connected car service to participate.
Nationwide said it will immediately offer anyone opting in to the new BrightDrive program a 10 percent discount, with the potential to get up to 40 percent off, similar to the carrier's standalone SmartRide usage-based insurance program. The insurer will collect driving data off the Toyota vehicle for 90 days to calculate driver quality.
"The TIMS BrightDrive experience is exciting because it empowers Toyota drivers with driving data from their vehicle to obtain personalized auto insurance geared to how they drive," TIMS Vice President Will Nicklas said in a statement. "Additionally, in case of a claim, BrightDrive uses Toyota Genuine Parts, and Toyota Certified Collision Centers when available, enhancing the overall Toyota experience."
A footnote on the BrightDrive website describes the OEM parts as requiring an optional Nationwide rider. However, the default TIMS BrightDrive policy offered will include that rider. This is similar to what Nationwide described to us for the Ford program.
"For eligible customers, we have defaulted OEM parts in the coverages section of the quoting process, however, the customer still has to purchase the additional coverage as part of their policy," Nationwide spokeswoman Lyndsey Klevan wrote in an email Monday.
Essentially, the customer is assumed to want OEM parts instead of alternative parts, rather than the other way around. The question is whether to opt out rather than opt in.
Asked about the range of Toyota-backed parts available, Toyota Financial Services corporate communications national manager Vincent Bray wrote Tuesday, "This offering is committed to using Toyota Genuine Parts. While Toyota does offer a limited selection of value-line service parts, this product line does not include crash parts."
Nicklas indicated the program would promote Toyota certified body shops. However, it's not doing so or starting a Nationwide claim at the moment the telematics detect a crash.
"Currently, there isn't a crash detection feature with integration to Nationwide claims, but could envision this in the future," Klevan wrote.
Ford's program is available in 39 states. Toyota's is offered in Arizona, Texas and Ohio today, but the BrightDrive website said it's expanding.
"As customer feedback is gained and more connected cars come online, Nationwide and TIMS will look to expand the size and scope of the offering," Nationwide wrote.
Both the Ford and Toyota programs show the capability and convenience connected vehicles offer to insurance  consumers, not to mention benefits to the insurers and OEMs themselves. The fact that neither major OEM requires a connected car service package to participate makes things even easier and more attractive to the consumer.
"Consumer expectations for insurance solutions that are fast, simple and add value continue to grow," Nationwide CEO Kirt Walker said in a statement. "Nationwide and Toyota believe that customers should benefit from their personal data. We are excited to partner on the introduction of a new solution that will make the process even easier."
Body shops had better pay attention to such developments. If you're thinking it doesn't matter because most of the U.S. fleet isn't connected, consider this: Most of that unconnected fleet might be irrelevant to a body shop.
According to CCC's 2019 "Crash Course" estimate data, the average repairable vehicle in 2018 was just 5.9 years old. The average vehicle became a total after 9.66 years.
That means that if you're planning on being in the industry six years from now, the average Toyota or Ford you'd hope to repair might be a 2020 model and likely connected enough to team up with insurers for programs like BrightDrive. Ten years from now, respectively, the average Ford or Toyota old enough to lack connectivity might just get totaled before you even see it.
More information:
"Nationwide Teams up with Toyota to Offer Insurance Featuring Telematics Solution"
Nationwide, Feb. 24, 2020
Toyota Insurance Management Solutions BrightDrive website
Share This: