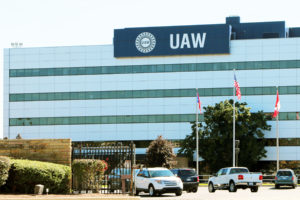 Buoyed in part by parts business captured during the General Motors strike, LKQ again saw revenue growth beating the "market" of claims trends in the fourth quarter.
Here's a look at those developments and other interesting tidbits reported during the company's fourth-quarter/full year earnings call Feb. 20.
Organic revenue growth
LKQ CEO Nick Zarcone told analysts that North American parts and services organic revenue growth climbed 2.5 percent in the fourth quarter of 2019.
"This organic performance includes a benefit from the GM strike, which was partially offset by declines in our glass and heavy-duty truck businesses," Zarcone said. If you throw out those dynamics, organic growth still rose 1.3 percent, he said.
A United Auto Workers strike on General Motors in September and October 2019 affected the supply of replacement parts from the automaker, opening the door for competitors like LKQ to gain share. The strike was in place for nearly all of the month of October — a third of the fourth quarter.
"We continue to perform well in North America," considering that CCC data put collision and liability auto claims down 1 percent in the fourth quarter, Zarcone said. He said the U.S. Department of Transportation also reported miles driven fell 0.1 percent in November.
Theoretically, with collision and liability claims down 1 percent, the typical company reliant on those crashes to make money — be it LKQ or a single-bay body shop — should have seen sales fall 1 percent. If such a company grew sales or at least had them shrink by a lower proportion, then that business has beat the market.
Margins
But organic revenue climbing doesn't always mean success. If you did more in sales but couldn't recoup your expenses, you might have a problem. Breaking even or having too thin a margin isn't necessarily healthy long-term either.
LKQ has been focused on higher-margin revenue rather than revenue for revenue's sake, and the company celebrated its success here during the earnings call.
"We will continue to focus on profitable revenue growth and sustainable margin expansion" in 2020, Zarcone said.
Zarcone noted LKQ's North American segment "in particular" did well in 2019, with earnings before interest, taxes, depreciation and amortization rising 1 percentage point.
Chief Financial Officer Varun Laroyia called the company "pleased" with its fourth-quarter and full-year performance related to the priorities of profitable revenue growth, higher margins and free cash flow generation.
Laroyia called North America in a "strong position." LKQ said the segment EBITDA rose 1.8 percent over 2018 to 14 percent in the fourth quarter to $180 million — the best fourth-quarter margin in the past 5 years by 1.2 percentage points.
However, Laroyia estimated that 1.2 percentage points of the 1.8 percent increase was due to precious metal prices and the GM strike.
"The 14 points is not the new normal," Laroyia said.
The October-December 2019 period was a relatively low-revenue quarter, so LKQ's ability to increase its margin indicated the "improved resilience of the business," Laroyia said.
"We undeniably saw a margin benefit" from the GM strike and high precious scrap metal prices, Laroyia said. However, he cited the concept of making one's own luck, and credited LKQ's North American personnel for capitalizing on the GM strike to sell parts.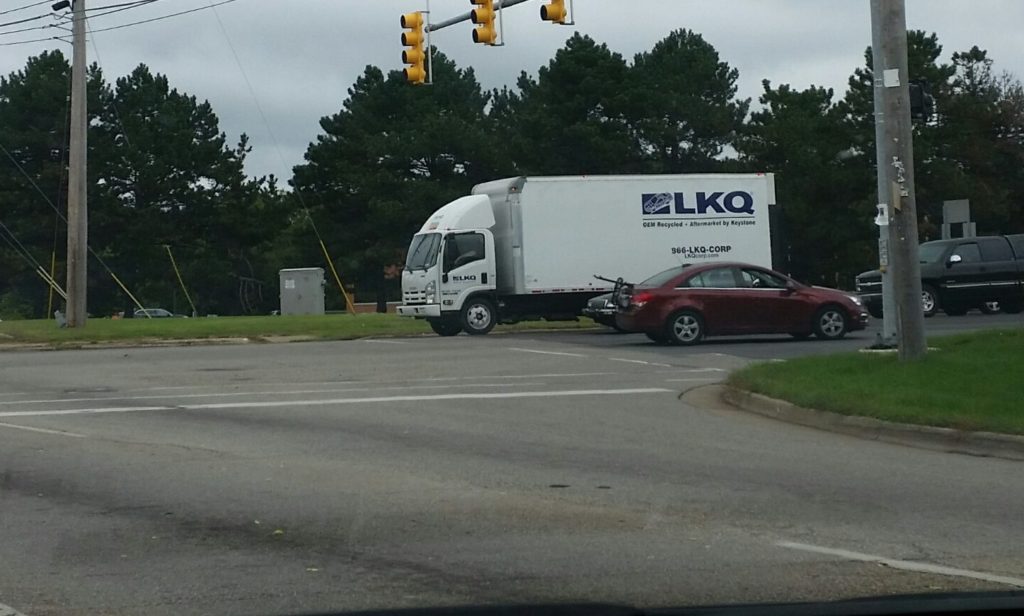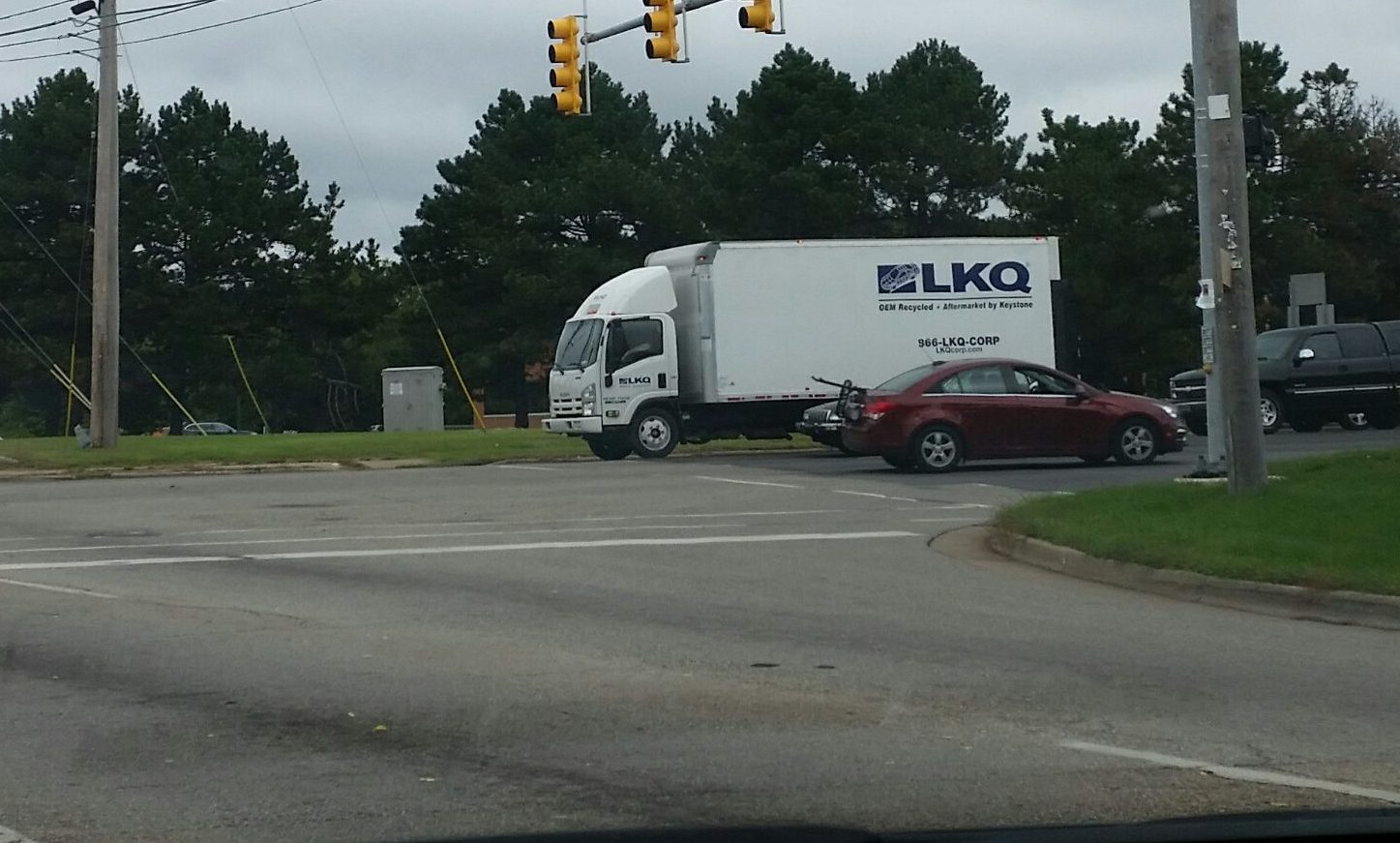 Parts sales and inventory
LKQ said its 2.5 percent North American organic parts and services revenue growth in the fourth quarter could mostly be attributed to 5.4 percent growth in salvage and 4.2 percent growth in aftermarket parts sales.
The company posted 0.9 percent organic revenue growth in North American parts and services in 2019. Aftermarket part sales rose 0.4 percent, while salvage sales were up 4.7 percent.
"(R)evenue growth was positive though adversely impacted by a decline in accident frequency accompanied by mild winter weather," LKQ wrote in a presentation slide.
Zarcone said LKQ increased its aftermarket collision SKUs by 4.9 percent and its inventory of certified parts by 10 percent in 2019.
LKQ also said it had sourced enough Chinese parts ahead of the coronavirus outbreak to cover most of the demand for the first quarter.
Logistics software
Your LKQ driver might have been more efficient late last year. Zarcone said the fourth quarter saw LKQ continue to develop the InTouch Mobile delivery manifest management app.
Zarcone said it's a proprietary platform to automate delivery management and route accounting which would enhance customer service, improve driver efficiency and simplify accounting.
"We are excited about this implementation and optimistic about the potential productivity it will generate," Zarcone said.
85 percent of full-service and aftermarket LKQ facilities were live on the app as of Dec. 31, 2019, he said.
LKQ investor relations investor relations Vice President Joe Boutross confirmed this was a companion piece of software to the RoadNet system LKQ rolled out a few years ago.
"ITM is a new application that works alongside Roadnet," Boutross explained in an email Monday. "Roadnet still optimizes our daily routes, after which ITM takes over for the driver to carry out the route on a mobile interface with features to allow payment entry and reconciliation, electronic signatures, customer relationship management. After reconciliation of the route and payments, the system will feed the information to the ERPs to apply the payments to the customer accounts at a much faster rate."
More information:
LKQ fourth-quarter 2019 earnings call transcript
Seeking Alpha, Feb. 20, 2020
LKQ fourth-quarter 2019 earnings call
LKQ, Feb. 20, 2020
LKQ, Feb. 27, 2020
LKQ fourth-quarter/2019 investor presentation
LKQ, Feb. 20, 2020
Images:
The United Auto Workers' "Solidarity House" is seen in 2015. (TennesseePhotographer/iStock)
An LKQ truck is seen fall 2016 in Michigan. (John Huetter/Repairer Driven News)
Share This: