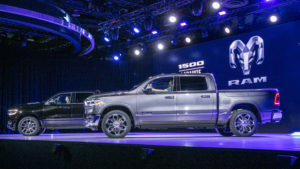 FCA late last year added or updated position statements on alternative parts, warning collision repairers that anything other than OEM components would violate FCA lease agreements.
"FCA US LLC vehicle lease agreements specify that ONLY Genuine FCA US LLC replacement parts be utilized for collision repairs to the vehicle," the Nov. 20, 2019, position statements on aftermarket parts and structural parts both state. (Emphasis FCA's.)
It's an interesting point that might be the case for other automaker lease programs as well.
The latest Experian data available finds 28.76 percent of all new vehicles in the third quarter of 2019 were leased, down slightly from 28.9 percent in 2019. (4.07 percent of the leased market is used, which is interesting.)
FCA's Ram 1500 ranked No. 4 among the Top 10 new leased models by market share in the third quarter, tied with the Chevrolet Equinox at 2.5 percent. The average lease payment on the truck was $451.
Experian reported more than 75 percent of all lessees fell into the prime and "Super Prime" categories in the third quarter of 2019, with the latter rising by nearly a percentage point over the prior year. However, the percentages of subprime and "Deep Subprime" lessees also rose from 6.58 percent in 3Q 2018 to 6.77 3Q in 2019.
If these lower-credit consumers don't have a steady supply of cash on hand, their insurers' refusal to reimburse OEM parts could put a customer and body shop in a tough spot.
The average new lease payment rose from $430 in the third quarter of 2018 to $452 in 3Q 2019. The average term rose from 36.18 months to 36.54 months — more than three years.
The latter statistic also could trigger that tough conversation with a customer.
An insurer who refuses to reimburse OEM parts after the first year or two of vehicle life creates a problem for the mutual customer who crashes an FCA leased vehicle during Year 3. Such insurer refusals might be enabled by state laws permitting non-OEM parts after a time period less than the average lease.
This was the case in Rhode Island until 2018, when the Legislature approved Senate Bill 2679. That measure increased the length of time an insurer would be banned from requiring "the use of aftermarket parts when negotiating repairs with any repairer unless the repairer has written consent from the vehicle owner to install aftermarket parts." The ban had previously only applied to the first 30 "months beyond the date of manufacture"; it now covers the first four years of vehicle life.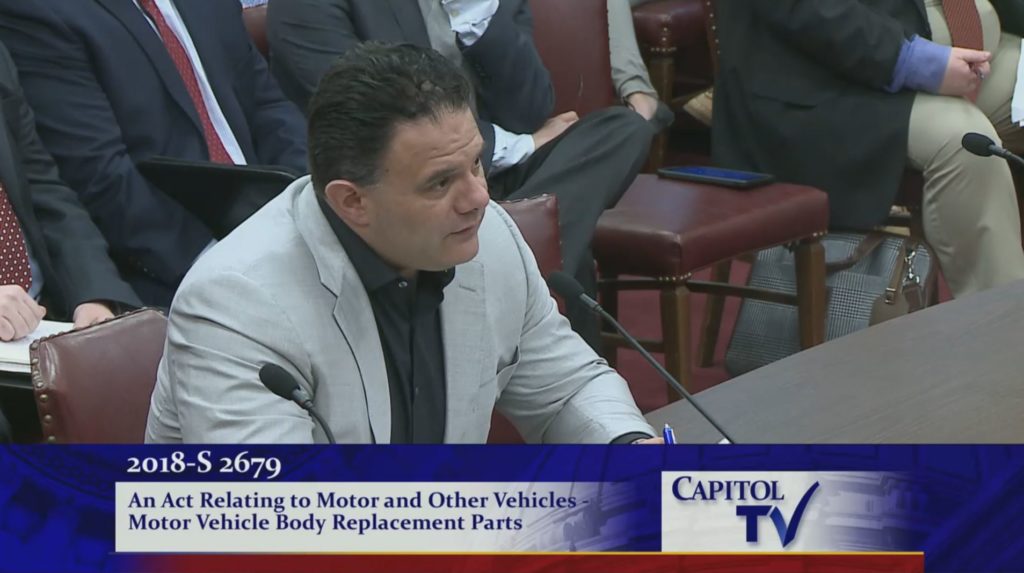 Randy Bottella, owner and operator of Reliable Collision, told a 2018 Senate Judiciary Committee hearing that some policyholders have 36-month or longer leases. He also noted that as the law is keyed to production date, a customer might already have "a number of their months chewed up" between the time the vehicle is built and the time it's sold to them by a dealership.
The bill also closed a loophole permitting insurers to demand non-OEM parts on third-party claims. Bottella told lawmakers that some insurers were honoring the 30-month rule on first-party claims but not extending the same to those struck by their own policyholders.
The new position statements also reiterate FCA's disapproval of anything other than Authentic Mopar Repair parts.
"FCA US LLC vehicles, systems and components are engineered, tested and manufactured to protect vehicle occupants based upon both government-mandated and internal corporate requirements relative to durability, NVH (noise/vibration/harshness), occupant protection and vehicle safety. The overall structural integrity of the vehicle is dependent on its inherent design specifications," FCA wrote in its November 2019 structural repair position, largely echoing the 2011 bulletin the document supersedes. (So it shouldn't be a surprise to you.) "Sheet metal and glass are critical elements in the design of specific crush zones that allow the energy of a collision to be absorbed in a predictable way and maximize the effectiveness of the restraint system to protect the occupants. The use of parts not specifically designed and tested by FCA US LLC may compromise the integral balance between these safety systems. Only Authentic Mopar® Repair Parts and glass are designed, engineered, manufactured and tested to FCA US LLC internal and government-mandated standards and are the only ones equivalent to the originally installed parts. FCA US LLC does not approve of or recognize structural repair procedures where Authentic Mopar Parts are not used for Chrysler, Dodge, Jeep® and Ram Brand vehicles. Any repairs performed not using Mopar Parts, and not following published repair guidelines and procedures, may expose current or future vehicle owners and occupants to unnecessary risk."
FCA made a similar point in its new aftermarket parts statement.
"The original parts used on all FCA US LLC vehicles are designed and built to provide optimum fit, function, safety and structural integrity," the OEM wrote in the Nov. 20, 2019 document. "These parts are carefully designed to act as a safety system and are rigorously impact tested to ensure optimal performance. Because of this, FCA US LLC does NOT approve of the use of recycled, salvaged, aftermarket or reconditioned parts. Aftermarket parts may not be built to FCA US LLC's exact design and can therefore affect the performance of important structural and safety features of the vehicle. The best way to ensure replacement parts meet the safety, performance and quality standards set by FCA US LLC is to purchase Original Equipment parts through an authorized FCA US LLC dealer. In the event that collision repairs are necessary, all repairs should be performed by a trained technician and follow vehicle-specific repair procedures available at https://www.techauthority.com. Failure to follow proper procedures or deviation from Original Equipment parts could result in compromising performance of impact safety systems."
A third position statement further reiterated FCA's views of recycled parts, clarifying they applied to all components.
"Many factors can influence the integrity and quality of salvage parts including but not limited to weather, previous damage, improper removal or transfer of parts," FCA wrote in another Nov. 20, 2019, document. "Because of this, FCA US LLC does NOT approve the use of salvage or recycled parts in the event that collision repairs are necessary. …
"Using salvage parts can lead to the following events:
"• Compromised crush zones caused by previous repairs.
"• Additional installation time due to variations in fit and finish.
"• Exposure to adverse elements and conditions that have not been considered by FCA US LLC.
"• Additional repair time based on variations in storage and delivery practices.
"FCA US LLC limited warranties only apply to genuine FCA US LLC original equipment parts. FCA US LLC is not responsible for any costs associated with part failure caused by use of any parts other than FCA US LLC genuine replacement parts." (Minor formatting edits.)
More information:
FCA, Nov. 20, 2019
"REPAIR PARTS USED FOR STRUCTURAL REPAIRS"
FCA, Nov. 20, 2019
"USE OF SALVAGE/RECYCLED PARTS"
FCA, Nov. 20, 2019
Experian 3Q "State of the Automotive Finance Market" slides
Images:
The 2019 Ram 1500 is unveiled Jan. 15, 2018, at the 2018 North American International Auto Show. (Provided by FCA)
Randy Bottella, owner and operator of Reliable Collision, speaks at a April 3, 2018, Rhode Island Senate Judiciary Committee hearing. (Screenshot from Rhode Island Capitol TV video)
Share This: