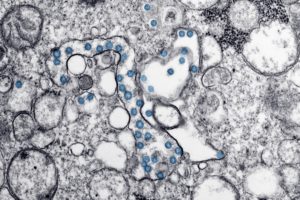 The Collision Repair Education Foundation and Society of Collision Repair Specialists on Monday confirmed they too would postpone significant spring events because of COVID-19 coronavirus concerns.
"We look forward to reconvening as an industry when personal safety for our attendees is no longer a concern," SCRS wrote in an email.
CREF completed a career fair Friday in Salt Lake City, Utah, but will cancel or postpone its six spring career fairs scheduled through April 30, CREF development and marketing coordinator Tiffany Bulak said Monday. The status of the remaining spring career fair May 7 in Philadelphia, Pa. is unknown since it's being organized by another party, she said.
The Society of Collision Repair Specialists also traditionally holds its major annual events alongside the fall SEMA show and the spring Collision Industry Conference. The April 8-9 CIC was to have been preceded by SCRS' Repairer Roundtable, board elections and Awards and Corporate Member Recognition Luncheon as well as an open board meeting.
However, SCRS on Monday said it would seek to reschedule all of these to coincide with the July 22-23 CIC in Philadelphia after the CIC on Friday "announced a prudent cancellation of the April industry meetings."
The Collision Industry Electronic Commerce Association also had an open board meeting scheduled in Jacksonville, Fla., for CIC Week as well. Interim Executive Director Ed Weidmann said Monday that the organization would know the event's fate next week.
"There is a good possibility we will be rescheduling our meeting to associate it with CIC's July meeting but a final decision will not be made until Monday, March 23 during an emergency board meeting," Weidmann wrote.
CREF
Bulak said the CREF career fair Friday at the Seaport Hotel & World Trade Center in Boston, Mass., would be cancelled outright. That event was expected to draw 500 job seekers and was being held in conjunction with the AutoRama, World of Wheels and Cavalcade of Customs show's Student Day.
However, CREF would seek to reschedule its Jamaica, N.Y. (April 2); Denver, Colo. (April 3); Tampa, Fla. (April 9); Atlanta, Ga. (April 21); and Richburg, S.C. (April 30), events. Some might be pushed to CREF's fall lineup, she said.
Collectively, the five postponed shows were expected to put employers in a room with 1,400 potential automotive, heavy-duty and diesel employees. Sponsors and vendors would see their registration carry over to the rescheduled job fairs, Bulak said.
Bulak said those with questions about the job fairs should contact her at 847-586-5332 or Tiffany.Bulak@ed-foundation.org.
SCRS
SCRS also Monday explained what members could expect regarding the organization's postponed annual board election and revealed the candidates.
"In accordance with the SCRS bylaws, all members will be notified of the new date of the annual election thirty (30) days in advance of the meeting," SCRS wrote in an email.
Nominations closed Feb. 22, and SCRS wrote Monday that the nominees remained unchanged from what had previously been communicated to members.
Candidates include Tony Adams, owner of Weaver's Collision Center (Kansas); incumbent board member Amber Alley, general manager of Barsotti's Body and Fender (California); Josh McFarlin, vice president for strategic business operations at AirPro Diagnostics (Florida); John Mosley, owner of Clinton Body Shop (Mississippi); and Drue Tomlinson, collision director at Don Thornton Certified Collision (Oklahoma). Read the candidates' biographies here.
The top three vote recipients of these five will fill the board seats currently held by Alley, Trace Coccimiglio (Valet Auto Body, Utah) and Matthew McDonnell (Big Sky Collision, Montana). Coccimiglio and McDonnell are not seeking re-election.
All SCRS member companies and affiliated state associations are eligible to have a designated representative vote. Dues must be current, and the representative must be physically present to cast a ballot.
For more information about SCRS, call 877-841-0660, email info@scrs.com, or visit www.scrs.com. For more information about CREF career fairs, call Bulak at
More information:
"SCRS April Meetings in Jacksonville, Florida are Cancelled"
Society of Collision Repair Specialists, March 16, 2020
Collision Repair Education Foundation career fair page
CDC COVID-19 coronavirus webpage
Florida Department of Health coronavirus webpage
Featured image: COVID-19 coronavirus viral particles are colored blue in this transmission electron microscopic image. (Hannah Bullock and Azaibi Tamin/Centers for Disease Control)
Share This: