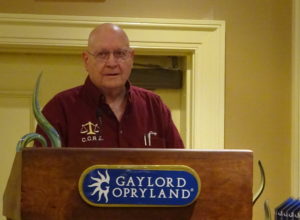 Collision repairers and others who'd like to honor colleagues while snagging a free meal should RSVP this month to the Society of Collision Repair Specialists' annual "Industry Awards and Corporate Member Recognition Lunch."
The event preceding the Jacksonville, Fla., Collision Industry Conference is free and open to everyone, members and non-members alike. SCRS only asks that attendees RSVP to info@scrs.com or online by Feb. 27 so it can plan how many meals are necessary. (Seating will be first-come, first-served after that.) The luncheon will be held 11:45 a.m. to 12:45 p.m. on Wednesday, April 8.
"The event, which will include lunch is designed to recognize organizations that contribute significant support to SCRS through their Corporate Membership, as well as to recognize some of the tremendous contributions made to the advancement of the industry," SCRS wrote in a news release Thursday.
SCRS only gives its major awards when it feels they're warranted — the individual categories aren't guaranteed to appear in any given luncheon. The practice makes the spring event a true occasion.
Last year, SCRS gave the 15th Lifetime Achievement award in its nearly 40-year history to Tony Lombardozzi, president and founder of the Coalition for Collision Repair Excellence.
Collision repair attorney and Automotive Education & Policy Institute founder Erica Eversman (Vehicle Information Services) received the organization's Individual Service Award.
2019 Humanitarian Award winner Becky Rogers' house was destroyed in the devastating 2018 Camp Fire. But rather than dwell on her own situation or seek help herself, the general manager of Pearson Road Collision Repair worked with the Collision Industry Foundation to help her colleagues in the area.
As the event name implies, SCRS also recognizes its corporate members at the luncheon. Such entities support the organization at the highest level, making it even easier for SCRS to offer assistance to the industry and free repairer tools (like RDN!). So you'll want to attend the event to give them a hand too.
SCRS' 2020 luncheon follows the annual SCRS "Repairer Roundtable" from 9-11 a.m. the same day and SCRS' open board meeting and board elections 3-5 p.m. and 5:15-5:45 p.m. on Tuesday, April 7.
All of these are reasons to schedule an extra day or two in Jacksonville, Fla., rather than race the start of the CIC with a Wednesday morning flight.
SCRS hasn't yet announced the 2020 "Repairer Roundtable" lineup yet, but the event offers education and perspective on industry issues — perhaps with experts that repairers might not have expected. RSVP to SCRS at info@scrs.com or online using the same link by Feb. 27. Seating will be first-come, first-served after that.
In 2018, the Roundtable featured Chipotle CFO Jack Hartung, who spoke about relevant topics like competing on quality rather than price and managing employees. Last year, SCRS hosted a panel of workforce development experts, including one from Nissan, on developing a skilled blue-collar labor pool. It also included another session featuring Eversman.
CIC itself runs 1-5 p.m. Wednesday, April 8, and 8 a.m. to noon on Thursday, April 9, with a reception at 6:30 p.m. on April 8.
Have an event? Post it on Repairer Driven News using our free interactive events calendar.
More information:
"Join SCRS for Industry Awards and Corporate Member Recognition"
Featured image: SCRS on April 17, 2019, gave the 15th Lifetime Achievement award in its nearly 40-year history to Tony Lombardozzi, president and founder of the Coalition for Collision Repair Excellence. (John Huetter/Repairer Driven News)
Share This: