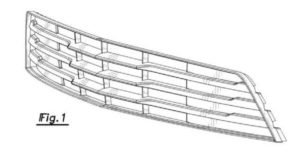 Following a March CCC request to delist multiple parts offered for sale on the platform, LKQ has asked a federal court to rule its aftermarket parts don't infringe three General Motors design patents.
LKQ's lawsuit last week also asks the Northern District of Illinois to find that one of those patents — a hood — and three other separate design patents be tossed as invalid.
The U.S. Patent Office permits companies to seek design patents protecting an invention's looks. These are separate from utility patents, which protect the function of an invention.
General Motors has posted to www.genuinegmparts.com a 62-page list of parts numbers which represent either design-patented parts, parts which are found within design-patented assemblies, or assemblies containing a design patented-part.
"Certain GM collision parts are protected by United States design patents," GM wrote on genuinegmparts.com. "This means that unlicensed making, using, and/or selling of a protected part could constitute an infringement of a GM design patent. It's important to know this because the use of non-OEM parts on newer Chevrolet, Buick, GMC, or Cadillac vehicles could constitute an infringement of a GM design patent."
LKQ's lawsuit states it had licensed the right to copy many of GM's designs and has been paying royalties to do so under a confidential Design Patent License Agreement. It alleged GM had unilaterally demanded a change of terms while the contract was still in effect — and then complained of infringement to CCC.
"Further, notwithstanding the fact that GM and LKQ were in the midst of direct negotiations regarding a revised DPLA, in an effort to undermine LKQ's business relationships and pressure LKQ into agreeing to unfair licensing terms, GM sent correspondence to a third party making baseless allegations that certain automotive parts sold by LKQ and listed on the third party's vehicle part platform—Certified Collateral Corporation's ('CCC') platform—infringed certain GM design patents," LKQ wrote in its lawsuit.
According to LKQ, GM attorney Angela Caligiuri on March 1, 2019, asked CCC to remove "certain replacement parts it alleged infringed approximately 250 different GM design patents, including parts sold by LKQ."
Caligiuri's letter demanded CCC remove scores of numerous allegedly infringing parts if sold by anyone other than GM or LKQ, whose licenses she acknowledged. But she also demanded scores of other parts be removed if offered by anyone other than GM, calling them unlicensed to LKQ and everyone else.
"It has recently come to my attention that products infringing certain of GM's intellectual property are being made available for insurance estimation on your platforms," she wrote. "In particular, certain aftermarket seller's products that you list alongside GM's products are infringing GM's registered design patents. While your promotion of these infringing goods may have been inadvertent, this letter is intended to serve as notice that GM objects to this promotion."
LKQ's lawsuit says it had licensed the parts it was accused of infringing and "had been paying royalties under the DPLA for such parts."
LKQ said GM went back to CCC with a PowerPoint presentation in December 2019 listing parts that CCC shouldn't permit on its systems.
"Notably, upon information and belief and based upon the assumption that CCC's subsequent request that LKQ remove certain parts (discussed below) included all parts alleged by GM to be infringing at that time in March 2020, only four of the approximately 250 patents originally asserted by GM in the March 2019 assertion were included in GM's latest assertion," LKQ wrote.
A March 4, 2020, CCC letter to LKQ asks the aftermarket parts distributor to delist several LKQ part numbers tied to seven GM design patents.
"CCC respects intellectual property ('IP') owner rights and expects suppliers participating in CCC parts to ensure their parts are not infringing on design patents," CCC automotive services Senior Vice President Joseph Allen wrote. "In comparing LKQ Corporation's parts to GM's patented parts, it appears your company is selling Aftermarket/Non-OEM parts that appear on GM's patented parts list. Exhibit A identifies some examples of LKQ Corporation's in-stock Aftermarket/Non-OEM parts where GM claims there are no licensees for their design patents.
"Please remove these parts and any other parts where applicable design patents have not been licensed from GM. Please implement corrective actions in your upstream supply chain processes to avoid offering parts that infringe on IP owner's rights. If you feel your parts do not infringe on GM design patents, please provide specifics that can be shared with GM or contact General Motors directly."
The CCC and GM correspondence declare D818,903, a hood the genuinegmparts.com list says is found on 2017-20 GMC Acadias, and D803,731, a grille the list says appears on 2017-19 Acadias, to carry no LKQ license. LKQ says it is licensed to produce both.
"Since it began offering parts for sale that correspond to the '903 Patent, LKQ has properly paid royalties to GM commensurate with the terms and conditions of the LKQ-GM DPLA," LKQ wrote. "GM has never rejected the royalties paid by LKQ or objected to LKQ paying royalties on parts corresponding to the '903 Patent."
LKQ said a similar situation happened with the D803,731 patent — it paid royalties and GM took them.
Hence, according to LKQ, there was no infringement.
LKQ also says no infringement occurred on design patent D812,532 — a hood for 2017-20 Chevrolet Traxes — because the version LKQ sells is too different. (LKQ clarified to us Thursday that their part does match GM's production part, which it says differs from the patented design.)
However, LKQ also argued that the Trax hood patent should be thrown out altogether along with design patents D786,743 (a lower grille for 2017-19 Cadillac XT5s), D824,825 (a hood for 2018-20 Buick Regals) and D840,285 (a bezel grille for 2019-21 Chevrolet Camaros). They're "anticipated or obvious over the prior art and purport to cover unpatentable subject matter," LKQ wrote.
Companies typically don't comment on pending litigation, and GM on Monday it had no comment when we asked if it had any response to LKQ's lawsuit.
However, the OEM might be buoyed by recent victories against LKQ before the Patent Trial and Appeal Board as well as Ford's recent federal court wins on design patent litigation involving the aftermarket parts industry.
A three-judge Federal Court of Appeals panel on July 11, 2019, ruled Ford deserved design patent protection on a hood and headlight and could block Automotive Body Parts Association members from selling imitations. The decision upheld a U.S. Eastern District of Michigan court ruling.
The Supreme Court earlier this year declined to consider the ABPA's appeal.
The similar Ford v. New World et al, remains on appeal before the Federal Circuit Court of Appeals. Oral arguments are scheduled for June 4 at 10 a.m.
Ford had accused aftermarket parts distributor New World International and fellow defendants Auto Lighthouse Plus and United Commerce Centers (both of which were tied to New World) of selling auto parts infringing on Ford's design patents.
Northern Texas District Judge David Godbey on March 12, 2018, had approved Ford's motion for infringement summary judgment on functionality and exhaustion. Ford said Godbey's summary judgment was pending a jury decision on invalidity. On Nov. 16, 2018, a jury ruled for Ford on 13 willful auto body part infringement counts and awarded the OEM $493,057. Ford also requested and won items like $2,108,672.50 in attorney fees and $41,721.60 in profits in April 2019.
For its part, the PTAB on April 16 declined LKQ's requests for post-grant review of GM patents D847,043, a rear bumper for 2019-20 large pickups, and D847,703, a rear bumper for 2019-21 large pickups. On May 5, it denied a similar request to review D841,532, a front fascia molding on 2019-20 Chevrolet Blazers. On Monday, it denied post-grant review of patent D840,306, a tailgate for 2019-20 Chevrolet Silverados.
The PTAB also on April 16 rejected a request for an inter partes review of D811,964, a front fascia for 2018-20 Chevrolet Equinoxes.

Other LKQ-GM cases are still in play before that body.
Repairers will note an interesting dispute in the Equinox fascia case and at least one of the post-grant review attempts: Who constitutes an "ordinary observer"?
According to the Supreme Court in 1871, "if, in the eye of an ordinary observer, giving such attention as a purchaser usually gives, two designs are substantially the same, if the resemblance is such as to deceive such an observer, inducing him to purchase one supposing it to be the other, the first one patented is infringed by the other."
LKQ argued the ordinary observer would be "the retail consumer of vehicle front bumpers." GM argued "the ordinary observer includes commercial buyers who purchase a replacement bumper to repair a customer's vehicle, such as repair shop professionals."
The PTAB said GM offered "credible argument and evidence as to why the ordinary observer would be a repair shop professional," but ultimately called this moot. "Our analysis, however, reaches the same result using either parties' definition of the ordinary observer," the PTAB wrote.
More information:
General Motors list of aftersales parts with design patents
General Motors, April 2020
Images:
LKQ said this General Motors grille design patent — which can be found on 2017-19 Cadillac XT5s — should be declared invalid. LKQ provided this image from GM's design patent in its May 6, 2020, lawsuit. (Provided by U.S. Northern District of Illinois)
LKQ argued in a May 6, 2020, lawsuit against General Motors that GM's design-patented hood on 2018-20 Buick Regals is too similar to the 2011 Buick Regal's hood. This graphic is from the litigation. (Provided by U.S. Northern District of Illinois.)
This composite from a Patent Trial and Appeal Board compares LKQ's annotated view of a GM front fascia design patent to a 2015 Ford Edge and a design patent covering the fascia on a 2015 Ford Edge. The PTAB felt the GM patent was sufficiently distinct from the others. (Provided by Patent Trial and Appeal Board)
Share This: