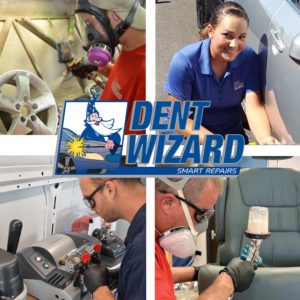 Eventually, this too shall pass. The COVID-19 coronavirus response will ease, and Americans will flood back onto the roads and produce an industry worth of crashes. At this point, shops will likely once again find themselves back in the middle of a skilled labor shortage.
When that happens, collision repairers might find success emulating the recruiting playbook of Dent Wizard.
Before the extraordinary COVID-19 economic situation altered the company's workforce needs, the reconditioning and paintless dent repair brand had defied the auto body world's tech shortage.
As of early March — right before COVID-19 broke the economy — Dent Wizard had increased its number of applicants per job by 20 percent, cut time-to-hire significantly, and racked up more than 1,200 new employees within a single year. (Right now, obviously, the company is largely on a hiring freeze.)
Dent Wizard succeeded in hiring amid a time of low unemployment by adopting a new technology platform and a structure aimed at capturing candidates, understanding them and moving them through the process, according to senior manager of talent acquisition and talent strategy Tony Suzda.
Suzda said that when he joined about five years ago, "Dent Wizard had a goal of growing their business" and wanted to hire a lot of technicians.
But Dent Wizard had a "very simple process," when he began, according to Suzda. It used what recruiters refer to as "'post and pray,'" Suzda said: You throw up an ad and hope someone applies. If a job seeker does apply, the company emails her or him and hopes there's a response; the business might also try and call. If there's no response, "I'm kicking 'em to the curb" until the next time someone applies, Suzda said.
The company had also signed a deal with an applicant tracking system prior to his start date, but Suzda quickly realized its flaws. The platform had no technician-facing mobile capabilities, and "we're a mobile business," he said. Its communications capabilities were limited as well. "Things need to move quick," and technicians won't sit around waiting for an email, Suzda said.
His conclusion: "'We need to blow this project up.'"
The company put out an RFP and settled on Jobvite, which he described as attractive for carrying multiple modules under a single platform, even if Dent Wizard didn't use all of them at first. The platform helps the company keep track of candidates' status and improved communication with job seekers.
Dent Wizard also brought its managers into the process. Suzda said that when he started, managers saw recruiting as an "obstacle," with a mindset of "'How do I get around this?'" or managing the process themselves.
Suzda called it the industry's "'I got a guy'" issue. The manager calls the recruiter and says he hired a canadiate who'll start the next week. "That's fine," Suzda said — except that managers wouldn't call in to report the hire until after recruiters had put in two weeks of work on the already-filled job.
"That was a problem," Suzda said.
Dent Wizard had to get managers to feel a "value" and partnership with the process, Suzda said. He said it includes them throughout the process and provides visibility into the status of the recruiting on their behalf. It began to build up relationships, according to Suzda. Now, each Dent Wizard regional vice president and their regional managers sees the recruiter as an extension of their own team, according to Suzda, who called this "really, really important."
Now, managers don't unilaterally take action without the recruiter's knowledge, according to Suzda. Instead, the scenario becomes: "'I got a guy. Can you reach out to him and get the process started?'"
The manager hands the prospect off to the recruiter and is then freed up to concentrate on other work like serving the customer, Suzda said.
Moving, tracking through the process
Dent Wizard tracks a candidate throughout the process. A new applicant is placed into one "bucket," he said. Following a phone-screening, they might be sent on to a manager. "That's a new bucket," he said. The manager approves of the hire, advancing a candidate to the interview stage, then perhaps a demo, followed by steps like hiring and onboarding. "We can see where those candidates are," Suzda said.
In addition, "we know where they fall off," he said.
Employees who decline a job or get declined by Dent Wizard also go into another "bucket." Perhaps an applicant for a painter position isn't seasoned enough for that role but would be a good prepper, he said. Perhaps they have some paint experience — enough to be used as a wheel technician, which could lead to a painter job down the line.
"They didn't think about that," Suzda said. They didn't realize a path existed.
Or perhaps a seasoned painter does apply, but reveals that he's burnt out but sees no other option.
"What else would you do?" Dent Wizard would ask, according to Suzda. They'll train the painter on a different role that'd the painter finds more attractive, such as PDR, he said. (Doing so "kills me a little bit," said Suzda, who at the time of the March 25 interview noted that nearly half his 160 openings were for painters. But he said he understands the painter's view.)
Dent Wizard tracks applicants with an eye toward finding their "niche" at the company — it doesn't just hope jobseekers figure it out on their own.
"We're gonna help them," Suzda said.
This strategy helps Dent Wizard reduce interviews — a plus for managers — and makes for happy workers more likely to stay with the company, according to Suzda.
We asked if this strategy of suggesting different roles for candidates had been successful. "Oh yeah," Suzda said.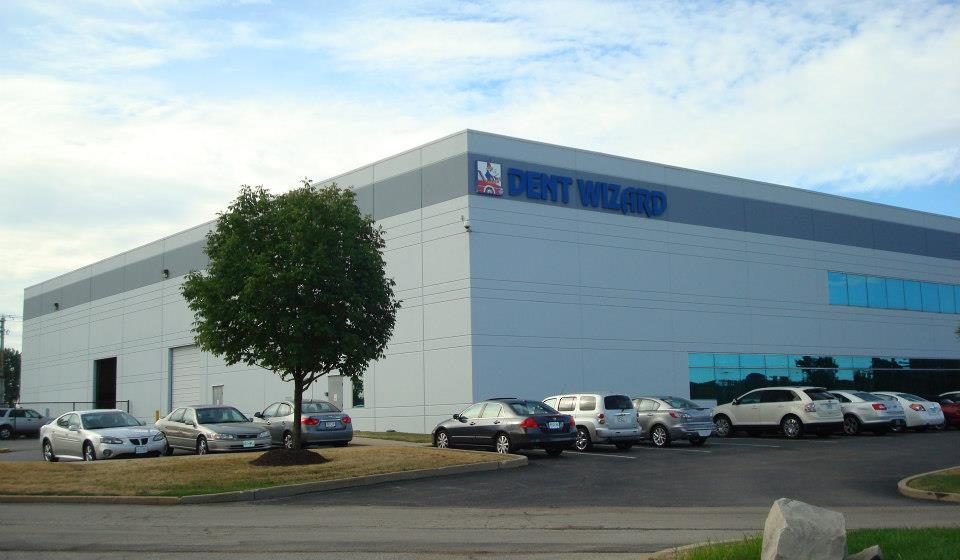 Soliciting applicant feedback
Dent Wizard also uses a separate system than Jobvite to give candidates a "microsurvey" a few days after an interview, Suzda said. The company finds out what candidates felt about the process and what managers do well; it can adapt accordingly.
Even candidates who don't even apply can take a Dent Wizard survey, Suzda said. He gave an example of the value of offering this feature: A candidate might report they had a hard time finding the job they wanted on the site. Suzda's team will reach out to the job seeker, apologize on behalf of the company, and offer assistance.
He called candidate experience "huge" for Dent Wizard.
The nonprofit Talent Board even honored Dent Wizard's process with a 2019 Candidate Experience Award. The award recognizes companies whose job applicants had a great experience and were likely to apply again, refer others to apply to the company and even patronize it as a customer. (Candidates who apply to Dent Wizard are more likely to develop positive brand affinity, Suzda said.) Talent Board picks the winners by polling job seekers — including a statistically significant amount of applicants who didn't get the job.
Suzda said job seekers gave Dent Wizard its highest marks for its technology and their treatment by recruiters.
Suzda offered an interesting candidate experience tip for companies looking to hire: Cut the application to "what matters."
He offered education as an example. Companies will pepper the candidate with questions — what high school they went to, what they studied, when they graduated, etc. Yet all they really care about is the highest level of education achieved.
Dent Wizard instead just has a drop-down menu for a candidate to select an answer and move on, according to Suzda. The company has saved the applicant "five minutes" of filling out boxes "we don't care about."
"… That's giving them a better experience," he said.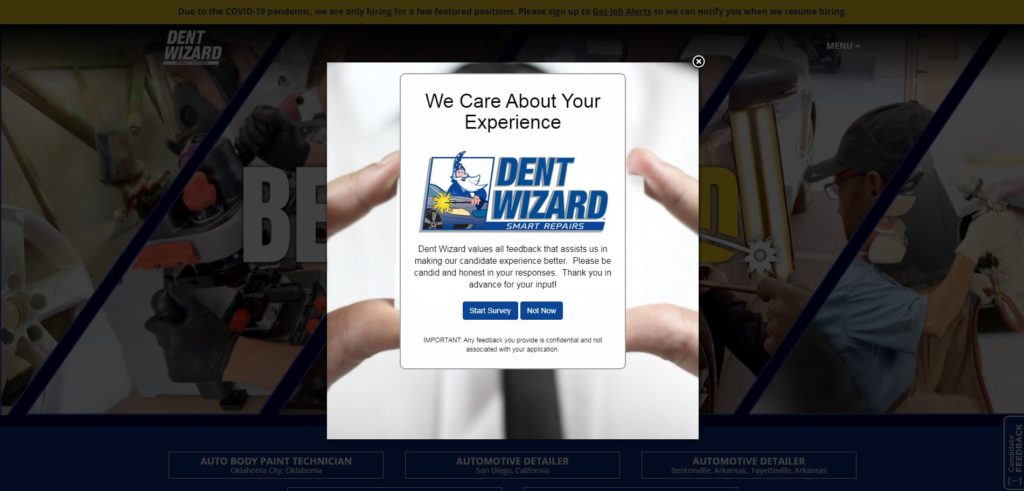 Remember your candidates
Dent Wizard also keeps track of candidates that applied but weren't hired, according to Suzda. The company rejects many applicants due to a lack of experience, he said. But it might contact them about an opening six months later, for six months experience in the auto aftermarket is "a big difference." He offered the example of a would-be painter who might have been too raw for Dent Wizard but usable by a competitor. After six months, the candidate might be sufficiently seasoned for Dent Wizard to use.
Suzda said the company's always returning to old candidates to see if their experience has grown or if the company can help them expand.
Turnover is a concern for Dent Wizard like many automotive aftermarket companies. Dent Wizard doesn't forget about those workers either. It doesn't burn bridges, it asks departing employees about their reasons for leaving and job goals, and it listens to managers' suggestions of former workers to rerecruit, according to Suzda.
Suzda said the aftermarket will see employees bounce around because they're not sure what they'd like to do. Dent Wizard can capture such candidates by offering the chance to try other aspects of the industry. The company's training program — during which students collect pay and benefits — is open to both complete rookies and its existing workforce to learn different Dent Wizard roles.
He gave the example of a departed prepper who returned for a PDR role. Some staffers even cross-train on two to three disciplines so they can capture even more work and money.
Granted, offering such job switching might be more difficult for a smaller repairer. Unlike the national Dent Wizard, you might not have an open slot in the candidate's desired role lying around somewhere. But perhaps you do and don't know it. Pro Collision Training President Paul Gage, a recruiting consultant, has pointed out how existing employees might also like to try something different or advance to a position with more responsibility — and they're going to jump ship if they can't do it at your shop. So playing a little HR Tetris might help you snag that job candidate and prevent unwanted vacancies.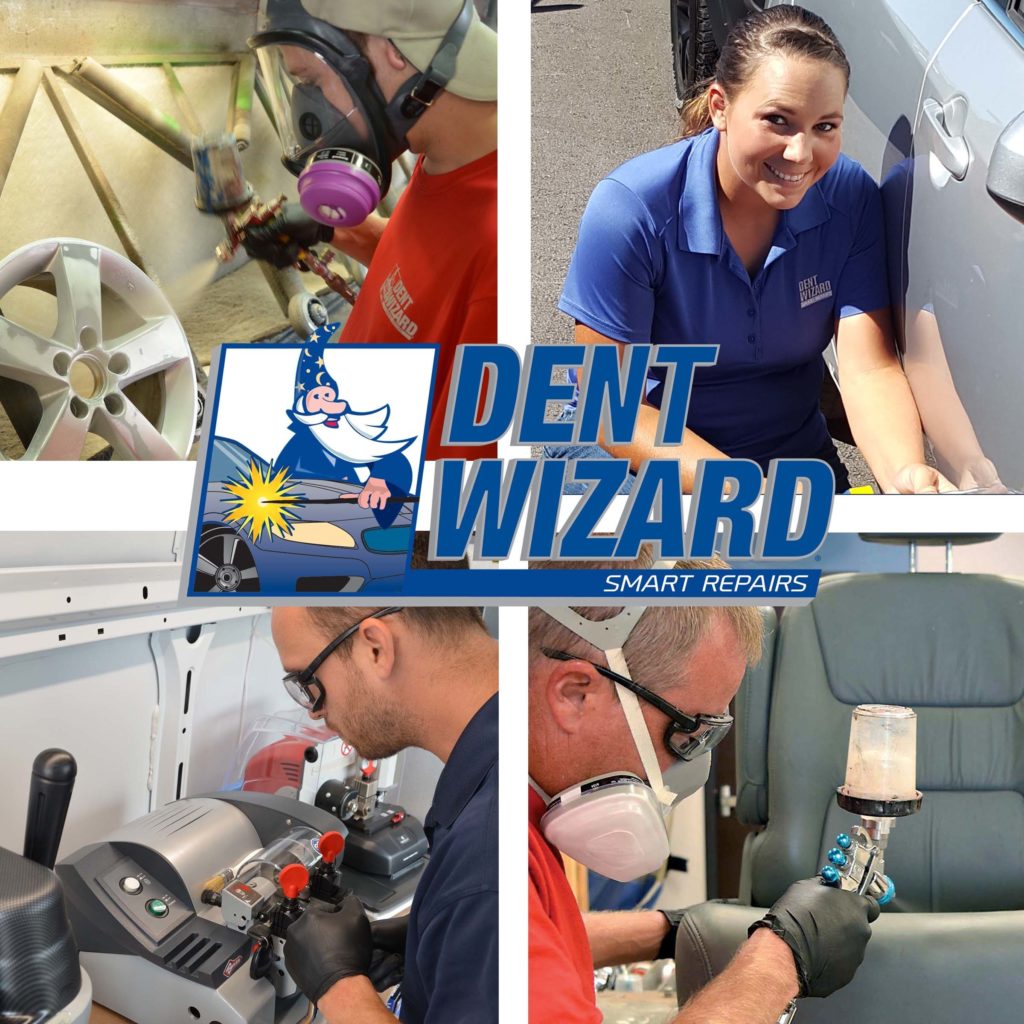 Retention
Suzda estimated that about 5-7 percent of the company's 1,200 hires were former Dent Wizard employees, and these are the "'I got a guy's." Mostly, it's first-timers, particularly those going through the full process Suzda described.
Suzda called retention "definitely" Dent Wizard's next big initiative, and the company is watching it today: What makes employees unhappy?
The auto aftermarket will probably always have some level of turnover, and low unemployment will foster it as well, Suzda said.
"But I do want to focus on that (retention)," Suzda said. Dent Wizard's odds of retention increase if candidates remain for a certain period of time, he said.
"We track all that," Suzda said. Typically, new employees who stay for about six months or so get over the hump, "especially commission," and are more likely to stay, he said. After that half-year mark, "we know that we'll keep them," he said.
Suzda said he wasn't sure of the exact statistic, but "guys that are here six months tend to stay longer."
More information:
"Dent Wizard Uses Jobvite to Fix the Crack in their Recruiting Strategy"
Jobvite, 2020
"Dent Wizard Provides Full Circle Candidate Engagement"
Talent Board YouTube channel, Aug. 29, 2018
"How Dent Wizard Won a Candidate Experience Award and Why It Doesn't Matter"
Dent Wizard via Survale
Images:
A promotional Dent Wizard image. (Provided by Dent Wizard via PR Newswire)
Dent Wizard's headquarters is shown. (Provided by Dent Wizard)
This screenshot from jobs.dentwizard.com shows a link to the company's experience survey for job applicants. (Screenshot from http://jobs.dentwizard.com)
Share This: