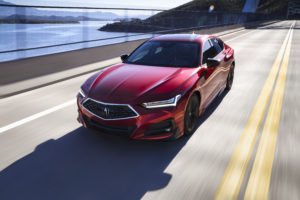 Acura on Thursday said its next-generation 2021 Acura TLX rides on a body-in-white which was "NSX aside, the most rigid ever offered on an Acura vehicle."
The body is 56 percent "advanced, lightweight materials, including aluminum and press-hardened steel, more than any previous Acura sedan."
Honda called the prior-generation 2015 Acura TLX "52% Advanced High Strength Materials" at the 2015 Great Designs in Steel.
However, this tally appeared to include an aluminum hood, with the other 48 percent of mild and lower-tier high-strength steels including the trunk lid.
The front and rear bumper beams were aluminum, and Acura built the instrument panel out of three pieces of magnesium. The floor pan, including the center tunnel, was made out out of 590-megapascal advanced high-strength steel, and Acura built the "door rings" out of 1,500 MPa ultra-high-strength steel.
Comparing Acura's description of the 2021 TLX Thursday with the Honda body-in-white diagram of the 2015 TLX below reveals some significant material changes.
Here's the 2015 TLX, according to Honda at the 2015 Great Designs in Steel. (Note: "Beginning with 2017 models, the front door hinge pillar was reinforced to limit intrusion of the front wheel to improve occupant protection in small overlap frontal crashes," according to the Insurance Institute for Highway Safety.)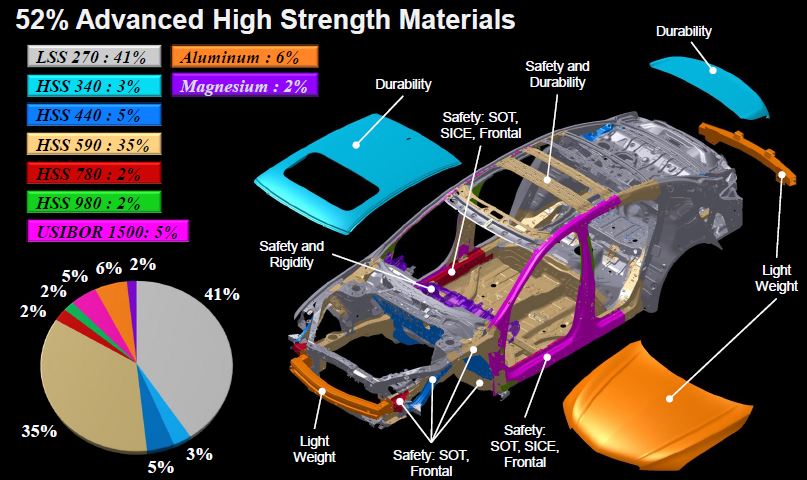 And here's what Acura had to say about the 2021 TLX. Some of the structures described here sound much more advanced that what repairers would have encountered on the 2015 model.
"An ultra-rigid new center tunnel serves as the backbone of the TLX's higher structural rigidity, complimented by triangulated front shock tower bars, front and rear underfloor braces, a one-piece rear bulkhead stiffener and new cast-aluminum front shock tower mounts."
Acura said it will again use door rings to protect occupants, and the center tunnel will play a crash energy management role.
"The new TLX also delivers advanced levels of passive safety (collision protection) performance through the use of Acura's proprietary Advanced Compatibility Engineering™ (ACE™) body structure, which has been further refined to provide additional occupant protection in a wider range of collision scenarios," Acura wrote. "Additional structural safety features include ultra-high-strength-steel one-piece door rings and an ultra-stiff center tunnel that helps optimize the absorption and direction of collision forces around the cabin."
The structure provides "a 50 percent increase in global torsional stiffness and up to a 100 percent improvement in localized rigidity where the suspension is mounted to the body."
The front suspension includes "two wishbone-shaped control arms, in place of the more common Macpherson strut setup in many competing sport sedans, to deliver more precise control of wheel camber, caster and toe angles, and to maximize tire-to-ground contact," Acura wrote Tuesday.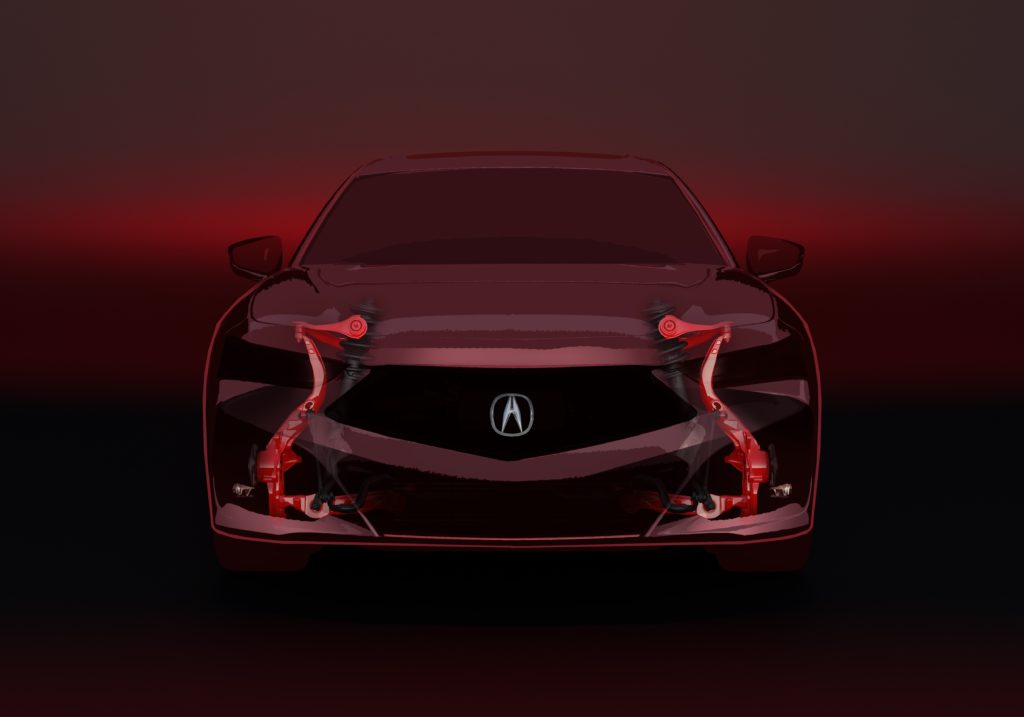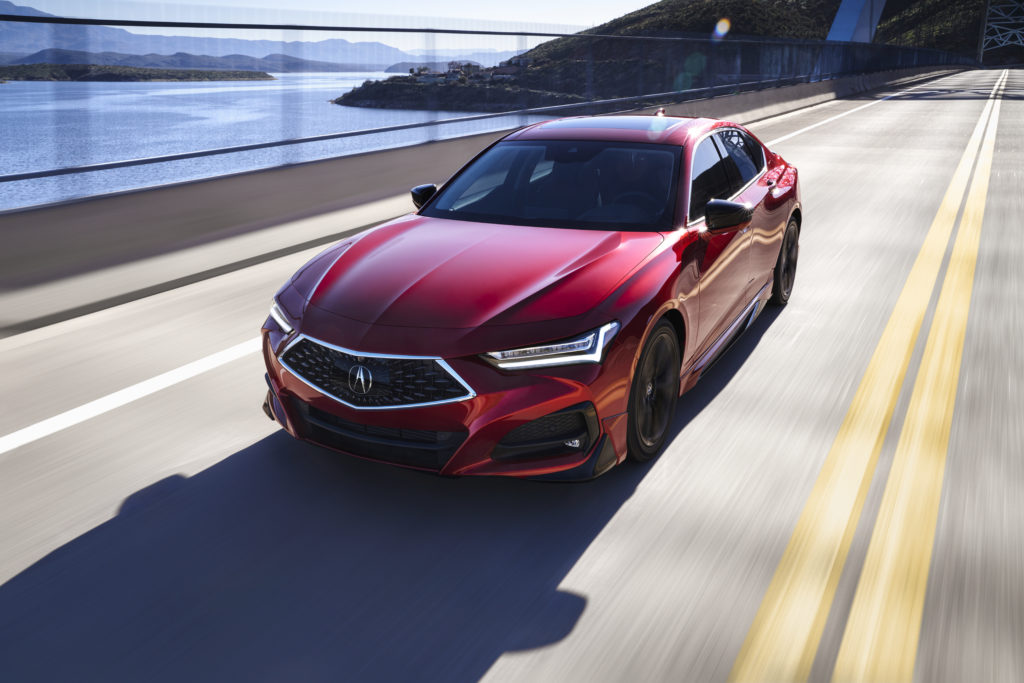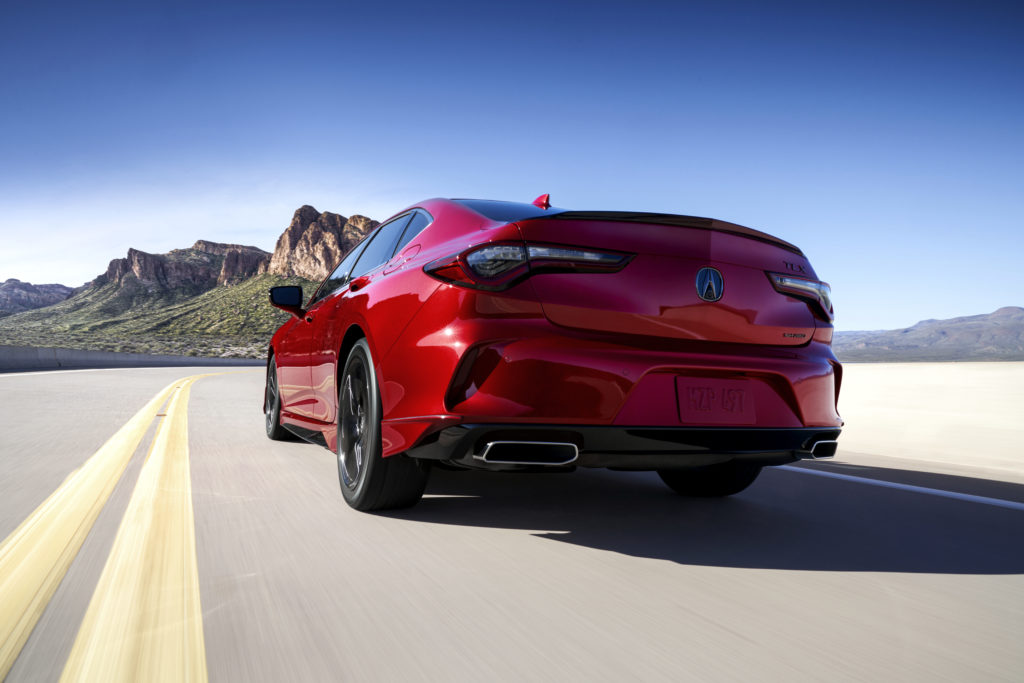 Acura also said it built the 2021 TLX's hood, front bumper beam, fenders and front damper mounts out of aluminum.
The 2021 TLX carries a "model-exclusive body structure and chassis architecture" and was "built on a new dedicated Acura sedan platform designed for Type S-levels of performance," Acura said.
"With this new TLX, we're doubling down on what today's sport sedan enthusiasts are asking for – a more stylish, personal and performance-focused driving experience," Acura brand officer and Vice President Jon Ikeda said in a statement. "Our designers and engineers really took the gloves off, rethinking what an Acura sport sedan should be, right down to its most essential elements – stance, proportion, platform and powertrain. This is unquestionably our most ambitious redesign of an Acura sedan."
Other details of note:
• The roof has "a lower-set center section, defined by two inward curving grooves," Acura wrote.
• "The sedan's sleek and dynamic side profile uses sheer, angled surfaces to create strong light-and-shadow contrasts and to accentuate the sedan's muscular rear wheel arches, which lead into a rear section featuring a shorter overhang, upswept rear decklid, 'Chicane' LED taillights and exposed dual exhaust outlets," Acura wrote.
• Painters will see nine potential finishes, including five premium colors. "New to the TLX for 2021 is a distinguished Phantom Violet Pearl," Acura wrote. "The TLX Type S will be offered in an exclusive, bold Tiger Eye Pearl. Apex Blue Pearl, previously available only on A-Spec models, will be added to the Type S catalog."
It's worth pointing here that the 2020 TLX's four premium colors, which each sold for an extra $400, got pretty elaborate — at least at the factory.
"These advanced paints are engineered using cutting edge pigment technologies such as micas, metal flakes and nano pigments (super-high transparency), now offered on all Acura models to deliver Precision Crafted Performance in every aspect of the vehicle," Honda wrote of its 2020 premium colors. "Each premium paint color receives additional coats to enhance the color intensity and depth along with a special clear coat to further improve luster."
• Honda's three-chamber passenger airbag will debut on the 2021 TLX. "This new proprietary airbag uses a three-chamber design that functions much like a baseball catcher's mitt, designed to more effectively cradle, and helping to protect the front seat occupant's head to help mitigate potential injury in more steeply angled frontal collisions," Acura wrote.
• The AcuraWatch advanced driver assistance suite comes standard. "This includes several new features, such as Traffic Sign Recognition (TSR), Driver Awareness Monitor and Traffic Jam Assist (TJA)," Acura wrote. "Working in conjunction with Adaptive Cruise Control with Low Speed Follow, Traffic Jam Assist helps reduce driver stress in highly congested traffic situations by helping keep the vehicle in its lane and at a set interval behind a car detected ahead."
• An option for ambient interior LED lighting will change depending on one's driving mode. Users can pick between 24 lighting schemes.
The 2021 TLX will go on sale in early fall with an MSRP "starting in the mid $30,000 range," Acura said.  Honda sold 26,548 TLXes last year.
More information:
"All-New 2021 TLX Elevates Acura Sedan Performance with Turbo Power, Dedicated Platform and Expressive Styling"
Acura, May 28, 2020
Images:
The 2021 Acura TLX is shown. (Provided by Acura)
This diagram shows the different materials used in the 2015 Acura TLX. (Provided by Acura/Honda)
The 2021 Acura TLX carries a double-wishbone front suspension. (Provided by Acura)
Share This: