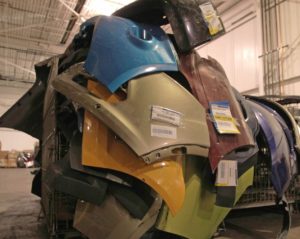 Ford ended its lighting and bumper core return programs effective Monday.
"FORD IS PLEASED TO ANNOUNCE THAT EFFECTIVE JUNE 1, 2020, CORE CHARGES FOR ALL LIGHTING AND BUMPER FASCIAS HAVE BEEN ELIMINATED," Ford wrote in a Ford Crash Parts document provided Monday by Brandon Tripp, office and Ceramic Pro manager for Jackson, Mich.-based Tripp's Auto Shop and Collision Center.
Ford confirmed the end of the two initiatives Tuesday. The programs had been in place for about a decade.
"In response to requests from dealers and collision repairers seeking a more streamlined parts management process, Ford has eliminated the core charge program for lighting, bumper fascia and select light repair parts," Ford said in a statement. "This change will enable dealers and repairers to be more cost competitive and efficient in serving customers."
The aluminum wheel core program would continue as usual, according to the Ford document. "No changes have been made to aluminum wheel core and must still be returned to dealers following the same process," the OEM states.
Repairers in other states reported receiving similar guidance from the OEM orally.
Helena, Mont.-based Capital Collision Center on Monday said a Ford dealership on Friday told it that the lighting and bumper programs had ended. The dealership spoke of a wheels program continuing but didn't elaborate further. An Illinois shop also Monday said Ford had verbally confirmed the end of the lighting and bumper programs; the repairer hadn't raised the question of aluminum wheels.
"Collision centers that have lighting and bumper fascia core that was purchased prior to June 1, 2020, should work with their selling Ford or Lincoln Dealer to arrange reimbursement," Ford wrote in the document.
"Bumper Fascia and Lighting parts that no longer have core applied should be destroyed and disposed of according to your local guidelines.
Ford said repairers would encounter core stickers on inventory assembled while the program had been in effect, but shops don't need to worry about returning those parts.
"Existing lighting and bumper fascia inventory within the Ford Parts Distribution Network will not be repackaged and will continue to have the core identification stickers applied until all existing stock is depleted," Ford wrote. "Once all existing packaging inventory is depleted, core notification stickers will no longer be used. These parts do not need to be returned to your dealer."
Ford told repairers with questions to contact cphelp@fordcrashparts.com.
Repairers welcome Ford's move
Repairers contacted Monday described the program as an administrative hurdle and its end welcome for their shop.
"When I told my folks in the office, a sigh of relief and overwhelming joy came over the place," Englewood, Colo.-based Nylund's Collision Center owner Robert Grieve wrote in an email. "The down side is the reman side of things but that does not really concern me that much.  IMO, the benefits outweigh the down side."
Staffer Robert Vaninger described the program from a Nylund's employee's perspective.
"The reason that program was difficult was just keeping track of every core,  every packaging," Vaninger wrote in an email Grieve shared.
Vaninger wrote that any loss or damage to a core sticker meant "Ford would not credit the core charge. I remember at times having a room FULL of core charge packaging."
One also must keep track of all the cores themselves, according to Vaninger, who recalled being unable to "count how many times I had to go dumpster diving to pull bumper cores out of the trash that techs threw out."
Grieve also said the core program proved difficult from a bookkeeping perspective, for "credits from core charges need to be tracked to make sure they get credited.  Getting the credits can take some time, especially depending on the person in the parts department and then possibly the accounting department to get a credit or check processed."
If the credit has lingered, the accounting department must interrupt the shop's estimators or parts handlers to contact the dealership, Grieve wrote. The dealer typically declares, "'we will look into it and get back with you'" — assuming "you get the right person on the phone when you first call," he said.
Grieve observed the whole process created "(s)o much work for so many different positions at the shop level" — as well as the dealership and OEM parts depots.
"It was bad for everybody involved," Andy Dingman, general manager of Omaha, Neb.-based Dingman's Collision Center, agreed, describing this as an issue for both a shop and dealership.
Dingman said the program created a "huge admininistrative burden" and a storage issue.
Bumpers would require additional lines and paperwork to account for the core, and ultimately represented a "pure cost of business to us" that provided no benefit but "all risk," he said.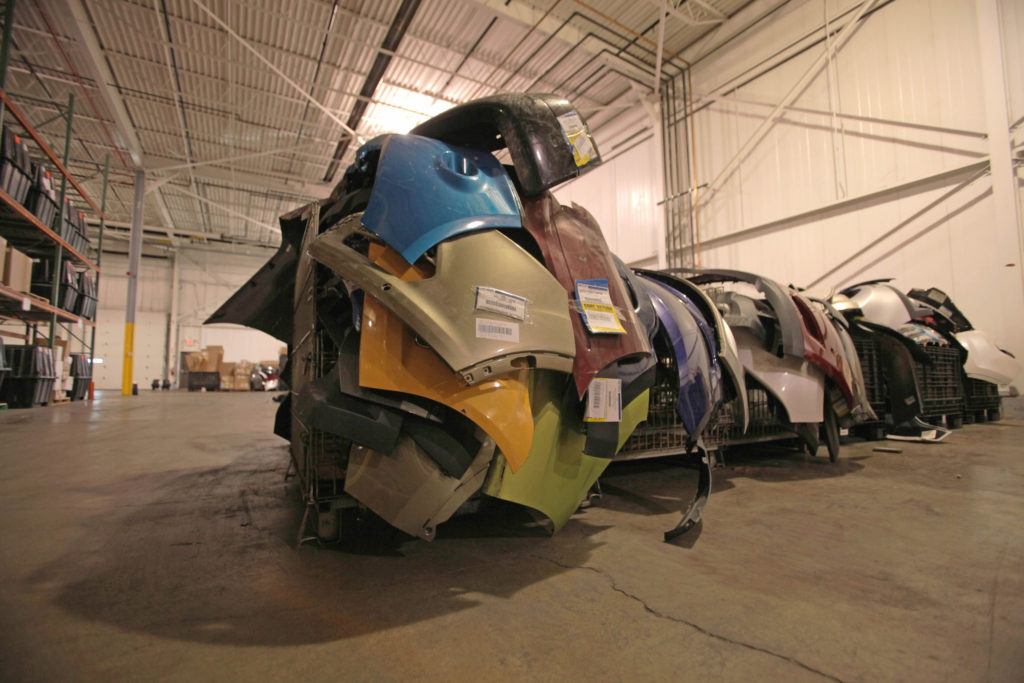 Core program: Eco-friendly, profitable, and hindering third-party reman
Ford in 2012 touted the program as having "kept 120 million pounds of damaged vehicle parts from landfills since 2003, effectively ending the days when the crack of a headlamp or crunch of a bumper would render useless such components."
The OEM said it added bumpers and headlights in the two years prior.
"In the short time since, about 62,000 bumpers have been collected while about 26,000 headlights have been recycled," Ford wrote.
Ford at the time said its core program included "everything from small sensors and fuel injectors to large engine parts" and remanufactured as well as recycled such components.
"Most parts that come back to us through the program still have a lot of life left," Ford recycling and remanufacturing manager Kim Goering said in a statement in 2012. "That makes a strong business case to do whatever we can to extend the life of these components. Even more important, however, is that Ford strongly believes it's just the right thing to do from an environmental perspective."
She said both remanufacturing and recycling had been profitable for Ford.
As Grieve alluded, Ford at the time acknowledged a desire to crack down on remanufacturing in the aftermarket.
"Several issues necessitated the program – from more complex and expensive parts in cars and trucks to a need to get more control over the sale of aftermarket components to a need to recycle more," Ford wrote in a news release.
"… Yet another benefit of the Core Recovery Program is that it helps keep damaged parts from being resold in the aftermarket, says Mark Trombetta, manager of the Ford Regional Core Recovery Center Network. For example, Ford doesn't want to encourage people to try and somehow fix the new complicated headlights of today's vehicles."
"Unauthorized selling of Ford parts in the aftermarket can be a problem because Ford has no way to ensure the level of quality," Trombetta said in a 2012 statement. "Then you have a situation where a part being utilized doesn't truly reflect Ford's high standards of quality, but still has the Blue Oval on it."
Ford didn't respond to our other Monday inquiries about the environmental or remanufacturing ramifications of discontinuing the light and bumper cores.
CCC data from its 2020 "Crash Course" reveals remanufacturing appears to have peaked about a decade ago.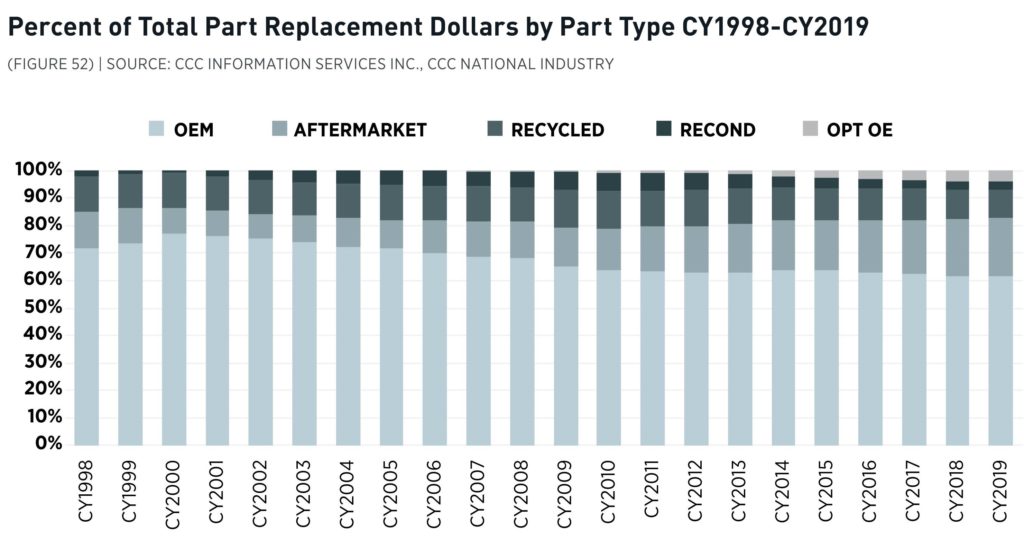 Remanufacturing, donation, recycling
The core program might indeed open a new market for remanufacturers. Such operations might collect fascias and headlights from shops by paying bounties or even just offering free haulaway. Even if there's no revenue, the latter would still benefit shops by freeing up space and reducing the expense of a garbage service tied to volume.
"These bumpers are typically between five and six feet long and can yield as much as 20 pounds of material after they have been processed," Goering said in 2012. "That adds up fast and makes it pretty easy to see how much of an impact the program makes – and that's with just one category."
Ford that year said "typical headlight assemblies are almost two feet wide and have become a major part of the vehicle, both in terms of design and function – consisting of not just a few parts, but expensive plastics, advanced bulb technology, additional wiring harnesses and more."
However, the end of the core program could also pay off for trade schools hungry for components to practice upon. Repairers opposed to remanufactured parts but seeking to clear their shops of junk on the cheap might consider contacting CREF or a local school about donating discards.
According to Collision Repair Education Foundation development director Brandon Eckenrode, many instructors will take "whatever they can get," and even parts removed from vehicles would be welcomed.
"Parts are the most frequent need reported by schools with collision repair education programs, including fenders, hoods, bumper covers and a variety of other parts," CREF wrote in February about its "Part of the Solution" dealer outreach program. "Without access to these parts, many students are learning on vehicles and parts that are at least a decade old, but with the frequent advances in technology, this leaves student unequipped for a successful career after graduation."
The "Part of the Solution" initiative pairs schools who need such components with dealers who "trash thousands of dollars' worth of parts monthly," according to CREF.
According to CREF in February, more than 500 schools nationwide need parts "that can be donated at little to no cost to the donor facility." See if a campus near you needs help here.
Shops might also be able to sell or get free haulaway of bumper fascias by partnering with plastics recyclers.
The Plastics Industry Association last year said its End-of-Life Vehicle Recycling Demonstration Project successfully proved that "valuable" thermoplastic polyolefin ("TPO") could be collected from bumper fascias.
Bumper seemed like good targets because there's an average of 20 pounds of plastic per vehicle there and the material is consistent, according to the association. The trade group described the TPO inside as better than your average plastic — it's a "higher value material, containing a valuable rubber package for improved impact and durability."
Testing revealed success with fascias both carrying paint and with the coating stripped. Plastics Industry Association industry affairs Vice President Kendra Martin told us last year the paint actually might be desirable. It provides the additives a plastics company might have to add anyway and brings down the TPO to a lower price point, she said.
More information:
"Bumper (and Light) Crop: Ford Program Celebrates 10 Years, Keeping 120 Million Pounds of Damaged Parts from Landfills"
Ford via PR Newswire, Dec. 27, 2012
"Ford's Recycling and Remanufacturing Program"
Ford YouTube channel, Jan. 8, 2013
Images:
Ford has ended its lighting and bumper core return programs effective Monday. (Ford via PRNewsFoto)
"At the close of CY 2019, the industry's share of replacement part dollars was split at 61.8 percent OEM versus 38.3 percent non-OEM," CCC wrote in its 2020 "Crash Course." (Provided by CCC)
Share This: